http://mediumhappy.com/?p=8178
by John Walters
Tweet Me Right
It's like if Charlize Theron were a referee AND had a sense of humor…
Starting Five
Boston Massacred
New England's squad, who happen to be the reigning World Series champs, trekked to merry ol' England and were trampled once again by the Yanks. The Red Coats Sox lost by scores of 17-13 and 12-8 at London Stadium, allowing individual innings of six, six and, on Sunday, nine runs. Those weren't base paths, they were roundabouts.
It's July 1st. The Yankees are 11 games up on the Red Sox, have the American Leagues's best record, and have been without a pair of their All-Star pitchers, starter Luis Severino and set-up man Dellin Betances, the entire season. But both will return at some point this summer.
As for baseball in London, the Yanks and Red Sox had never played before crowds that large—59,000-plus each day. At one point on Saturday the Yankees led 17-7(6) and I was thinking both sides had taken this American Revolution theme a bit too far.
Strike A Pose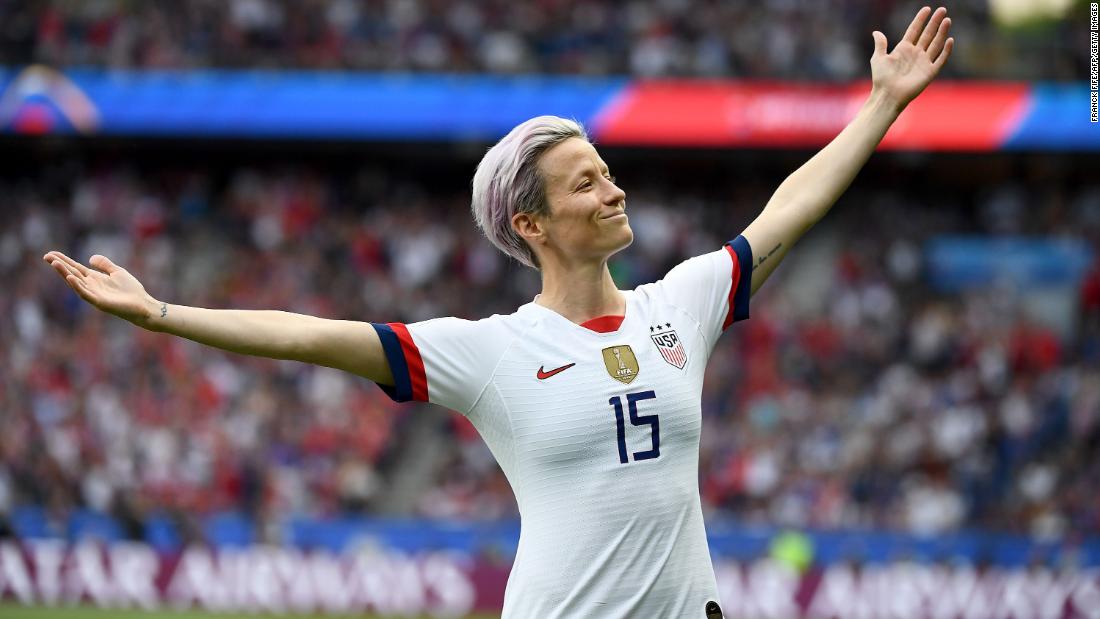 From last Friday, sure, but when we all watched Megan Rapinoe line up to take that free kick early in the match against France, cognizant that the U.S. women had scored in the first 12 minutes of every World Cup match in this tourney thus far, we were all thinking the same thing, no?
It's one thing to expect it, but it's quite something else to deliver. The U.S. has scored four goals in its two knockout stage triumphs, which is also the same number of goals the veteran Rapinoe has knocked into the net in those two victories. And this, dear friends, is definitely the sports photo of the first half of 2019.
Rapine turns 34 on Friday, two days before the World Cup final. But first the U.S. must get past England tomorrow.

Straight Into Brooklyn*
*The judges will also accept "KD and the Sunshine Gang" and "New York Nixed"
Brooklyn wins. Manhattan loses. A win for the outer boroughs.
More than an hour before NBA free agency could officially begin, ESPN's Woj tweeted out that Kevin Durant would be joining the Brooklyn Nets, and then the dominoes of Kyrie Irving and DeAndre Jordan following him fell into place. Sure, KD won't be back in the lineup before at least midseason and if you saw DeMarcus Cousins attempt to leap during the NBA Finals (coming off the same injury), you gotta seriously wonder how effective Durant will be next season. And beyond.
Still, almost 30 years to the day after Do The Right Thing, a marvelous film that depicted at least one neighborhood of Brooklyn as being a racial powder keg (and in which a dude in a Celtics jersey was told to go back to Boston), was released,, the borough that the Dodgers once abandoned is now the NBA's hottest locale (I still wonder exactly how NBA teams travel there…do they fly into JFK and just stay at an airport Marriott?….and where exactly do Nets players live??? in Park Slope or the Heights, out on the north shore of Long Island? Someone help me here).
NoKo Loco?
Foolhardy or genius? We'll see.
President Trump, who's always been far keener on developing relationships with cruel and murderous dictators (the Saudi prince, Putin and Kim Jong-Un), proposes and lands a photo op of he and North Korea's supreme leader in the DMZ. Trump even crossed into North Korea, one very, very, very small step for mankind.
This marks the third time Kim and Trump have met in just over a year, and Kim is shrewd enough to know he doesn't land these meetings, doesn't get a chance to legitimize himself by having the U.S. acknowledge him, if he does NOT have nuclear weapons. So, if he thinks like Trump, and he does, he's thinking to himself, If I do the U.S. a solid all I'm doing is weakening myself without any return on the back end. Why would I do that?
Meanwhile, Trump is that suitor who's now had three dates, which is great, but he still hasn't gotten to first base. So he's in danger of entering, with little chance of ever escaping, the friend zone with North Korea. By the way, we doubt Trump ever went on three dates with anyone without getting to first base. So this is uncharted territory for him.
What Lies Beneath
As magnificent as BBC's Planet Earth series are, I still marvel that more people aren't agog about them. What a wonderful world we live in, and most of us will live our entire lives without truly seeing it. So kudos to Sir David Attenborough for bringing the wonder.
Anyway, last night we were watching a PE: Africa episode and learned all about Dragon's Breath Cave, which is located at least 100 meters below the Kalahari Desert in Namibia. Discovered in 1986, it's the world's largest known sub-glacial underwater lake, with a surface area of about five acres, and its depths remain unknown (divers have gone down 100 meters without seeing any signs of a bottom, much like the 2008 financial crisis). The irony, as Attenborough points out, is that here is this wealthy storage of water that lies beneath one of the driest places on the continent, where numerous species fight each day for precious drops of H2O. Kind of wild, no?
From this same episode, by the way, a giraffe fight. Who knew? It was literally neck-and-neck.
****
Summer TV pilot idea: He's a wily cowhand with a taste for whiskey, while she's a pious sister just out of the convent. Together they solve crimes in their Old West town. Meet Slim and Nun. CBS, Mondays.
Music 101
Travelin' Man
It would be interesting to see just how much more acclaim Bob Seger would have receivedly, and deservedly so, if Bruce Springsteen had never existed. Same initials, roughly the same era (Bob's five years older) and a very similar approach to songwriting. Make no mistake, Seger is also in the Rock & Roll Hall, and I'm guessing he may have had more radio hits in the Seventies, but Bruce has far more Rolling Stone album covers.
As we grow older, though, we appreciate Seger's sober and often wistful tunes even more. This one, Against The Wind, Night Moves, Main Street, etc. They say rock and roll never forgets, and his music is not to be forgotten.
Remote Patrol
Planet Earth
All Day BBC
A highly underrated early Duran Duran song, but an even better series from the Brits. Truly, my friends, we live in paradise. I ask you (and maybe God does, too), what more would you expect heaven to offer than this planet already does? Open your eyes. It's a beautiful world, and Sir David Attenborough and scores of intrepid and hard-working camera people are here to show it to you.