http://mediumhappy.com/?p=8185
by John Walters
Tweet Me Right
Starting Five
Rain Man
Sure, there was the claim that our army, during the American Revolution, "took over the airports" (Fake News?). But beyond President Trump demonstrating the greatest ignorance of American history in a public forum since Frank Drebin attempted to sing the national anthem in The Naked Gun, we'd like to suggest something more sinister was being attempted.
Tell us if we're nutso on this one.
Was it only a coincidence that of all the places Trump could have held this affair, he did so on the steps of the Lincoln Memorial? And no, we're not suggesting this event was a clapback to Barack Obama's pre-inauguration extravaganza on this same ground in January 2009.
We're wondering if this was a subtle appeal to white supremacists and/or warhawks: Remember when Martin Luther King, Jr., blasphemed this space with his "I Have A Dream" speech and his beliefs of civil rights and peace among men? Well, let's erase that moment by creating a bigger one at the same site that salutes not peace, but war. Not equality, but domination.
There's a great, albeit pretentiously in character, line from Bono before U2 launches into "Helter Skelter" on its Rattle & Hum live album: "This song was stolen from the Beatles by Charles Manson. We're stealing it back." To us, yesterday's attempt by Trump and his followers was analogous to that, which would of course make MLK Manson in the analogy.
The good news that came out of yesterday is that if 1) you take part in Revolutionary War reenactments and 2) you own a Piper Cub, then life just got a lot more interesting for you.
Sterling Man
Cal Ripken, Jr., played in a Major League-record 2,632 consecutive games for the Baltimore Orioles. John Sterling called nearly double that amount of games in a row as the New York Yankees radio voice until yesterday. Sterling, who is 81, missed the Yanks' 8-4 10-inning defeat of the Tampa Bay Rays at the Trop last night due to health concerns.
Sterling, whose home run calls are the stuff of local legend ("An A-bomb for A-Rod!"), sees his streak end at 5,060 games. As Linda Cohn mentioned on SportsCenter last night, the last time Sterling missed a Yankee game the team's first baseman was Don Mattingly.
Consider this. America celebrated its 243rd birthday yesterday. Sterling, still working, is 81. He's literally been alive more than 1/3 of the entire existence of this great nation (are you reading this, Phyllis?!?). That's incredible to us.
Chopper Down
Here's the thing about helicopters that makes them unlike planes: they don't have wings, so that when they lose power there's absolutely no chance to glide them down for a safe landing, a la Sully Sullenberger. They drop like a stone.
That may have been what happened after midnight to West Virginia coal billionaire (two words you rarely see in tandem) Chris Cline, who along with six other people perished when their helicopter en route from the Bahamas to Fort Lauderdale—a relatively short flight—splashed into the Atlantic. All seven died.
Cline, strangely, was born on July 5, 1958. He died on his 61st birthday.
America's Latest Divide: Numerators and Denominators!
Writing for The Washington Post, columnist Marc A. Thiessen opines, in a story that is running on her 34th birthday, that "Megan Rapinoe is dividing Americans instead of uniting them…"
As our Twitter friend Allen Kenney suggested, "My kingdom for a moratorium on these empty "uniting/dividing" pieces. It's the latest 3rd rail of American public life: do not be accused of DIVIDING Americans. Such claims are only and always made by one type of American: the one who does not want the status quo upset.
The irony in such a statement is too transparent not to slam you in the face with its obviousness. First of all, the very creation of this nation was all about people wanted to overturn the status quo (of being colonists who paid taxes to mother England without representation). Second of all, let's think about who, in terms of sheer numbers of people and in consequences of their actions, was the most divisive person in American history: oh yes, that would be Abraham Lincoln. And if there is any one secular saint in American history, it is either he or George Washington (who was our military leader during that revolution).
We may not be smart enough to have our own column in The Washington Post, but then again, neither is Marc A. Thiessen.
Our Latest 'Curb' Moment
Worked a long-ass day at the cookoutateria on the 4th of July. So we decide to treat ourselves to a post-work beer and walk into an air-conditioned, sparsely populated bar on Amsterdam Ave. There are only two other people besides the bartender in the whole place, a pair of women, and now they're seated catty-corner to me at the bar.
I'm nursing my Narragansett, conjuring a delicious tweet, no doubt, when I hear the unmistakeable sound of glass hitting wood. Before I can look up a flume of rose wine is spilling right over the bar and into my lap. I do not get upset. Really. I chuckle and ask if I'm wearing rose now as the woman profusely apologizes and says, "I'm not the one who spills; my friend here usually does."
So throwing her friend under the bus for no reason. Now, many people who know me know that I'm infamous for spilling (my nickname is "Spilly" to many) so I have plenty of empathy for this woman. But here's what happens next. The bartender, who has nothing to do since we're his only three patrons, rushes over to REFILL HER GLASS. And though she apologized, she never offers to buy me the next round. Nor does he.
If Larry David ever reads this, he has my full permission to use this incident in his next season. And please tell me, am I crazy? Of course it was an accident, but I can't imagine spilling a drink on someone and soiling their clothing (my cargo shorts are presently soaking in hot water) and not even offering to buy them a drink. Really?
Music 101
Nothing's Gonna Stop Us Now
How did we never see The Skeleton Twins? How did we not know about this scene until two days ago? Bill Hader and Kristen Wiig hamming up a classically cheesy Starship song from 1987. This song hit No. 1 on the charts.
Remote Patrol
The Movies
Sunday
9 p.m. CNN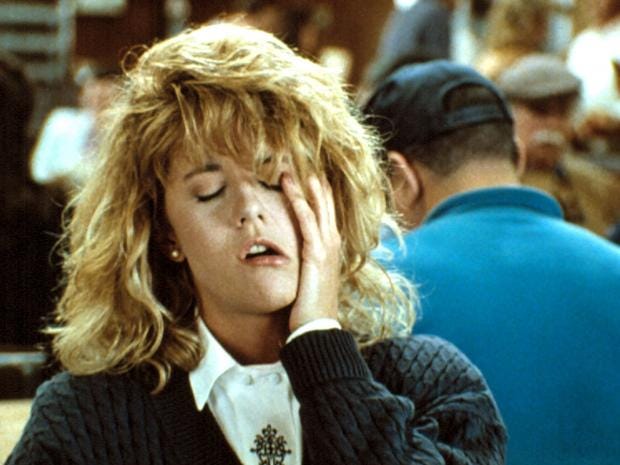 We're hyped up about this six-episode doc on CNN, produced by Tom Hanks' group, that will tell the behind-the-scenes stories of many of the greatest films ever made. Tonight's episode is two hours. If you've seen Hanks' Playtone gang do their due diligence on the docs about American decades of recent past, you know that it's not Ken Burns' level depth but that it still is a satisfying meal. This should be great.
World Cup Final
USA vs. Netherlands
Sunday 11 a.m. Fox