http://mediumhappy.com/?p=8196
by John Walters
Tweet Me Right
Starting Five
Jelly Rollout
We didn't know whether to lead this morning with the "human-sized jellyfish" or with "meth gators," but since the former have actually been captured on film, that made our decision for us.
Is it real? You betcha.
This is a barrel jellyfish and it was spotted beneath the surface of the English Channel last Saturday. Surprisingly, barrel jellies produce only a mild sting but we'd really like to meet the person who had to find out the hard way that that was the case.
The Squad
Meet Captains Marvel: freshmen Congresswomen Ayana Pressley (Mass.), Ilhan Omar (Minn.), Alexandra Ocasio-Cortez (N.Y.), and Rashida Tlaib (Michigan). Yesterday afternoon they stood up to President Trump's racist barrage of tweets ("Go back to the countries they came from…") and hateful words ("If anyone is not happy here, they can leave"), and reminded anyone who would listen that this land is your land, but also that this land is my land.
The irony of Trump's tweets on Sunday is that in suggesting these four women of color "who originally came from countries whose governments are a complete and total catastrophe, the worst, most corrupt and inept anywhere in the world" should go back is that 75% of them were born here and are in fact already doing exactly what he recommends.
Personally, I'm glad the racism is finally out in the open (and that the GOP leadership showed its true colors by staying mum about it). Trump was asked yesterday if he regretted his Sunday tweet outburst and his reply was telling: "No, because a lot of people agree with me."
The message there? We're not explicitly racist; we don't hate black or brown color. They just need to know their place. This is a white country.
Not only is that SO RACIST, but good luck standing in front of a massive wave and telling it to stop just because you don't like how it changes your standing here. Go ask the Cherokee, Sioux and Navajo how that worked out for them.
John John Gone
It was 20 years ago that John F. Kennedy, Jr., his wife Carolyn Bessette, and her sister Lauren died in a plane crash off the coast of Martha's Vineyard. The trio were headed to a family wedding in Hyannisport in a small plane that John John was piloting. As day turned to night and the haze turned to pea soup, he lost his bearings and the plane plunged into the sea.
A tragic waste of three lives and a weekend in NYC we will never forget. John John did not have any official political standing, but it was almost as if he was NYC's kid brother who everyone would look out. He was a regular guy who would go roller-blading in Central Park and who just happened to be the most handsome man in the city. He was…nice.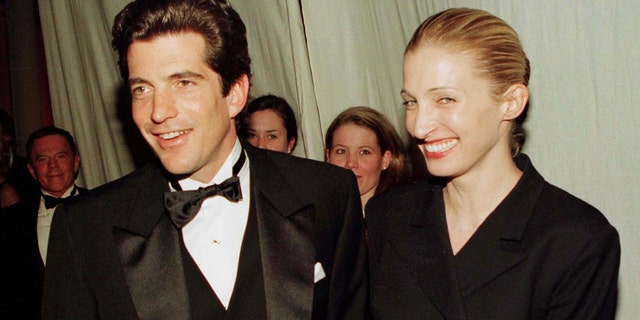 I've told this story before, but June 23, 1999, less than a month before his death. I'm in the hallway in the bowels of Madison Square Garden as Game 4 of the NBA Finals has just ended. We are told to stand against the wall so security can usher the VIPs past us. Three men walk past, so close that I can touch them: Woody Allen, Donald Trump and John John. The last was on crutches (he'd hurt his foot or ankle) and accidentally placed his crutch atop my foot as he limped past.
John John looked back and said, "Sorry" to me. Three weeks later, he was gone. He'd be 58 today and no doubt would have a lot to say about what was happening in his father's old office right now, in the House where he spent the first three years of his life.
By the way, here's how much the planet has changed in 20 years. No one learned of his death on Twitter or social media. You woke up (it was a Saturday morning when everyone found out) and if you were bored by what was on ESPN, you flipped over to CNN, where you were greeted by footage of the waters of the Long Island Sound on a sunny July day and the chyron at the bottom of the screen that read "JFK., Jr. Plane Missing." And then you called up at least one person you knew and told them to "turn on CNN."
That was social media just two decades ago.
Michael Kay Not Okay
Michael Kay talks for a living. Michael Kay talks… a lot. For roughly half the year Kay is the voice of the New York Yankees while also hosting a four-hour sports radio show on NYC's local ESPN affiliate. Kay, 58, is very good at what he does but those vocal chords of his never get a rest.
Until now.
Kay recently saw a specialist in Boston who advised that he have vocal cord surgery. He'll be out about a month. It's funny that in this season where so many Yankee All-Stars (Judge, Stanton, Severino, Gregorius, Betances, even Sanchez) have been on the IL that both of their vaunted and long-time play-by-play men, Kay and John Sterling, have also missed time.
Meanwhile, last night Rays catcher Travis D'Arnaud had one of the best nights anyone has had in the new Yankee Stadium, hitting three home runs as Tampa Bay beat the Yanks, 5-4. D'arnaud, who hit a walk-off home run against New York less than two weeks ago, hit a go-ahead three-run shot on a 3-2 count with two outs in the night against Aroldis Chapman with Tampa Bay trailing 4-2. It was the first loss the Yanks had suffered when leading after eight innings in FIFTY games this season.
Summer of 51
We've been meaning to discuss the Facebook-fueled movement to storm the notoriously secret Area 51 in Nevada. Ordinarily people head to Nevada in the summertime for Burning Man, but apparently that's not enough any more.
We had the opportunity to drive through a lot of Nevada last summer and we will tell you this: outside of Las Vegas and Reno, it is vast and it is empty. Emp-tee. It's a state that, outside of those two metropolises, probably has more whorehouses than McDonald's. Seriously.
If you want to hide anything super-secret from the American public, the Nevada wilderness is the perfect place to do so. We came to a T intersection after driving about 50 miles on one lonesome stretch of highway and wanted to turn left until we saw a sign that warned, "Next fuel stop, 163 miles." So that made our decision for us.
We're all in favor of the storming, by the way. What ever could the government be keeping from us? Would it really rock humanity's foundations that much?
Music 101
Love (Can Make You Happy)
In the spring of 1969 an unknown vocal group from Florida by the name of Mercy released this tune and it shot all the way to No. 2 on the Billboard charts. All that kept it from reaching No. 1 was a little quartet from Liverpool who had a little success with a tune called "Get Back." You listen to this song and you wonder if The Association shouldn't sue for royalties simply because Mercy pilfered their overall vibe.
Remote Patrol
Destination Moon
8 p.m. TCM
The year was 1950 when this sci-fi film about a mission to the moon was released. Like that could ever happen. It won an Oscar for special effects and not a few experts call this the most important sci-fi film of the decade (sorry, Ed Wood).