http://mediumhappy.com/?p=8225
by John Walters
Tweet Me Right
We had a brief and beautiful thunderstorm in Gotham City last night, shortly before 8 p.m. I was happily pedaling my bicycle in Central Park when it hit and took cover at the Boathouse Cafe.
Starting Five
Bo Peeps*
*The judges will lukewarmly accept Doubles Your Pleasure.
Rule No. 7 states that "the beauty of baseball is that every game offers a chance to see something that's never happened before." Case in point, Yankees at Blue Jays last night. Rookie Bo Bichette, playing in only his 11th career game—and his first in Toronto—became the first player in the modern era (since 1900) to hit a double in nine straight games.
Bichette, the progeny of four-time All-Star and mullet hall-of-famer Dante Bichette, also has an 11-game hitting streak to begin his career. Aaaaand, he's the first rookie to have an extra-base hit in nine straight games in 80 years, dating back to 1939.
The last guy to do it? Ted Williams.
Bichette, 21 years of age, is batting .408 in his young career.
Soul-less Cycle
Here's the thing, Libs: If you're so disgusted by Stephen Ross hosting a fundraiser for Donald Trump that you're threatening to boycott a business where you pay $42 to ride a stationary bike for 45 minutes, I think you're kind of making Middle America's point for them. And that is, you're a booshie elitist twit.
Last week, on absolutely sublime summer day in Montauk, I pedaled past a gaggle of people who had been bussed over (in a mini-van, presumably from the local resort, Gurney's, though I'm not sure) who were marching into a SoulCycle. To ride bicycles indoors. On the most loveliest day of the summer. And they were paying an exorbitant price for the privilege.
The only thing that would've made this moment better is if behind these people I saw Tom Sawyer persuading his friends to paint a fence.
So if you want to boycott SoulCycle, go right ahead. Meanwhile, why are you patronizing them in the first place? It's not the workout; it's the brand. It's the same reason you pay three times as much for Starbucks coffee when McDonald's is actually better and only $1.
The Man Without Empathy
The president came to El Paso, where four days earlier 22 people, nearly all of Mexican heritage, were gunned down by an avowed white supremacist. According to a hospital spokesman at one of the two hospitals where patients recovering from bullet wounds were being treated, "None of the eight patients still being treated at University Medical Center in El Paso agreed to meet with Trump when he visited the hospital."
So someone within the administration asked if the president and first lady might pose with the baby who was orphaned in the massacre, as both his parents were shot dead while attempting to shield the baby (This is so awful I'm not even Veep would have used this as a plot point). So they actually had to drive the baby over to the hospital, where this photo was taken. Notice that the president is both smiling and giving a thumbs up sign (above).
As CNN's Anderson Cooper noted, "Even pretending to care was too much for Trump."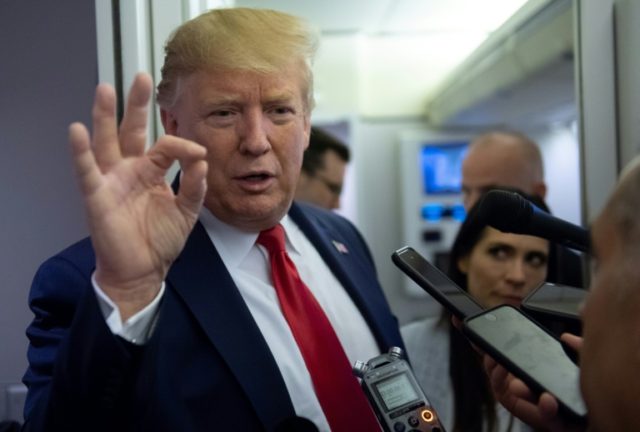 I don't mean this in an angry, temper-tantrum way, but rather as a clinical diagnosis: I'm firmly convinced that Donald Trump is a creature without empathy. He lacks the capacity. There is an emptiness where a soul should be.
Does Trump love anything? He loves Donald Trump.
But outside of that?
His wives have been nothing more than sexual acquisitions, like new sports cars that you tire of after a few years and if you're rich enough, you buy a different model with a sportier chassis. His kids? He comes closest to adoring Ivanka, but even then openly ruminates about the idea that he would've dated her if circumstances were different (life can't always be the way it was on Jeffrey Epstein's island).
Joe Biden, who said something very, very stupid on Wednesday (more below), did say something very insightful the day before: "His low-energy, vacant-eyed mouthing of the words written for him condemning white supremacists this week I don't believe fooled anyone, at home or abroad."
Trump can sound empathetic when the words are written for him on a Tele-prompter. And he can act as if he's listening with empathy, occasionally, as he did during the Parkland shootings White House confab with families who were impacted. But what most interests Donald Trump are the interests of Donald Trump. He can pretend to listen like he cares, but notice how he perks up as soon as someone begins talking about him. After all, Donald Trump is Donald Trump's favorite subject.
But beyond that, is an absence of empathy a form of mental illness. Look, the White House forbade press from accompanying the press to the hospitals in Dayton and El Paso. Every photo produced from those visits was released by the White House. And it shows a president grinning from ear to ear, or putting a thumbs up, as if he's doing a ribbon-cutting ceremony at a Ford dealership opening. And of course, in his mind, none of this is even remotely his fault.
I honestly don't know if I've ever come across another high-profile American (only Douglas MacArthur comes to mind) who is so oblivious to the pain or suffering or anxiety of others and so casually negligent in how his actions impact them.
Donald Trump went on a unify-the-country pilgrimage on Tuesday and instead made someone drive a recently orphaned child back to the hospital it was discharged from just so he could SMILE and give a THUMBS UP as his wife held the orphan. In a quadrennial of What The F___? moments dating back to June of 2015 when he announced, this one must definitely make the coffee table book. It's evil.
Love Field
Imagine how it must have felt to be Bryan Knight yesterday. Fifty-two years ago Bryan was a five year-old who said goodbye to his, father, Roy, as he left for duty in the Vietnam War. Major Roy Knight was an Air Force pilot.
On May 19, 1967 Roy Knight's plane was shot down during a mission over northern Laos (not Vietnam, but let's not get into that now). Knight, 36, was declared missing in action. Though his remains were never found, he was finally declared dead in 1974. Flash forward 45 years to 2019, as government officials inform Bryan Knight that his father's remains were identified.
And so more than half a century later, Roy Knight's remains are flown back to Love Field. And the man piloting the Southwest Airlines flight who returned them was…Bryan Knight.
That's the kind of story that Paul Harvey needs to be reincarnated for, just for five minutes, just to share it the way only Paul Harvey could.
Say It Ain't So, Joe
Democratic frontrunner—for now—Joe Biden, speaking at the Iowa State Fair yesterday, was trying to be inclusive when he said, "Poor kids are just as bright and talented as white kids."
Oh, Joe. The difficult part of this is that Biden did not mean it in a malicious sense. Rather, it's a window to his subconscious and let's face it, many of ours. It's like that old riddle where you are told a physician and his son get in a car crash and the physician dies. The son is taken to the emergency room where the doctor takes one look at him and says, "I can't operate on this boy; he's my son."
And many of us were stumped the first time we heard that one. So, yeah, Biden is 76 and white and while he didn't mean anything by it, it's great fodder for those elements who want to illuminate the fact that he's just another old white dinosaur.
Now if only Biden had said, "Poor kids are just as bright and talented as Indian kids," that would have been much better.
Music 101
Helter Skelter
The reason Vincent Bugliosi, the assistant D.A. who prosecuted the Manson Family, titled his book after this cacophonic Beatles song was that Charles Manson thought the white album was the Beatles speaking directly to him, inciting him to start a race war (the idea was that the murders would be blamed on black Americans). Today is the 50th anniversary of the morning the police found the bodies on the lawn and in the house at 10050 Cielo Drive. As you may know, a house caretaker who had his own cabin out back slept through the entire massacre and was woken up by some angry and anxious cops on this morning 50 years ago.
Remote Patrol
Saturday
West Side Story
10 p.m. TCM
To those people who say they don't like musicals, watch this one. An updated and musical version of Romeo & Juliet, taking place in my future neighborhood. The 1961 film, adapted from a play that did NOT win the Tony Award for Best Musical (The Music Man did; tough company), would win 10 Oscars, including Best Picture. All were richly deserved.
It's funny to think, nearly 60 years later, that I now work with a lot more Bernardos than I do Tony's. And I love them.