http://mediumhappy.com/?p=8262
by John Walters
Tweet Me Right
Starting Five
Elena!
The WNBA gets lost in the sports shuffle because, let's face it, it has really never caught on as a pro league even though it's been around nearly two dozen years. Women's soccer captured the nation's imagination greater back in June; women's hoops only approaches that when Geno goes off on some poor (poorly coached) team.
Anyway, here's Elena Delle Donne of the Washington Mystics, who this season became the first female (joining the likes of Steve Nash and Larry Bird) to compile a 40-50-90 season: 40% from beyond the arc, 50% from the field, 90% from the free throw line.
The 6'5″ forward, who turned 30 last week, shot 43% from beyond the arc, 51.5% from the field and a ridiculous 97.4% from the line. Because Delle Donne turned down UConn (at the very last minute) and chose to stay close to home and play at Delaware (she has one sibling and he she is special needs), Delle Donne entered the WNBA without the Taurasi-an fanfare to which she was somewhat entitled. But she's beginning to make up for it. This is a truly remarkable achievement.
ComPatriots
They're teammates now. Potential roomies. Tom Brady, Antonio Brown, Gisele Bundchen and whatever two random shorties happen to be occupying ABs bed. And you want to watch The Bachelorette? Or Edge NFL Matchup? Good grief.
Incidentally, we LOVE this. It's everything you've ever needed to describe Bill Belichick in 8 seconds or less.
36-1
We've been telling anyone who'll listen—and no one will—that the Astros remain the best team in baseball, primarily because they still have Justin Verlander (and Gerrit Cole and Zack Greinke) and you don't. In the last two games, versus the often hapless Seattle Mariners and the not-hapless Oakland A's, the Astros have won 21-1 and 15-0, respectively. That's a two-game, 48-hours, 36-1 explosion.
This on top of Verlander's no-hitter the previous weekend.
The de facto World Series will most likely be played between the Yankees and Astro next month. The official World Series will be an after-dinner decaf almond milk cappucino.
Summer Fall
It happened again. Rule No. 1. At our favorite jelly-legs national park spot, Half Dome at Yosemite. A young woman from Lake Havasu City, Arizona, was climbing the cables last week when she slipped and fell, oh, about 500 feet, to her death.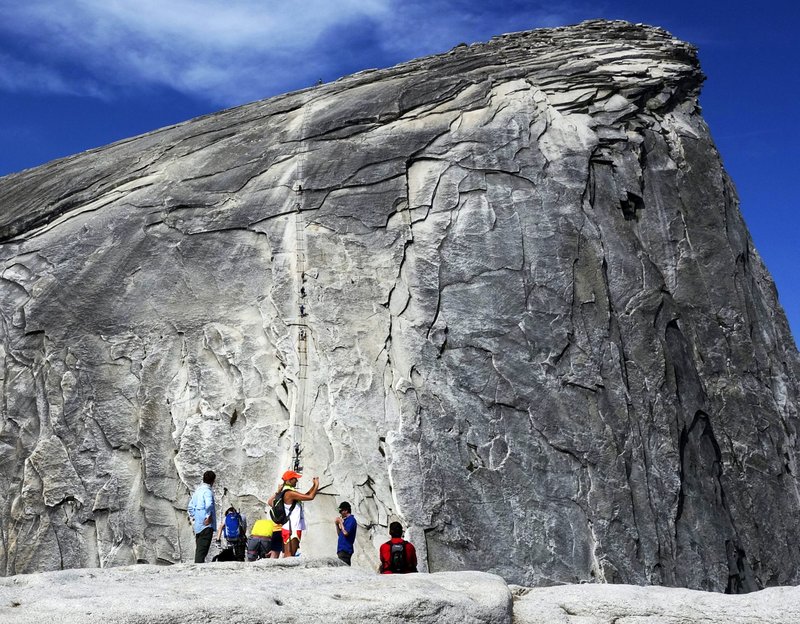 Look at that. People do this every summer. I wussed out (sorry to have squandered someone else's lottery slot). I'm not ashamed.
The cables were erected in 1919. In 2010 the permit system was established to limit the number of climbers. No word on how the hiker, 29 year-old Danielle Burnett, came to meet her mortal fate other than that she fell and didn't stop until 500 feet later.
Half Dome is one of, if not THE, most impressive geological formations in North America. Definitely see it. Definitely hike as far as the folks in the picture above. If you decide to go to the top, best of luck. I'll wait right here.
****

Pardon The Interruption: Gotta run to talk to the redoubtable Ralph Russo for his podcast. Today, 9-10-19, is my first palindromic birthday. Thrilled.
****
And we're back…
Track Jenny Rules Again
She did it again. Jenny Simpson won her SEVENTH CONSECUTIVE Fifth Avenue Mile this weekend and did so in a course-record 4:16.10.
You could make a solid argument that, outside of this blog and LetsRun.com, Simpson is the most unheralded-relative-to-her-feats athlete in the U.S.A. this past decade.
Simply put, Simpson, a three-time Olympian, has been the best American miler for roughly a decade. She's the only American female to win a medal in the Olympic 1500 (the metric mile; she won bronze in Rio) EVER. Since the race became an Olympic women's even in 1972. And Simpson really is a super person, kind and honest and humble and hard-working. We're just here to give her the love she deserves.