http://mediumhappy.com/?p=8285
by John Walters
Tweet Me Right
Pirate booty
Starting Five
Sigh, SI
Where Are They Now? Indeed.
In what must have been the bloodiest day in the history of Sports Illustrated staff shakeups, 50% of the current staff were shown the door at 225 Liberty. Sadly, and a sign of what has happened to the iconic 63 year-old mag in the past decade, you will not recognize most of the names.
Here are some of the job postings that Maven, the soulless vampire company responsible for all the cuts, has posted in the wake of the layoffs: "managing editor," "pre-editor," "editorial lead," "insider (reporter)," "sport editor" and "expert writer."
And dig, I've been critical of the way SI failed to adapt to the changing new media landscape the past 25 years, but those of us who were there at SI before the internet and before America went mad over SportsCenter (we co-wrote that piece in December, 1992) can appreciate that there was no real way to stop this tidal wave.
If you're under 40 and grew up in an age before cable news and ESPN and USA Today and the web, this may shock you: Americans used to watch sports on the weekends and wait until Thursday to read what Sports Illustrated had to say about it. Sure, you're local KPNX news guy would spend 30 seconds on it, if the event were big enough, before talking about the local teams; and your local newspaper, if your city was large enough, would send someone to cover a World Series or NFL playoff game.
But if you wanted the ONE AUTHORITATIVE VOICE to take you, the reader/viewer, to that game after it happened (and remember, most everything that was taking place was NOT on live television…that's why "This Week In The NFL" was such a popular weekly show; it was Berman and Jackson's NFL Blitz before that show existed), you read Sports Illustrated.
As soon as SportsCenter became the cool hangout (not until about 1991) and then the internet came along shortly thereafter, that all changed. Sports consumers no longer had that sort of patience, and why should they? And SI, which easily could have put those written-on-Sunday stories on its website Monday morning, still made readers wait until Thursday or Friday to view them. At least in the beginning.
The bell tolled for thee, and that bell originated in Bristol and on the WWW.web.
Acuna Matata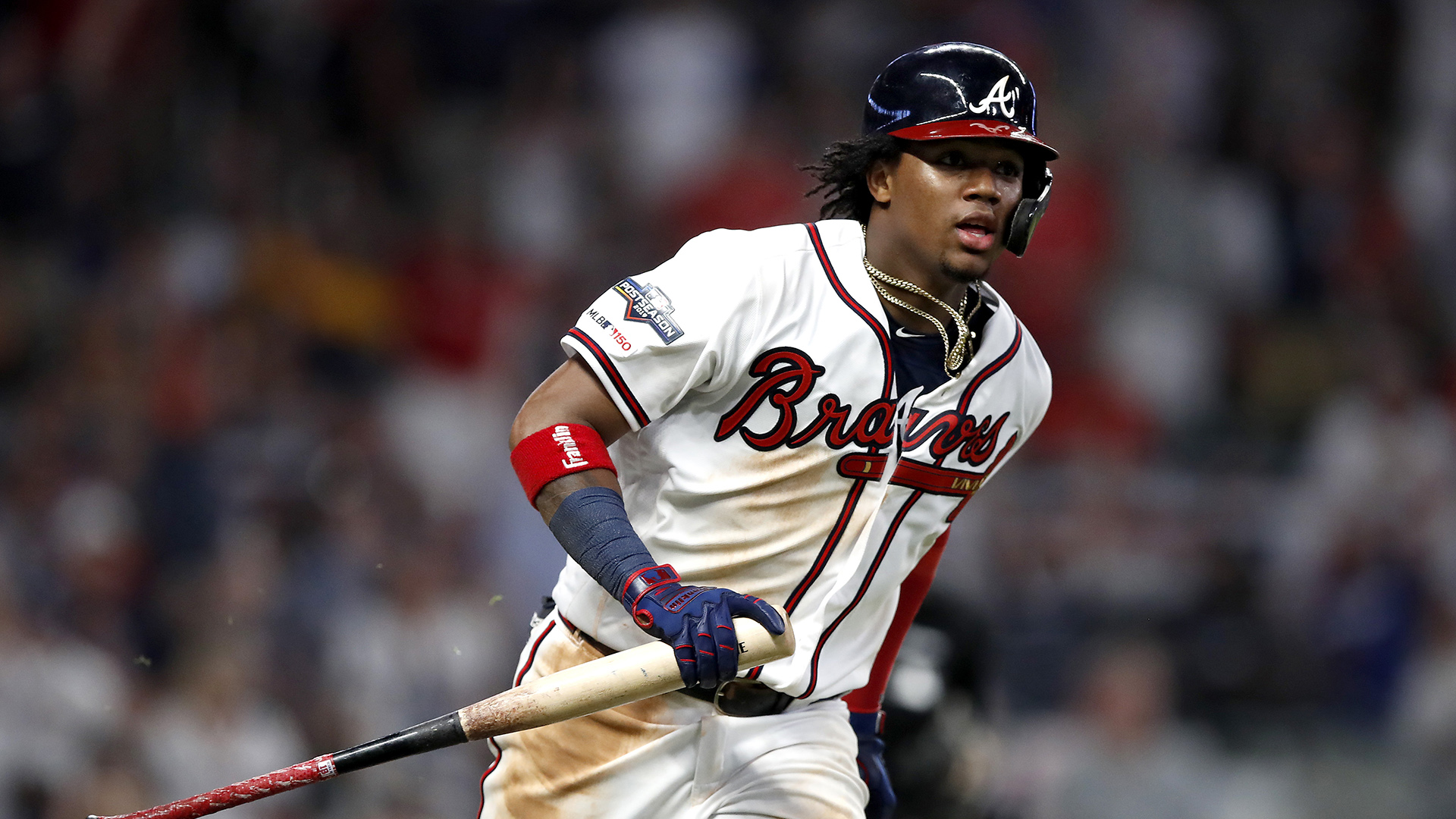 So gifted. So maddening.
Atlanta Braves 2nd-year superstar Ronald Acuna, Jr., went 3-4 with a two-run home run in his team's Game 1 loss to the Cardinals last night, but everyone's angry with him. Why? Because he spent too much time admiring a 7th-inning hit that he thought might go over the right-field porch and was held to a single. Later that inning he was doubled off second base when by all intents he should have been on 3rd when the ball was hit.
The Braves have lost an MLB-record 10 consecutive postseason Game 1's.
Enough Already
Late in the Rams-Seahawks game, Clay Matthews was penalized for roughing the passer on this play. Pathetic. The Rams led 29-24 at the time and this penalty gave the Birds 15 yards and a first down, which they'd use to finish the game-winning drive. Pathetic, no?
A Star Is Born
To be fair, the acoustics inside subway stations are really, really favorable.
This is Emily Zamourka, who has been homeless in the past two years in Los Angeles (but still dresses better than I do) and is from Russia. Her background:
She's a classically-trained violinist and pianist who moved to the United States from Russia 30 years ago. She worked as a music teacher, but when her medical bills piled up due to a serious health problem, she played her violin in the streets to make extra cash. That $10,000 violin was stolen a few years ago, and Zamourka became homeless. But she still performs for subway commuters, despite not being a trained singer.
–From CBS Los Angeles
We picture a national underground tour, playing some of the most iconic subway stops in New York City, D.C. and Boston. Perhaps even an L station in Chicago.
It was an LAPD officer, Frazier, who shot the video and changed Zamourka's life (she's already received $100,000 in GoFundMe donations). That is, until some enterprising newspaper uncovers her old racist tweets.
It's Katie McCollow's Birthday!
Happy Birthday to MH's funniest contributor and to the most talented stay-at-home actress we know. You may not recognize Katie's face, but you've heard her voice on quite a few national TV commercials in the past few years.
All those casting directors who told you that you've got a great face for radio. Who got the last laugh? You did, Katie. You did. HAPPY BIRTHDAY!
p.s. Katie and Mike are now empty nesters and since they have no interest in touring the nation to visit Civil War battlefields, you can help keep Katie busy by soliciting her to paint someone or some pet you love (Mike will golf in 30-degree weather so don't worry about him). It makes a wonderful Christmas or birthday present. We have two Katie originals hanging in the MH world headquarters.
Music 101
I Lost It
Our dream country-rock concert would be Lucinda Williams and Son Volt. And if you don't own Williams' 1999 album Car Wheels On A Gravel Road, from whence this song comes, you're not living your best life. We're here to help, America.
Remote Patrol
Rays-Astros
2 p.m. FS1
Cardinals-Braves
4:30 p.m. TBS
Twins-Yankees
7 p.m. MLB Network
Nats-Dodgers
9:30 p.m. TBS
October playoff baseball quadruple header. You're welcome, America! Bask in the glory.