http://mediumhappy.com/?p=8287
by John Walters
Starting Five
Hong Kong Phooey
On Sunday Houston Rockets general manager Daryl Morey tweeted out an image that read, "Fight For Freedom. Stand With Hong Kong."
Quickly, Rockets owner Tilman Fertitta said that Morey does not speak for the team.
Then Yao Ming—remember him?—who is the president of the Chinese Basketball Association, said that the CBA is suspending its relationship with the Rockets.
Then the NBA itself called the tweet "regrettable."
Then the Rockets' two future Hall of Famers had to take one for the team.
And sure, because you cannot just have colonies breaking away from their repressive nation and forming an independent country of their own. That would be chaos, right?
RIP, Rip
Long before people in Hollywood—or elsewhere—were publicly allowed to be gay, actor/comedian Rip Taylor was heralded as being "flamboyant." Taylor, who died this weekend at age 84, was someone whom I did not recall seeing in anything other than a flowery scarf and a bright leisure suit.
Folks of my age know him from his frequent and outlandish appearances on The Merv Griffin Show, often accompanied by Phyllis Diller. What a pair.
Also a RIP to former Cream drummer Ginger Baker, who by that name you may have thought was an old black jazz singer. Baker, who passed away at age 80 this weekend, was a primal force of rock drumming although he always insisted that he was "a jazz drummer" (see?). I'm also informed by my sister, whose late husband was a rock-and-roll drummer, that Baker and I slept on the same couch (though not on the same night). Baker, by his own admission, "quit heroin 29 times" and was as much a character off stage as he was a virtuoso behind the kit. An ex-wife once said of him that if Baker were a passenger in a plane that went down he'd be the only survivor "because the Devil takes care of his own."
Standing Pats
A little more than one month into the NFL season, the New England Patriots are the league's only undefeated franchise (5-0). The Pats, who strangled the Washington Redskins 33-7 yesterday, a team whose coach, Jay Gruden, was fired shortly afterward, have outscored their five opponents by a combined 121 points.
The next-best point differential in the NFL thus far is +42, by the 3-0 San Francisco 49ers, whose quarterback, Jimmy Garoppolo, learned at the foot of Tom Brady. Who is probably the only Patriot I can name off-hand.
So, unless Patrick Mahomes and the Chiefs can take care of business this time, it's not too early to book the Pats to the Super Bowl for the sixth time in the last nine seasons. While you're waiting, though, read this revealing story in Vanity Fair about owner Robert Kraft's visit to a sex spa.
Second Whistleblower, First-Hand Knowledge
A second intelligence official, reportedly with first-hand information about President Trump's dealings with Ukraine, and with grave misgivings about them, has come forward but has yet to file a formal complaint. Meanwhile, all that 45 and his supporters such as Senator Lindsey Graham are able to do is to beg for the whistleblowers to be outed so that they can show that these people are "partisan hacks."

Not only is this witness intimidation, of course, but it's also the last Hail Mary pass of a president and his cronies who know that the facts are not on their side. It's the Roy Cohn School of Self-Defense: attack the integrity of your accuser when the facts clearly show that you are guilty.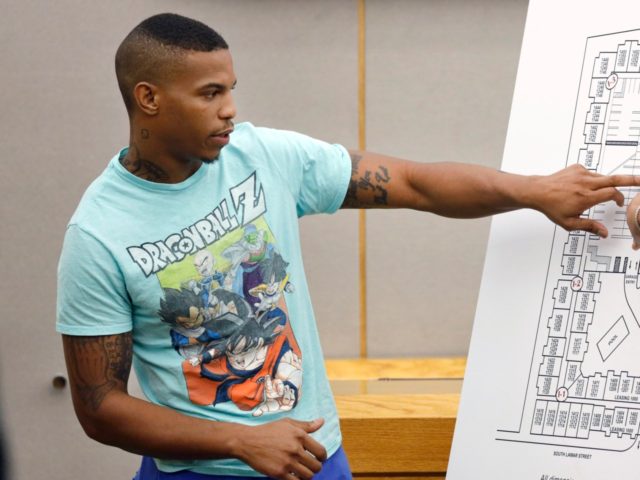 Meanwhile, on the topic of witness intimidation, the neighbor of Dallas murder victim Botham Jean, a young black man (and former college football player) named Joshua Brown who had testified at the murder trial of Amber Guyger, was himself murdered on Friday night. Guyger received a soft (in our opinion) 10-year sentence for murdering Jean in his own apartment. On Friday night Brown was shot once in the mouth and once in the chest outside an apartment complex. There was no known motive. Uh huh.
The Sudafed Syndrome
Remember this photo from Cinco de Mayo, 2016? Your Republican presidential nominee tweeting out his support of Mexicans because he enjoys the Taco Bowl from the Trump restaurant inside Trump Tower? If you look closely at that open drawer behind the future president, you'll notice not one but a few boxes of Sedated (if you blow up the photo, it's easier to spot of course).
We would advise you to visit the Twitter feed of @JRehling to learn about all of the possible effects of abusing this well-known decongestant, but it's important to note that there is a limit to the frequency an individual may purchase Sudafed and that these limits were clearly being circumvented. Of course, President Trump does sniffle a lot.