http://mediumhappy.com/?p=8290
by John Walters
Tweet Me Right
Starting Five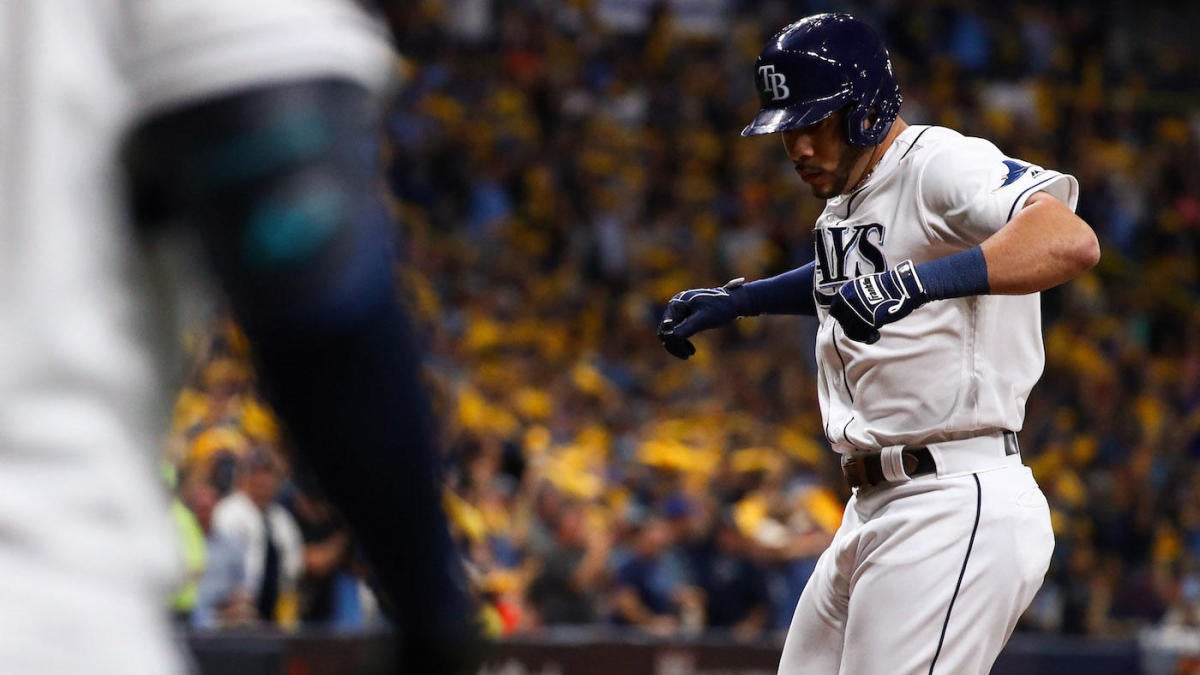 Rays Of Hope*
*The judges will also accept "Trop Of The Heap"
In Saint Petersburg, the Tampa Bay Rays stave off elimination a second consecutive night with a 5-1 defeat of Houston to force Game 5 in the ALDS. The Rays also do the Yankees a favor by forcing the Astros to start Gerrit Cole in Thursday's game and wasting a Justin Verlander start. Even if he Astros win, chances are Cole and Verlander would be unavailable for Games 1 and 2 in Houston—the Astros swept the Yankees three straight way back in early April the only time the two teams played in Houston this season.
Meanwhile, this defensive relay play from centerfielder Kevin Kiermaier to 2nd baseman Willie Adames to catcher Travis d'Arnaud to nail 2017 AL MVP Jose Altuve is as beautiful a defensive play as you'll ever see on the diamond.
Heigh Ho, Silver!
Given a day or two to mull its official Sunday statement calling Daryl Morey's tweet urging solidarity with Hong Kong "regrettable," the NBA and commissioner Adam Silver game out in favor of truth, justice and the American way.
Before a preseason game between the Houston Rockets and the Toronto Raptors (you may remember them? the NBA champs?) in Tokyo, Silver said, ""Daryl Morey, as general manager of the Houston Rockets, enjoys that right [to free expression] as one of our employees. What I also tried to suggest is that I understand there are consequences from his freedom of speech, and we will have to live with those consequences."
(Well of course they'd whitewash something in a Communist country using red paint)
Money's original tweet, since deleted? "Fight for freedom, stand with Hong Kong."
CCTV, China's state-run television, has canceled the airing of two NBA preseason games (as a service to its fans? I hate exhibtion games) and the Chinese Basketball Association, run by former Houston Rocket Yao Ming, has severed all ties with the Rockets…who may wind up being the most watchable team in the NBA this season.
China, meanwhile, says that it too believes in freedom of expression unless it threatens the sovereignty of the state, which is like saying you believe in dinner but not after 3 p.m.
Silver: "If those are the consequences of us adhering to our values, I still feel it's very, very important to adhere to those values."
This is what a leader looks like. Values over dollars. If only our president or secretary of state had the integrity of Adam Silver.
The Cables Guy
In the Italian Alps, a near-miracle. A small plane was a second or two from crashing into terra firma, which would have killed both occupants. Instead it gets tangled in a chair lift at Prago Valentino ski resort in Teglio and flips upside down. Both the pilot, 62, who was thrown onto the wing, and the passenger, 55, are fine.
This is Bugs Bunny-level stuff. Unbelievable.
Dam Shame
The nation of India, which leads all nations in selfie-assisted suicides (really; India's Journal of Family Medicine and Primary Care.did a study in 2018, Susie B.), added four more people to the list recently. A newlywed, 20, and three family members aged 15 to 22 drowned when they slipped while attempting to take selfies shots at Pambar Dam (above). The groom and his sister survived.
From October of 2011 to November of 2017 some 259 people died worldwide due to incidents involving attempted selfies. And the editors at MH can only thank them for helping to fill out our final item or two on many a morning.
Here's The Truth, Ruth
Before this tweet fades into the mist, I wanted to post it and have it here to represent the simplest disconnect between those who still side with Trump and those who side with the U.S.A. and the Constitution.
In case the type is too small, I will post it here in ALL CAPS and bold:

"I THINK WHAT MOST LIBERALS ARE MISSING IS THAT THIS ISN'T ABOUT RIGHT AND WRONG. IT'S ABOUT WINNING AND LOSING. I'VE ATTACHED MY ENTIRE WORLDVIEW TO THIS MAN AND I AM GOING DOWN WITH THE SHIP. NOT ONE OF YOU IS GOING TO CONVINCE ME OTHERWISE."
It's funny. A New York judge orders the president of the United States to hand over his tax returns; he ignores the order. Congress subpoenas a former ambassador to Ukraine to appear before it and the White House blocks it. And on and on and it may go to federal court, but WHO CARES?
Even if the Supreme Court rules against Donald Trump, does anyone really believe he will comply with it? He will simply keep stonewalling and do the Roy Cohn 101 bit, akin to pulling an Al Pacino in And Justice For All…
I really doubt that he will ever admit defeat, will ever willingly abandon office even if the Senate ratifies the House's impeachment vote. Resign? Never. It will take a Colonel Jessup moment wherein two giant Marines walk into the Oval Office and haul him out as he threatens Nancy Pelosi, here in the role of Lt. Daniel Kaffee, in the most vile of terms.
In the end, only an overwhelming preponderance of evidence (PUT OUT BY THE MEDIA!!!!) will produce a turning of hearts and minds in precincts that had formerly bought MAGA hats by the thousands, which will eventually stir some Republican legislators who've been riding the Trump Train to at last get religion, which may at last stir Senate majority leader Mitch McConnell, who is the lynch pin in this entire affair, to pull the plug on his support for Trump.
Meanwhile, Nobody Republicans such as Jim Jordan and Matt Gaetz (below) and Devin Nunes will eventually wind up in jail as well as the scrap heap of history as their political careers are last seen in that mobile-dumpster-on-fire GIF.
In the interim, the U.S. abandons its allies in Ukraine and the Kurdish, most likely for the personal enrichment of the Trump family. Last night I was talking to a friend (who took me out to dinner…sweet!) and likened the U.S. foreign policy situation, and our image among the global community, to a house party when the parents away. The sane part of the country is the Lisa Simpson type, and Donald Trump is like a teenaged Bart, who has decided to throw the greatest bash ever while Homer and Marge are out of town.
Someone vomited in Marge's underwear drawer. Someone else broke a vase. There's pizza on the ceiling. The cat is in the dryer (at least it's not running). The place is a mess and here we are, Lisa, helpless to do anything really until Hurricane Bart and his friends play themselves out and/or pass out. Then we'll get to the task of cleaning up after them for the gigantic mess they've made. We just hope they don't burn the house down before we can get to work.
Reserves
Rageaholics Autonomous
In Philadelphia—of course—Wells Fargo Arena introduces a "Rage Room" where fans of the Sixers and Flyers are welcome to take out their frustrations. I don't see that counter lasting very long. How was this not ever a plot angle on It's Always Sunny….? It's pure genius.
Music 101
Only Love Can Break Your Heart
We've finally begun watching Fleabag and there's a terrific line in the first or second episode. You know the one: "Don't make me hate you; loving you is painful enough."
This was Canadian native Neil Young's first single to chart, in 1970, and is reportedly about the breakup between his ex-bandmate Graham Nash and yet another influential Canadian musician, Joni Mitchell (No. 2 on the Most Influential Canadians list?). Young's music has an inimitable, and often searingly heartbreaking, sound. I love it.
Remote Patrol
GAMES 5!!!!!
Cardinals at Braves
5 p.m. TBS
Nationals at Dodgers
8:30 p.m. TBS
I'm SO down for all of this. October. Baseball. Do or die doubleheader!