http://mediumhappy.com/?p=8319
by John Walters
Tweet Me Right
Tyreek Hill is basically at a dead stop at the 40 and his teammate 10 yards ahead when he begins chasing him. And now you see why so many teams are able to overlook his off-field "issues."
Starting Five
Passing The Torch
Two potentially landmark games this past weekend—time will tell—in the NBA and NFL that saw a next-generation star challenge the greatest player of his generation. In the NBA, Luke Doncic and the Dallas Mavericks took LeBron James and the Lakers to overtime before succumbing. In the NFL, Lamar Jackson and the Ravens completely outplayed Tom Brady and the Patriots and handed them their first "L" in nine games. Only the 49ers remain unbeaten.
(Dude on the left was taken with the first pick in the first round and dude on the right was taken with the last pick of the first round. Scouting!)
The lines from the hoops game were both triple-double. Luka went 31, 13 and 15 while LeBron went 39, 12 and 16. Sounds as if both were amped for this one.
Has Michigan Found Its Mojo?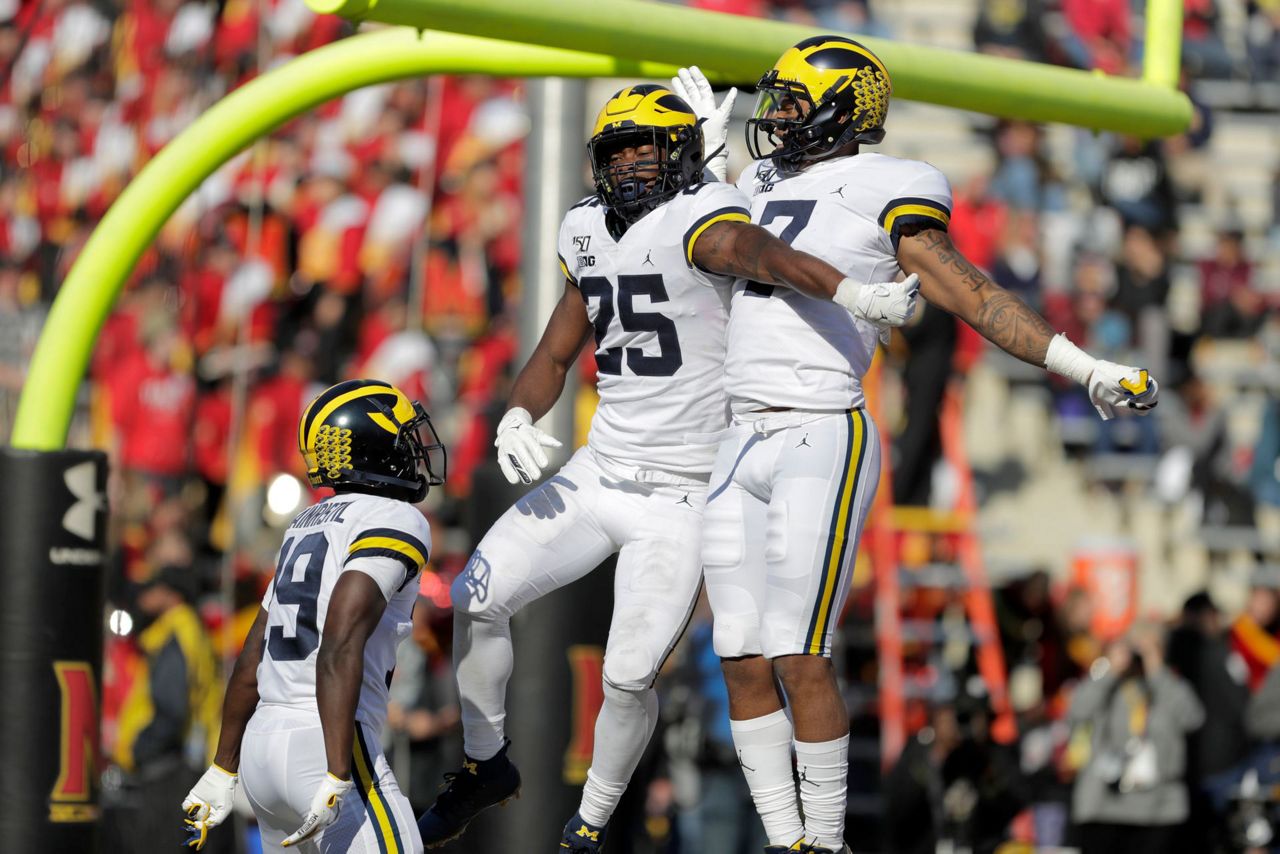 As we printed in "The Bubble Screen", and I quote: "It was a weekend for fans of Justin Timberlake as the top three ranked teams went "bye bye bye" and "College GameDay" made its first pilgrimage to J.T.'s hometown of Memphis. Florida got jobbed on a crucial video review miss while Georgia fans said, "Cry me a river." And is Jim Harbaugh bringing sexyback to Michigan football in time for November showdowns in Ann Arbor versus Michigan State and Ohio State?
So let's talk Michigan. At halftime in Happy Valley two weeks ago the Wolverines trailed 21-7 and it looked as if their whole season, if not Jim Harbaugh's tenure, was headed sideways. Since then MGoBlue has outscored opponents 97-28 and while they lost that Penn State game, found themselves. They've crushed Notre Dame and Maryland on consecutive Saturdays.
What's coming up? Home games in Ann Arbor versus Michigan State and the team we feel is the best in the land, Ohio State. Harbaugh is 0-4 against Ohio State and the Wolverines are 1-14 versus Ohio State since 2003. Is The Game suddenly looking like it might be a close one (last year the Buckeyes walloped the Wolverines in Columbus, 62-39)
You Deserve A Break Today
McDonald's CEO Steve Easterbrook is stepping down after admitting a "consensual" relationship with a fellow McDonald's employee. There is now a sign outside Easterbrook's home that reads "Over 1 Served."
To Air Is Human
This is the smog situation in New Delhi, India, right now. When we spent a month in Beijing in 2008, we often saw days like this (and it depressed the hell out of us, I gotta say). India and China are the two most populated nations in the world. Any questions?
Conan The Destroyer
We'll say it: It's refreshing to see someone named Conan be funny again.
Five Films: 1947
The Bishop's Wife: Set in London, Cary Grant is an angel who's come down from heaven to inspire a minister (David Niven) and help his lovely but neglected wife (Loretta Young). A Christmas classic. 2. Out Of The Past Fantastic film noir starring Robert Mitchum (as a good guy with a shady past!), Jane Greer and Kirk Douglas 3. Black Narcissus We've never seen but it stars Deborah Kerr as a nun (most of her characters possessed this quality) and takes place in the Himalayas 4. Miracle On 34th Street Another Christmas classic. 5. Gentleman's Agreement The year's Best Picture winner starring Gregory Peck and dealing with anti-Semitism on a social class level. Was this the original "woke" film?
Music 101
Rhinestone Cowboy
There's been a load of compromisin'/On the road to my horizon/But I'm gonna be where the lights are shining on me...
Is there an artist in the music business who cannot relate to that lyric? Glen Campbell had a monster hit with this song in 1975, and deservedly so. It hit No. 1 on both the pop and country charts. The tune was written a year earlier by Larry Weiss, who did not have much success with it. Campbell heard it while on tour in Australia and decided to learn it. Weiss, by the way, would later perform the theme song for "Who's The Boss?"
Meanwhile, if you go see Bruce Springsteen's new film, Western Stars, he covers it at the end of the film. Beyond symbolic. We changed our mind and decided to put it below. You can feel the years of experience in every word the Boss spits out.