http://mediumhappy.com/?p=8321
by John Walters
Starting Five
Sweet Home
The president intends to travel to Tuscaloosa to watch No. 1 LSU play at No. 2 Alabama on Saturday afternoon and if you are wondering why, remember where this photo was taken in 2015. Donald Trump was booed at the World Series in Washington, D.C., and he was booed at a UFC in Madison Square Garden last Saturday, but he likely won't achieve the sports boo trifecta when he visits Bryant-Denny Stadium.
Now here's something to chew on, when considering Tuberville's tweet. The former Auburn coach would likely concede that "the liberals up north" are more educated while emphasizing that the SEC has much better football. And he'd be right.
But the SEC only has the best college football programs in America because it takes advantage of being in the backyard of the richest crop of football talent in America: namely young, rural, under-educated African-Americans. Now what would happen on Saturday if every African-American player on both Alabama and LSU opted to sit out of the game in protest of Donald Trump's presence? Suddenly you'd have something looking very much like Northwestern at Rutgers.
And what would that do to MAGA-merica's inflated image of itself, built on college football prowess and yet actually on the sweat and labor, mostly, of young men whom it would want nothing to do with in any setting outside of Saturday afternoon or evening? The aura, in other words, in which MAGA-football enjoys enveloping itself is really a false narrative.
It won't happen, but what if it did?
Cat-Life Stadium
A rogue kitty scampered across the field at Met-Life Stadium during the Cowboys-Giants game last night, marking the first intriguing moment in Monday Night Football since the introduction of the Boogermobile. You have to wonder how many fantasy teams the cat finds itself on this morning. Also, can it play quarterback for the Jets?
I Like To Rock
This is the one-ton "Wizard Rock," which sits in Arizona's Prescott National Forest off State Route 89. Last week it mysteriously vanished (or someone with a crane and a big ass truck took it) and then yesterday it magically reappeared. And that's today's lost-and-found mineral news.
He Who Rips Others Also Rips…
The biggest controversy is sports radio yesterday: Did WFAN's Mike Francesa fart on-air? The alleged gas passing takes place at about :18 here. You be the judge.
The fun part is that The Daily News quickly turned around a story on the incident and then, once apprised of it, Francesa devoted about five minutes in denial of such. This is PEAK sports radio, folks.
Is this our second "To Air Is Human" item in as many days?
Sun-sational Start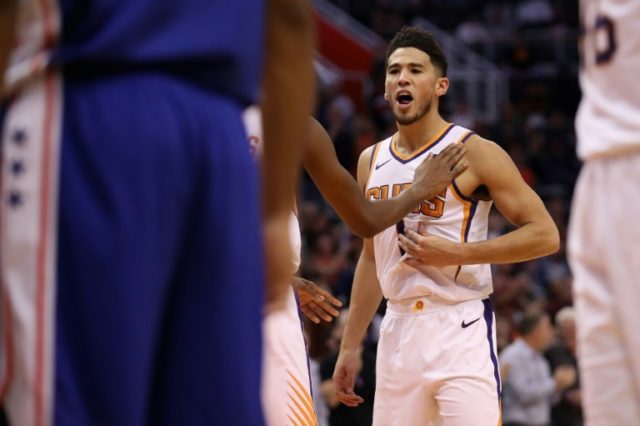 First, the Phoenix Suns whiffed by passing on Luka Doncic in favor of Deandre Ayton last year (Ayton's good; Doncic will be a Hall of Famer). Then they fired their coach. Then they traded down and passed on the likes of Coby White in favor of his teammate Cameron Johnson (again, a good player but a lesser talent). Then Ayton was suspended for 25 games for use of a diuretic.
All bad, right? Wrong. First-year coach Monte Williams has a team of one legit All-Star, Devin Booker, and a cast of cast-offs at 5-2 after they defeated the previously unbeaten Philadelphia 76ers (minus Joel Embiid) last night. The Suns also have already beaten the Los Angeles Clippers, too.
Booker had 40 last night and his supporting cast includes Kelly Oubre, Ricky Rubio, Frank Kaminsky, Aron Baynes and Dario Saric. And yet Williams has this group playing together. I don't understand it, either. But the Suns just went three games over .500 for the first time since in more than four seasons.
Next up? The Eastern Conference-leading (now that Suns knocked off Philly) Miami Heat on Thursday.
By the way, Booker has already gone over 6,000 points in his career and he's still only 23 years old.
Five Films: 1948
Key Largo: Bogey, Bacall and a very dapper and evil Edward G., as opposed to Eugene, Robinson. 2. Johnny Belinda: A deaf girl, a rape, and a Nova Scotian fishing village. The exterior landscape shots underscore the ravaged wilderness that is inherent in the tale. Unforgettable 3. The Treasure Of The Sierra Madre: More Bogey and of course, "Badges? We don't need no stinking' badges!" 4. Mr. Blandings Builds His Dream House: Myrna Loy finally got sick of playing William Powell's wife and trades him in for Cary Grant. Upgrade (but not by much). 5. Rope: There are three, by our count, Hitchcock films that take place almost entirely inside one apartment. This was the first. The others? Dial M For Murder and Rear Window.
Music 101
Late For The Sky
The title track from Jackson Browne's 1974 album that has been hailed "a masterpiece" by many (though casual fans will recognize no songs on the album). And this give us an excuse to add Bruce Springsteen inducting Browne into the Rock & Roll Hall of Fame ("Meanwhile, Jackson is drawing more women than an Indigo Girls show"). As good as Bruce is at everything else he does, he's the best Hall of Fame induction speaker.
Remote Patrol
College Football Selection Show
9 p.m. ESPN
Preceded by Kansas versus Duke in a sterile NBA arena setting (7 p.m., MSG), this will be kinda fun and yet we all know the big match-ups remain on the horizon. LSU, Alabama, Ohio State and Clemson will be in the top four in some order, then Penn State will be fifth. The Tigers and Tide will meet this week and then the Nittany Lions will visit Columbus on Nov. 23 (Penn State also visits 8-0 Minnesota this weekend; who knows, maybe the Fighting Flecks will surprise us).
When the dust from those two (3) games settles, you'll likely have the winners of those two games, plus Clemson and the loser of the Tiger-Tide matchup in the Top 4. But Bama must still travel to Auburn and Ohio State to Ann Arbor and if you don't think an upset will happen in either game, you must be new to the sport.
Then there's conference championship game weekend. The season's just getting started, really.