http://mediumhappy.com/?p=8335
by John Walters
Starting Five
Strike Depose
Big day in Impeachtree City yesterday as Jennifer Williams and Mr.—sorry—Lt. Col. Vindnam appeared before the subcommittee. Williams, an assistant to Vice President Mike Pence, was giving off this Kim Raver vibe:
Whereas Vindman was always at least three steps ahead of whatever Republican congressman attempted to come after him:
and
House Call
So, as soon as we type the item above news breaks that Gordon Sondland, Donald Trump's hand-picked toadie to be in Eastern Europe (officially: Ambassador to European Union, of which Ukraine is not a part) based on a $1 million donation to the Trump campaign, is about to give it all up. His opening statement is 19 pages long and he's going to say, without equivocation, that this was all Trump, Pompeo and Giuliani and that as to the question of quid pro quo, "the answer is 'yes.'"
Luka What He's Doing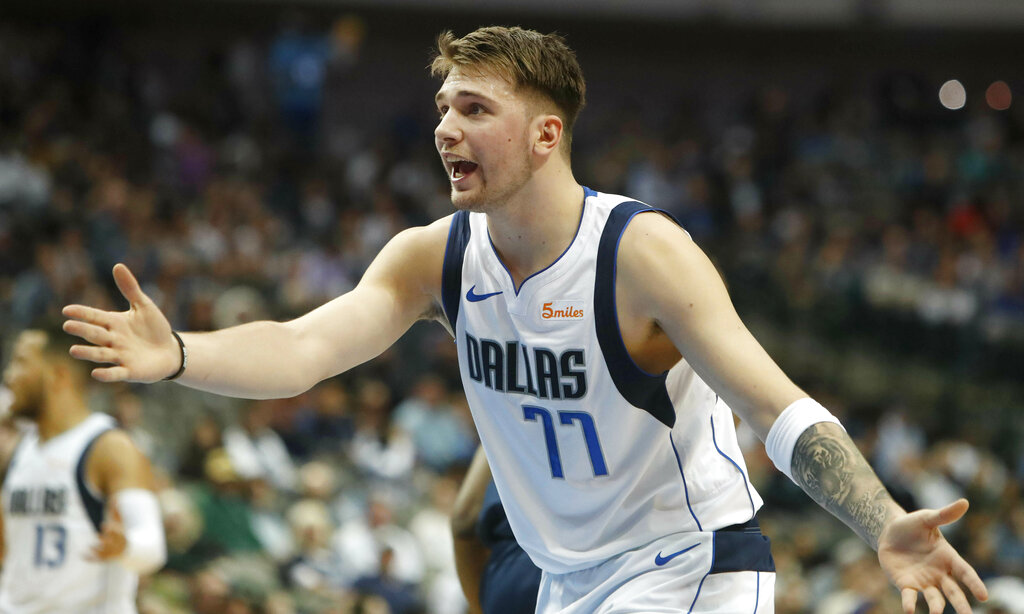 You may recall us advocating here back in May and June of 2018 that our Phoenix Suns, who had the No. 1 overall pick, should select this kid from Europe named Luka Doncic. It looked as if he had the potential to be the next Larry Bird or LeBron.
Now, we were quite sensitive to the potential brushback: middle-aged white guy pining for the GWH (Great White Hope) of that year's draft. Was that it or did we just see in him someone with whom we would've like to play: great outside shooter, great passer, creative on offense?
Well, the Suns selected a center, DeAndre Ayton, who just happened to (briefly) attend the same college as its owner, and that center, while good, is currently sitting out 25 games for PED use. The Kings took Marvin Bagley, a one-and-done phenom from Duke who has missed the first month of this season with a fractured thumb.
Ayton (16.3 ppg and 10.6 rpg as a rookie) is definitely far from a bust. And Bagley had a decent rookie season (14.9 and 7.6) as well. Both stand 6'11."
Doncic, 6'7″, has looked nothing short of a future Hall of Famer. This season he is fourth in the NBA in scoring (29.5 ppg) and second behind only LeBron in assists (9.3). On Monday night versus San Antonio he put up a 40-point triple-double of 42 points, 12 boards and 11 assists. The only player in NBA history to post a 40-point triple double younger than Doncic? LeBron James.
Ayton can be an All-Star. Bagley is still a bit of a mystery. Doncic has the chance to be a transformational player, a legend. Not unlike Dirk Nowitzki, with whom he shared the court for one season.
So you know: Ayton is 21. Bagley and Doncic are 20. These dudes are gonna be around a good long while.
Read This Item, Ya Jagoff
For us, it took attending college in the Midwest, just two hours east of Chicago, in order to become familiar with the term "jagoff." One of our best friends used it the way my dad would use "bum." Anyway, that same friend sent along this article on Monday from Chicago Magazine titled "The Effortless, Midwestern Elegance of 'Jagoff'."
Who knew there was such history behind the term? It's a fun read.
Five Films: 1959
North By Northwest Cary Grant as the original Mad Man in a case of mistaken identity that takes us from the Oak Room Bar in the Plaza Hotel (currently dormant, which is the greatest crime imaginable) to the face of Mount Rushmore. The plane-on-the-plain scene is still one of cinema's most suspenseful. Eva-Marie Saint is a delight. As Dr. Seuss would ask, "Could you, would you, on a train?" 2. Ben-Hur Charlton Heston reverts back to being Jewish, and is once again doing the riches-to-bondage-to-enlightenment deal. Best Picture winner 3. Anatomy Of A Murder Never gets the accolades of many films from this era, but Jimmy Stewart and Georg C. Scott are fantastic as dueling attorneys in this courtroom drama and Lee Remick is, once again, a crime in tight outfits 4. Some Like It Hot I'm sure some of our readers would want this to be No. 1. We liked it and Marilyn Monroe is a wonderful comedienne, even if she drove her director and co-stars crazy 5. House On Haunted Hill A bunch of strangers can win a bunch of money if they promise to stay in a haunted house until sunrise. We were but kids when we saw this and it FREAKED US OUT. Not one of the five best films of the year, but one of our five favorites. With Vincent Price, the godfather of ghoul.