http://mediumhappy.com/?p=8339
by John Walters
Tweet Me Right
Starting Five
Blackbird
Last year's hot NFL team, the Los Angeles Rams, hosted this year's hot NFL team, the Baltimore Ravens, in the L.A. Coliseum last night. It wasn't close. The Baltimore Birds slammed the Rams 45-6 and viewers left sure of two things: 1. Lamar Jackson was the steal of the 2018 NFL draft (the 32nd and final pick of the first round) and 2. nobody wants to hear Booger McFarland compare the Ravens to The Wire ever again.
Jackson, who was the fifth quarterback chosen in the 2018 draft, has thus far been undeniably the best. Last night he threw five touchdown passes and while he's not the most prolific passer in the league this season by a long shot, he is third in passer rating and he's also the only quarterback in the top 10 in the NFL in rushing.
The Ravens are 9-2. Right now it's between Lamar and Christian McCaffrey (another deserving Heisman Trophy winner who, unlike Lamar, was overlooked for the award) for NFL MVP this season. McCaffrey leads the league in rushing yardage.
McCaffrey's middle name is Jackson, by the way. Jackson's middle name is not McCaffrey.
Seoul Mates*
*The judges will also accept "Crazy Rich and Poor Asians"
The movie you should see right now? Parasite, a film out of South Korea written and directed by Bong Joon-ho. See, there's a poor family (above), the Kims, and a wealthy family, the Parks. When the Kim son lands a job as a tutor for the Park's daughter, he soon figures out a way to land his three other family members jobs at the Park home (art therapy teacher, driver, housekeeper) without the Parks ever realizing they are all members of the same family.
So far, so funny. Then the story takes a turn for the hearse.
To say more would be wrong. You'll really enjoy this film, but you'll have to read the subtitles. This will most likely win the Best Foreign Film Oscar in a few months. It's downright entertaining and suspenseful and while it may have a lesson or two to provide about class structure, you're too busy being entertained to feel as if anyone's preaching.
The Enemy Of My Enemy Is My Fiend
If you're wondering what Fox News' Tucker Carlson is doing here, it's quite simple. First, he's attempting to normalize the footsie being played between Donald Trump and Vladimir Putin although it's quite curious since right up until the moment Trump began entreating the Russians to look into Hillary's e-mails in 2016 the Russkies were America's sworn Cold War adversary.
Second, what he's also doing is demonstrating that the Democrats and "libtards" are a far greater threat to the America he loves than Russia is. Which is how much of the Trump GOP actually feels.
Sure, it's queer to listen to the same people who would've bashed Obama 24-7 for doing anything even close to what Trump has been alleged of doing both in regards to cozying up to Russia and to attempting to extort Ukraine suddenly say, "I'm rooting for the Russians." But that is where we are.
Yesterday I had a thought: What happens when the "real Americans" (who watch Fox) are outnumbered by the unreal Americans? Well, that day is coming and you see, the Fox'ies are trying to prep America for it. How? By manipulating elections, by loading the federal courts with federal judges, by attempting to keep the Senate a red majority and, lastly, by gas lighting Americans into thinking that the Constitution no longer matters as much as what the President believes; that he is a king and that his rule is inviolate.
That's what all of this is about: holding onto white power in a nation that is increasingly, week by week, not white. Nothing more than that.
Wilder Wilding
Nobody pays too much attention to traditional boxing any more, not even to heavyweight fights. On Saturday night, however, Deontay Wilder did Burgess Meredith's Rocky quote proud: "He'll knock you into tomorrow, Rock!"
On Saturday night the 6'7″ Tuscaloosa native KO'd Luis Ortiz in the final seconds of the 7th round with a punch that literally knocked all the sweat beads into the fourth row. It was like watching one of those magical bird migration patterns in slo-mo.
In 2015 Wilder, 34, became the first American heavyweight boxing champion after a nine year interregnum for the Yanks at that weight class. He is 42-0-1 in his career with with 41 of those wins by knockout. Twenty of those 41 knockouts have taken place in the first round.
The only person Wilder beat but failed to knock out was Tyson Fury, which is too perfect a name when you consider the last great American heavyweight previous to Wilder. Here's what the announcer said at the end of Saturday's fight, moments after the knockout: "There is a reason why he's the baddest man on the planet!"
Indeed.
Five Films: 1963
The Great Escape: Another great World War II manly man film starring Steve McQueen, James Garner and Charles Bronson, among others. A simply unforgettable WW2 flick. 2. Tom Jones: A deserving Best Picture starring Albert Finney that is a rollicking adventure with great good fun and a charming and bawdy leading man. It doesn't get the same attention as a lot of "classics," but no one ever saw this film without enjoying themselves 3. The Birds: In a year that also featured Bye, Bye Birdie, this film with Tippi Hedren and Rod Taylor gets the aviary nod. 4. The Pink Panther: The film that started it all. Peter Sellers was supposed to be more of a supporting player with David Niven's jewel thief the star, but as he began stealing every scene director Blake Edwards was shrewd enough to recognize what audiences would respond to. If you're too young to have seen the Pink Panther series, make it a point to see them ("The Return of…" is our favorite). 5. From Russia With Love: Some people consider this James Bond film, the second, to be the best of the Sean Connery era. There's a sound argument to be made for this and, no, none of it takes place in Russia.
Remote Patrol
Echo In The Canyon
Netflix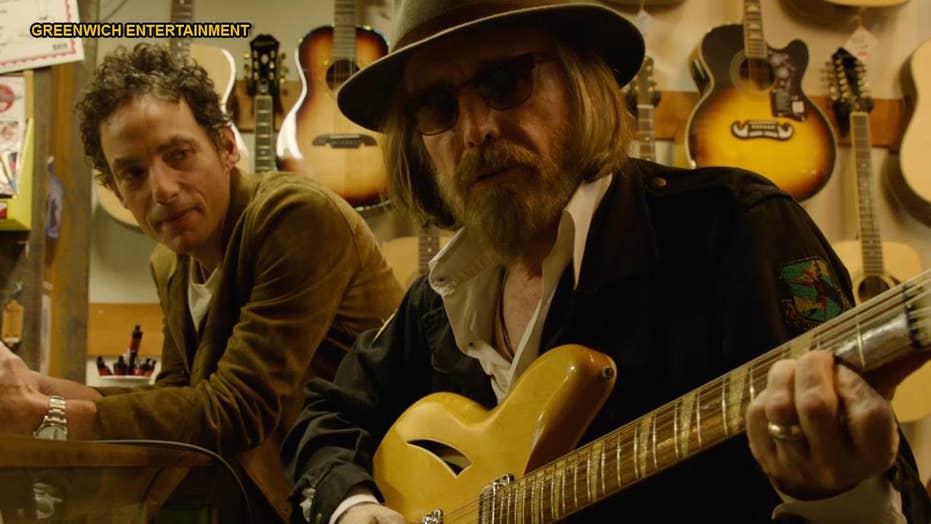 We caught this very good and entertaining documentary last night. It's all about the Laurel Canyon music scene of the mid-1960s that brought The Byrds, the Mamas and the Papas and the Buffalo Springfield into the foreground. Jakob Dylan, whose pop had a thing or two to do with it all starting out, developed this project and conducts all the interviews.
Dylan, give him this, is a terrific host. Notice how quiet he is as his subjects talk, allowing them to fill the blank spaces, which creates a far better interview. Being the son of one of the all-time rock gods, he's not nervous or anxious in the presence of Roger McGuinn, Michelle Phillips, Brian Wilson, Steven Stills, David Crosby, Jackson Browne or even Tom Petty, whose contribution to this project will bring a smile to your face.
This was a labor of love and what Dylan has done here is laid down a historical document that, while not approaching Ken Burns-doc status, will be viewed for a long time after all of these legends are part of the dirt. A hilarious moment that we rolled back twice to re-watch: as different subjects opine as to why David Crosby was booted from The Byrds, we shift to Dylan interviewing Crosby with the gorgeous Santa Monica mountains in the background. "That's not the reason I was kicked out of the Byrds," says Crosby, who then turns directly to the camera and says, "The reason I was kicked out of The Byrds was because I was an asshole."
How can you not love a man like that?