http://mediumhappy.com/?p=8403
by John Walters
Tweet Me Right
"Get thee a snubbery!"
Starting Five
Wuhan Clan
A deadly virus breaks out in China, as officials there do their best to contain information surrounding the epidemic. Then it spreads across the planet. Is this current events or the first chapter of Max Brooks' zombie pandemic thriller World War Z?
Turns out, both. I'm rooting for the coronavirus, by the way. Wuhan, incidentally, is a cozy city about 200 miles inland from Shanghai that you've never heard of (perhaps) and never visited (definitely) and yet it has a larger population than that of New York City.
Delta Force
Number-one overall draft pick Zion Williamson at last made his NBA debut for the Pelican West last night. The game tipped off at 9:30 and then Zion sputtered through the first three quarters with five total points. Then, after 11 p.m. local time, long after many had gone to bed, lightning struck.
In a brief window, Zion scored 17 consecutive points for the gulls, including going 4-for-4 from beyond the arc (something he's not particularly renowned for). Zion finishes with 22 in his NBA debut as the Birds fall to San Antonio.
When The Schiff Hits The Fan
It's going to require a 2/3 vote in the Senate to remove Donald Trump from office. That means at least half the Republicans in the chamber will have to vote to impeach.
That ain't happening.
But with every minute of time Adam Schiff gets at the podium, the congressman from California is laying bare just how open-and-shut this case against the president is. He's concise, he's direct and he's even-tempered. But he's also candid: a vote against impeachment is a vote against the Constitution. You're voting for power, not for integrity.
Here's The Washington Post on Schiff. Two lines stand out in case you're not in the mood to click on the link. One…
"… that is what the trial is about. It's about making clear to the entire country that Trump did exactly what he is accused of, but that his own party, suffering from political cowardice and intellectual corruption, do not have the nerve to stop him."
And two…
"If abuse of power isn't impeachable, then the president is king."
Aztec Camera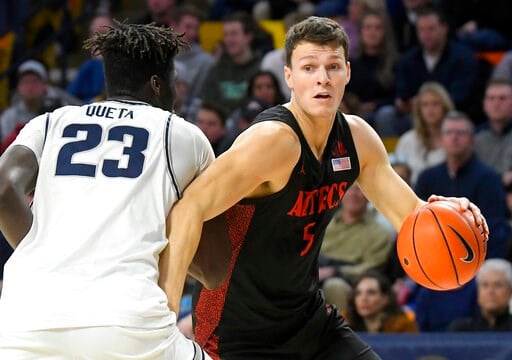 There's still an unbeaten in men's Division I basketball. Did you know that? I did not know that. Moreover, this 20-0 squad is not one of the seven schools that has at one point this season occupied the nation's No. 1 ranking.
All hail San Diego State.
Granted, the fourth-ranked Aztecs have not played a ranked opponent. It will be interesting to see if they can somehow land a No. 1 seed if they never meet a ranked foe and go through the regular season undefeated. No opponent has come within 9 points of them since early December.
Yanni Wetzell, the team's leading rebounder and No. 2 scorer, is a 6'10" Kiwi grad transfer with previous stops at Vanderbilt and a D-2 school in San Antonio. He's a former world-ranked junior tennis player.
Five Films: 2000
Almost Famous: How could we put this one any lower when it inspired the name of this daily exercise in pedantry? The only fast note for me was when Bill Miller rips Russell a new one over Penny Lane's near-suicide. But the final scene redeems it. "To begin with… everything." 2. Gladiator: Were we not entertained? We were. The opening battle scene was Braveheart in a wintry Bavarian forest. Awesome. 3. Sexy Beast: Ben Kingsley won an Oscar for portraying Gandhi. He deserved one here even more for portraying a character that couldn't be any further from that one. Love this film. If you've never seen it, change that. Ian McShane is also excellent. 4. You Can Count On Me: Sweet little film about adult siblings played by Mark Ruffalo and Laura Linney. 5. Traffic: Muy depressing, but in terms of vehicular-related one-word titles, way less pretentious than Crash.