Six days have passed since the most recent episode of Game of Thrones, and I still am obsessed with the verbal duel that took place between Varys and Littlefinger (a.k.a., Petyr Baelish) near the end of the program. Sheer brilliance, and the poetry of the lines approached Shakespearian levels. I'm not kidding. And as for Littlefinger (Irish actor Aidan Gillen), he should win a Best Supporting Actor Emmy bolstered by this scene. Gillen has completely usurped Peter Dinklage's role as most intriguing conniver inside King's Landing this season.
There are certain moments in a series when a musical montage near the end of an episode becomes a transcendent moment. Goosebumps moment. I think immediately of the "Fix You" scene from The Newsroom or "The Man With the Miniature Orchestra" montage (by Dave Algonquin, a.k.a. Kenny Cosgrove) as well as "Lane Pryce vs. Peter Campbell (same episode) from the "Signal 30″ episode of Mad Men last season. Or, retreating further, the "Light and Day" montage from Scrubs (music, plus the cameo, by The Polyphonic Spree) (true story: immediately after watching this scene, I walked to Tower Records on Broadway and bought this CD; that retail space is now an Apple store…so it goes…also, The Polyphonic Spree's show at Irving Plaza in 2004 is one of the five best live shows I've ever seen), a show that lived for montages, or the epic Jordan Catalano bows to Angela Chase scene from My So-Called Life, the best one-year wonder in TV history (music here by Buffalo Tom).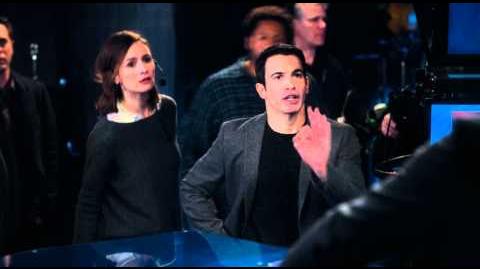 These are more than television scenes. They are symphonies. And when Hollywood wonders why so many of us rarely go to the movies, my reply is that I'm not going to spend $13 on a film until you can make one as compelling as what I am watching on AMC (Mad Men, Breaking Bad) or HBO (Game Of Thrones, The Newsroom).
Anyhoo, I've decided to deconstruct, as best as I am able, the "Chaos is A Ladder" scene for you. First, of course, you should watch it again or see it for the first time. Here it is.
OPEN: Petyr Baelish is seated next to the throne (oh, lookie! symbolism from the very outset), a chair forged from "one thousand blades" as his rival/colleague, Varys, enters the royal chamber. They are the best of frienemies and this is hardly the first verbal duel they've undertaken in this very room over the series' two-plus seasons).
Varys: "A thousand blades. Taken from the hands of Aegon's fallen enemies. Forged in the fiery breath of Valyrian the Dread."
Littlefinger: "There aren't a thousand blades. There aren't even 200. I've counted."
Two lines and already we have conflict and disagreement. Varys repeating the myth, while Baelish, a.k.a. Littlefinger, destroys it with facts. Littlefinger is the Nathaniel Philbrick of Westeros, punching holes in the stories we learn in childhood and repeat forever without ever stopping to wonder if they are based in fact (highly recommended reading: "The Last Stand" and "Mayflower", though I caution you, if you repeat any of the truths contained therein, you could be fired from a college sports website. Be advised).
Varys: "Huh! I'm sure you have. Ugly, old thing. Yet it has a certain appeal. The Lysa Arryn of chairs. Shame you had to settle for your second choice."
Oh, that's cold, Varys. I don't care what your anatomical reality is, that took balls. Varys is referring to the sister of Catelyn Stark, the woman whom Baelish has been in love with his entire mature life (though, c'mon, any idiot can see that Littlefinger is a "sword swallower through and through" and it is HE who should probably be married off to Loras Tyrell, but we'll agree to suspend our disbelief if you will. At the very least he is King's Landing's most eligible metrosexual).
Littlefinger: "Early days, my friend. It is flattering, really, you feeling such dread at the prospect of me getting what I want."
Early days, my friend. I like that. I'm using that the next time someone disses me. Also, you have to love the confidence from within Baelish as he utters those words.
Varys: "Thwarting you has never been my primary ambition, I promise you. Although who doesn't like to see their friends fail now and then?"
As a previous blogger on another site noted (I believe it was on Grantland, but I'm not positive), this is the Morrissey Postulate: "We hate it when our friends become successful." And, let's face it, that's true (for what it's worth, Rick Reilly has called Morrissey a "genius." I don't disagree.)
Littlefinger: "You're so right. For instance, when I thwarted your plan to give Sansa Stark to the Tyrells if, I'm going to be honest, I did feel an unmistakable sense of…enjoyment there. But your confidante, the one who fed you information about my plans, the one you swore to protect: you didn't bring her any enjoyment. And she didn't bring me any enjoyment. She was a bad investment on my part.
And here is where the scene really begins to generate heat (somewhere Samwell has taken a log off the fire). Littlefinger descends the stairs and approaches Varys. His phrasing, the pace of his verbiage, is delicious (although I do admit that shampoo ad coming to mind — "I told two friends…and they told two friends…and so on…"). "You didn't bring her any enjoyment. And she didn't bring me any enjoyment." It's hard out there for a pimp.
And then… we learn just how vicious Littlefinger can be. Cross him and he may crossbow you.
Littlefinger:  "Luckily, I have a friend who wants to try something new. Something daring. And he was so grateful to me for providing this fresh…experience."
And if you noticed the symmetry between Joffrey's aim and Arya Stark's with her non-crossbow earlier in the episode, well, that was purely intentional. I have not read the "A Song of Ice and Fire" series, but I foresee a showdown between those two somewhere in the future. The butcher's boy's death must be avenged… as must Ned Stark's, of course. Also, notice how the low piano keys kick in. Your cue that the scene has progressed to high drama.
Varys: "I did what I did for the good of the realm."
Paging Dick Cheney. Come in, Dick Cheney.
Littlefinger: "The realm. Do you know what the realm is? It's the thousand blades of Aegon's enemies, a story we agree to tell each other over…and over…til we forget that it's a lie."
We refer to them pilgrims and patriots. The Native Americans might have referred to them as "enemy combatants."
 Varys: "But what do we have left once we abandon the lie? Chaos. A gaping pit waiting to swallow us all."
Ah, the entropy argument. Also, the NCAA's argument for why student-athletes shouldn't be paid. It's funny what happens when you leave things to nature: nature finds its way. Immediately after this meeting Varys will approach Tywin Lannister and argue that all carbonated beverages in King's Landing must max out at 16 ounces.
Littlefinger: "Chaos isn't a pit. Chaos is a ladder. Many who try to climb it fail, and never get to try again. The fall breaks them."
Translation: For those born and raised in the upper strata, chaos is terrifying. But for the overwhelming majority who are not given the silver spoon, chaos equals opportunity. It's kind of like how Wall Street was strictly capitalist until the chaos of 2008, and then it became the biggest fans of socialism you've ever seen. That is, until the bailout. And then it reverted to capitalism. Chaos, agreed the big banks and the politicians who suck from its teats come campaign financing time, is a pit. It isn't capitalism OR socialism that either are in favor of: It's power. And when you already have power, chaos is the last thing you want.
For Petyr Baelish, who has ascended from being a nobody to one of the most powerful men in all of Westeros, chaos is exactly what you want. It's your only chance, in fact. As for those who try to climb it and fail, he refers to those who take foolish risks or overplay their hands.
Littlefinger: "And some are given a chance to climb, but they refuse. They cling to the realm, or the gods, or love. Illusions. Only the ladder is real. The climb is all there is."
Oh, Sansa Stark. You stupid, beautiful, stupid, idealistic, stupid girl. Listen, when the man you love corrects you for calling a broache a "pin" that is, as Charles Ramsey might say, "a dead giveaway. Deaaaaaad giveaway." Also, this is Littlefinger channeling the ethos of Werner Herzog. We live in an amoral wilderness, and all that matters is survival. The climb equals survival, and as Littlefinger says, "The climb is all there is." Ask any animal currently inhabiting the Serengeti Plain.
It's a cold, cynical, dark and, dare I say it, accurate world view.
But, of course, the episode does not end there. We move immediately from Littlefinger's metaphorical climb to Jon Snow's quite literal and exhausting one up The Wall (minus Sherpas, we might add). And from a very unforgiving, amoral world to a wall-top vista that provides wonder and hope. Yes, Roberto Benignini, life is beautiful! And, look, there is love. And that final frame, of Jon Snow and his babe from the wrong side of the wall, Ygritte, with a gleaming sun and a sublime valley stretching out before them, well, if that ain't Eden I don't know what is. The first man — if not the "first of men" — and the first woman.
It's Romeo and Juliet meets the Seven Kingdoms. Westeros Side Story.
Myths. Realities. Love. And Hope.
A perfect three minutes of television.