Starting Five
1. It's A "Gee" Thang
New York Mess pitcher Dillon Gee (soft "G"), who entered last night's game against the Yankees with a 2-6 record and a 6.34 E.R.A. –second-worst in the National League — strikes out 12 batters through 7 1/3 and is dominant as the Mess win, 3-1, to sweep a four-game series from their inter-borough neighbors. When Mess manager Terry Collins was asked to cite the last time Gee looked so sharp, he referenced a spring training game.
Meanwhile in Ohio, THE Ohio State University president E. Gordon Gee (hard "G"), initials E.G.G., had that on his face as comments he made last December referencing Notre Dame came to light: "The fathers are holy on Saturday, and they're holy hell the rest of the week," Gee had told an audience. "You just can't trust those damn Catholics on a Thursday or a Friday, and so, literally, I can say that."
Over at Sports Illustrated, Andy Staples had some fine thoughts on this topic. Meanwhile, Dr. Gee, your table for two with Sergio Garcia is ready.
2. Does your zoo have one of these?
The bad — no terrible — news is that some of Earth's most beloved creatures are headed for extinction. Tigers and polar bears, oh my. The good news is that scientists may be able to clone creatures that have been extinct for millions of year using just an existing drop of their blood that has been frozen for eons (note to self: Remind biologists to check Charlie Sheen's freezer). Scientists in Siberia located a woolly mammoth trapped in ice, pricked it, and liquid blood ran out. Now they are talking about cloning it.
3. 16 Points, Four Rebounds and Four Assists…in the Third Quarter
I  had recused myself from caring about the NBA playoffs until Heat-Spurs, but last night LeBron James "went back to my Cleveland days" third-quarter performance in Game 5 tipped my hand. He personally outscored the Indiana Pacers with an effort that only Atlas, who once hoisted the world upon his shoulders, could fully appreciate. James finished with 30 points, eight rebounds and six assists in the 11-point win. Across the scorer's table, Paul George, the HalfBeatles, had 27 points, 11 rebounds and five assists for the Pacers as his agent continues to salivate over his next contract.
4. The BlowHardy Boys
WFAN's Mike Francesa is asked his thoughts on ESPN's John Buccigross, and clearly has no idea who he is ("Who's John Buccigross?"… He's one of the top five anchors on SportsCenter, Mike). Francesa also says, "First of all, ESPN is not on my screen." You're a sports media guru who does not watch ESPN? Challenge flag, Mike. Or you're just lazy. Also, it's "source" with an "r". Not "sauce" as in what to top my tortellini (who I hear the Rangers fired, but I can't remember who broke the story) with.
Meanwhile, Bill Simmons, who we think is doing a terrific job on ESPN's on-air NBA coverage now that he has stopped saying, "I don' think the (Fill in NBA franchise here) know who their best eight guys are",  finds a correlation during a podcast between the MLK assassination and timorous Memphis Grizzlies fans. Deadspin's Drew Magary fillets him. Masterful job. As another writer at another site –sorry I cannot locate it this moment – wrote, "It's a long season. Take a few plays off, Bill."
5. The Scripps' National Spelling Bee is a Joke
Sorry, ESPN and all of you morning shows who feel the need to stroke us into thinking this event has anything to do with a child's ability to spell words. Yesterday's winner, Arvind Mahankali, 13, won by correctly spelling a German word ("knaidel") that is a type of dumpling. I haven't run the numbers, but it seems that 95% of the words in the spelling bee are not used in normal conversation by 100% of the viewers.
In fact, "ArvindMahankali" could very well be a word in next year's Spelling Bee.
This, my fellow language enthusiasts, is not a spelling bee; it's a memorization bee (and it's not a sport, either, Bristol).
You want to add drama to the Scripps National Spelling Bee? Announce a $500,000 prize to the winner. Then, on a specified day each year, officials enter 5th-grade classrooms across America –that is, unless one of Wayne LaPierre's "good guys with a gun" mows them down in the name of protecting the children –and randomly select one or two dozen individuals. These boys and girls are then whisked off to Washington, given one day to prepare and then, Game on! A lot more drama. And a lot more fun for us viewers.
As it stands now, all we get is kids who are undeniably skilled at memorization –and who probably cannot throw a spiral or name even one non-title character on Phineas & Ferb — and who in 25 years will be telling us the results of our MRI. Do we really want this?
 Reserves
Commencement Exercises, a.k.a. "Begin the Begin"
This is my favorite segment that NBC Nightly News runs all year. I don't know why they don't turn it into an annual hour-long program. Also, watch Richard Engel. He sounds exactly like Bono in 1989. I actually dined with Engel on the night of the Opening Ceremony (not "Ceremonies") at the Beijing Olympics. I think my sister still believes that's the coolest thing I've ever done professionally (my brother believes it was riding a Waverunner with Lisa Guerrero, but that's a different story).
Megan Draper = Sharon Tate?
The latest interweb meme — or is it a GIF? — has conspiracy theorists finding similarities between actress Sharon Tate, who was slain by the Manson Family in the summer of 1969, and Don Draper's aspiring actress wife. For all the upheaval that occurred in the 1960s, it all ended in California at the end of the decade with the assassination of Bobby Kennedy (the real Bobby 1; we're with you, Betty) in Los Angeles in 1968, the Tate-LaBianca murders in 1969, and then Altamont later that year.
It's an interesting theory, particularly when you read of the Draper-Tate coincidences, and then factor in Weiner's insatiable appetite for garnishing his drama with pop culture reality. I wouldn't put it past him. My own little add: Where did Don and Meghan first hook up? In southern California, during a Disneyland vacation.
One of the bizarre and lesser-reported aspects of the Manson family murders? Manson was an aspiring musician and had befriended Dennis Wilson of the Beach Boys. He even crashed at Wilson's house on Sunset Boulevard until Wilson realized that he was koo koo for Cocoa Puffs and asked him to leave. However, Wilson did introduce Manson to record producer Terry Melcher, who was living with his girlfriend Candice Bergen at the time. They lived on 10005 Cielo Drive in Bel Air.
Melcher indicated that he was interested in producing Manson's music, but he may have just been making party conversation. When Manson arrived at Melcher's home unannounced to further discuss this prospect, he was turned away. Melcher soon moved out and rented the home to director Roman Polanski and his wife, Sharon Tate. Not long after, the Manson family returned to 10005 Cielo Drive and murdered Tate and three others.
Testimony revealed that Manson and his followers were aware that Melcher and Bergen had moved out of the house. Still, they targeted the home because they wanted to terrify him. It worked.
The Fox Mole Tells All
Joe Muto, the Fox mole (and a Notre Dame alum), reveals a lot about the inner workings of Fox News from his time as an employee there. It's a fascinating read, but I can't help feeling a little like Muto reminds me of another rodent — a weasel — with his tell-all. Did he not know what he was getting into when he accepted a job with Fox? And, a year after being smoked out of his hole by his superiors, is this still the only bullet in his arsenal? Why would anyone hire him again?
A Chilling Anniversary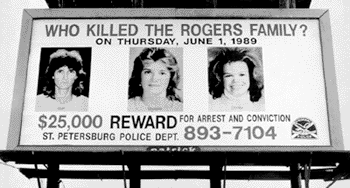 Tomorrow marks the 24th anniversary of the murders of Jo, Michelle and Christe Rogers, a mother and two daughters from Ohio who were found floating in Tampa Bay. The trio had been raped and bound, then thrown overboard with cinder blocks tied around their necks. I'd never heard about the tale until last night, when Twitter follower David Ching of ESPN apprised me of it. Thomas French of the St. Petersburg Times wrote this Pulitzer Prize-winning piece that kept me up late into the night. Be warned: It's fantastic but it will also take you no less than 90 minutes to read.
 Comrades In Legs
On Sunday the 88th running of the Comrades Marathon, the world's oldest and largest ultramarathon, will take place in South Africa. The 56-mile race, which was first staged in 1921 (and was only suspended during WWII) is run between the cities of Durban and Pietermaritzburg. Each year the city-to-city course alternates directions in which it is run. You must have run a sub-5 hour marathon to qualify (check!) and then you have to get your arse to South Africa.  Approximately 25,00o runners enter. If you're a distance runner, Comrades should be on your bucket list.
The Medium Happy tip jar remains open (thanks to all of you who contribute!). sameriver@hotmail.com on PayPal.