Starting Five
1. This is Your Brain on Football
The NFL settles its case with its 18,000 retired players, agreeing to hand over the sum of $765 million plus legal costs but admitting no wrongdoing in terms of failing to disclose traumatic brain injury (TBI) research.
The league's TV contracts with Fox, CBS and NBC alone (before you even mention DirecTV or ESPN) between now and 2022 are worth more than $27 billion. While $765 million is not quite a parking ticket, it's the kind of penalty that an HSBC got: It sounds like a lot of money to us minions, but in terms of big business, it's a number that will not leave a scar.
As opposed to traumatic brain injuries, that research has now shown can lead to Alzheimer's, Parkinson's and severe depression or dementia. No one need protect players from playing a game that they want to play AS LONG AS THEY ARE ARMED WITH AS MUCH AVAILABLE INFORMATION AS POSSIBLE. Let's face it, most would still play the game, anyway.
The scandalous aspect of this is that the nine-figure sum is tantamount to hush money. If the NFL really cares about its players' well-being, it would be candid and transparent about head injuries, and to hell with the fiscal reperconcussions.
2. Great Scott!
Trailing by three with 90 seconds to play and 75 yards from pay dirt, what do you do? Hand the ball off to Jeff Scott on a sweep left is what you do! Mississippi's five-foot-seven tailback went 75 yards, untouched due to a nifty cutback along the Rebel sideline, to score the game-winner in a wild one at Vanderbilt. The Commodores had just converted a fourth-and-18 two plays earlier, and then scored a 40-yard TD on blown Rebel coverage, to take the lead. Ole Miss frosh phenoms Robert Nkemdiche ("That's a maaaaaaan, baby!") at defensive end and Laquon Treadwell (9 catches, 82 yards) at wide receiver are as good as advertised. And quarterback Bo Wallace appears to be reprising the role of "Sunshine" from Remember the Titans. I expect at least one 5,000-word testament on the Rebs this autumn from Ole Miss alum and Oxford resident Wright Thompson.
Also, for the record, Joe Tessitore, Vanderbilt walk-on punter Taylor Hudson is probably an outstanding student and an even better person (he was, after all, his high school's prom king), but he is not "studying neurosurgery." That is, unless he is in medical school. In fact, unless he is a neurosurgery resident. Hudson is an undergrad, so he's simply a dedicated pre-med who aspires to be accepted to med school. Let's not oversell it.
3. U.S. Military Set to Launch Missile Strike on…Pfizer?
For what it's worth, approximately 6,570 American women per year (and the number is larger among men) die due to a prescription drug overdose. That figure has quintupled in the past decade. Oh, and Americans' account for 80% of the world's pain medication (at this point I should note that Bryant Gumbel has not hijacked this post) because, let's face it, surviving in Pakistan or Sierra Leone is just tra-la-la. So if you want to talk chemical weapons…
The brushback on this is that the Syrian government knowingly murdered its own people by dropping deadly gas on them. And of course that is inexcusable. But if more than 10,000 people per annum are dying stateside due to what is nominally a remedy, then isn't that remedy a little bonkers? And how many Americans die per year due to marijuana usage? Far, far (if not infinitesimally) less. But then, the prescription drug lobby is far more powerful than Seth Rogen and James Franco. For now, at least.
4. Derek Carr's Wild Ride
Okay, I wasn't watching Rutgers at Fresno State, either. But we should have been. The Bulldogs outlasted the Scarlet Knights in overtime, 52-51, as Fresno State quarterback Derek Carr (yes, the younger brother of former No. 1 overall NFL draft pick David Carr) went 52 of 73 for 456 yards and five touchdowns (he's our wayyyyy early frontrunner for the Red Grange Award). Earlier this month Carr had to rush his newborn son to the hospital with a life-threatening digestive tract problem.
Here's a terrific profile on Carr, a senior, by David White, in The New York Times. Here's Carr on his Manziel-like (minus the stats and accolades) freshman year in The Valley: "I was out running around, living the life. Everyone wanted to hang out with the Next Big Thing, and I soaked it up like an idiot. I want to go back and punch that guy in the face."       
5. Does Anyone Remember Baseball?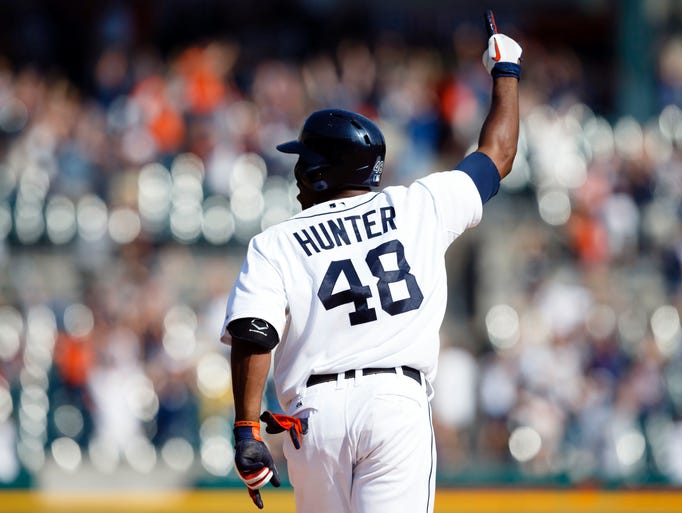 Terrific matinee in Detroit yesterday afternoon, though few seemed to notice. The Oakland A's were after a four-game sweep of the A.L. Central-leading Tigers at Comerica. Tiger starter Max Scherzer was after his 20th win against just one loss. Both Oakland and Scherzer were denied. Mad Max left after five innings with his team trailing 6-1, but Oakland surrendered a two-out, three run homer in the bottom of the ninth inning to Torii Hunter to lose 7-6. Detroit trailed 6-3 to start when the inning began.
The Bank
Okay, here's the concept. We are going to open with a fictional $1,000 and play one college football game per week. Oh, and we're not going to print any of that b.s. "for entertainment purposes only" the way most sportswriters do. Go ahead and gamble: it may be illegal (in most states) but it's not immoral. If it is, then bathe in the knowledge that you're far from alone as a sinner.
Anyway, our first wager: we'll put $50 on Alabama minus-21 against Virginia Tech. The No. 1 Tide face an unranked Hokies squad that is both young and banged up. Frankly, the spread surprises us and maybe somebody knows something, but we'll stick with Nick Saban, who's probably annoyed that he has to play this game since it totally messes up his recruiting schedule.