STARTING FIVE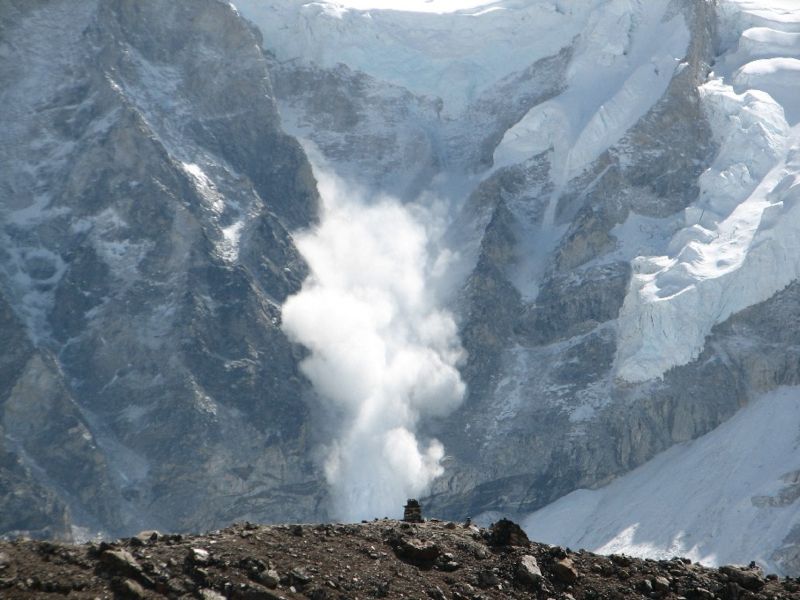 1. Rule No. 1…
…is, of course, "Gravity always wins." Snow falls downhill (by definition of the word "fall"). An avalanche on the slopes of Mount Everest claims the lives of 12 or 13 Sherpa guides this morning, as Jon Krakauer rushes out to Staples to buy more note pads and pens.
2. tWITter
How an IT guy from Peoria, Ill., landed a job writing for Late Night with Seth Meyers based on his tweets. This was not a "30 Rock" plot line.
Meanwhile, Conan O'Brien, who turns 51 today, airs rare footage of Jesus' domestic life (something nice for Good Friday).
3. Giggle Meals
Comedian Amy Schumer, with help from Josh Radnor Charles, sends up the tropes of Aaron Sorkin.
4. "We're No. 10!"
In a list compiled by Forbes of America's "10 Most Miserable Cities", my home of New York City finishes outside the single digits. Of the nine more miserable, California, Illinois and Michigan split evenly with three apiece. Detroit and Flint were Nos. 1 and 2.
Okay, kids, I'm late, I'm late, for a very important date. Will return to this later…
The Hall
Charter Inductees: Ty Cobb, Walter Johnson, Christy Mathewson, Babe Ruth, Honus Wagner 1937:  Tris Speaker, CF; Cy Young, P ; 1938: Grover Cleveland Alexander, P; Eddie Collins, 2B 1939:Nap Lajoie, 2B; Joe Jackson, LF; 1940: Billy Hamilton, OF; Cap Anson, 1B; 1941: Wee Willie Keeler, RF; George Sisler, 1B; 1942: Rogers Hornsby, 2B; Pie Traynor, 3B; 1943: Mickey Cochrane, C; Frankie Frisch, 2B 1944: Ed Walsh, P; Old Hoss Radbourn, P 1945: Lou Gehrig, 1B; Kid Nichols, P 1946: Ed Delahanty, LF; Lefty O'Doul 1947: Pud Galvin, P; John McGraw, INF 1948: Carl Hubbell, P; Addie Joss, P 1949: Harry Heilman, OF/1B; Monte Ward, P/SS 1950: Cool Papa Bell, CF; Jimmie Foxx, 1B 1951: Mordecai "Three Finger" Brown, P; Josh Gibson, C 1952: Paul Waner, RF; Charlie Gehringer, 2B 1953: Mel Ott, RF; Hank Greenberg, 1B 1954: Eddie Plank, P; Dan Brouthers, 1B 1955: "Wahoo" Sam Crawford, OF; John Clarkson, P 1956: Chief Bender, P; Bill Dickey, C 1957: Sam Rice, RF; Joe DiMaggio, CF 1958: Bill Terry, 1B; Heinie Manush, LF 1959: Dizzy Dean, P; Tim Keefe, P 1960: Gabby Hartnett, C; Mickey Welch, P 1961: Bob Feller, P; Ducky Medwick, LF 1962: Luke Appling, SS; Jesse Burkett, LF 1963 Jackie Robinson, 2B; Zack Wheat, LF 1964: Jake Beckley, 1B; Rube Waddell, P 1965: Ralph Kiner, 1B; Lefty Grove, P
 1966: Ted Williams, LF; Smoky Joe Wood, P/OF 1967: Roy Campanella, C; Max Carey, OF 1968: Goose Goslin, LF; Rabbit Maranville, SS 1969: Stan Musial, 1B/OF 1970: Ferris Fain, 1B; Earle Combs, CF 1971: Warren Spahn, P; Yogi Berra, C 1972 Satchel Paige, P; Sandy Koufax, P 1973: Robin Roberts, P; Whitey Ford, P 1974: Mickey Mantle, CF; Eddie Mathews, 3B 1975: Lefty Gomez, P; Hack Wilson, CF 1976: Jack Pfiester, P; Johnny Mize, 1B 1977: Ernie Banks, SS; Mickey Welch, P 1978: Roberto Clemente, RF; Chuck Klein, RF 1979: Willie Mays, CF; Luis Aparicio,  SS 1980: Al Kaline, RF; Enos Slaughter, RF 1981: Bob Gibson, P; Harmon Killebrew, 1B 1982: Hank Aaron, RF; Frank Robinson, OF 1983: Brooks Robinson, 3B, Juan Marichal, P 1984: Hoyt Wilhelm, P; Arky Vaughan, SS 1985: Lou Brock, LF; Pete Browning, OF 1986: Sidd Finch, P 1987: Willie McCovey, 1B, Roger Maris, RF 1988: Willie Stargell, 1B, Catfish Hunter, P 1989: Earl Averill, CF, Billy Williams, LF 1990: Johnny Bench, C, Carl Yastrzemski, LF 1991: Jim Palmer, P, Joe Morgan, 2B 1992: Rod Carew, 2B; Gaylord Perry, P 1993: Reggie Jackson, RF, Tom Seaver, P 1994: Phil Niekro, P, Rollie Fingers, P 1995: Pete Rose, INF, Mike Schmidt, 3B 1996: Steve Carlton, P, Denny McLain, P 1997: Jim Rice, LF, Don Sutton, P
1998
Dick Allen, 1B; 1963-1977, Phillies
The "Wampum Walloper" may be the best position player not in Cooperstown. How many other players have been named Rookie of the Year (1964), league MVP (1972) and have led their league at least once in home runs, RBI, triples, runs, slugging percentage, on-base percentage, total bases and walks? A controversial player who was at least a decade ahead of his time in terms of social issues, Allen remains left out of MLB's Hall. But not mine.
Dave Parker, RF; 1973-1991, Pirates
If it weren't for a cocaine habit, the Cobra would probably have gone on to become one of the 100 greatest players of all time. Physically gifted like another contemporary named Dave (Winfield), Parker was a seven-time All-Star as well as the 1978 MVP. He was also the first player to earn an average salary of $1 million per year. A two-time batting champion, he also helped two different teams to World Series championships, in 1979 and '89. Like Allen, he is not actually enshrined in Cooperstown.