Starting Five
1. Open (White) House
The Open Door Policy was a great idea–in 1899. But I doubt this is what Secretary of State John Hay ("Hey!") intended. We're all thinking the same thing, no? If ISIS hears about this –and surely they have–they think to themselves, "Why are we bothering with journalists when we can take out the biggest prize out there?"
Ultimately, the Secret Service owes "maniacal fence jumper" Omar Gonzalez a huge debt of gratitude. He may have saved them the most egregious fail since Titanic. In the mean time, they should probably look into hiring Ohio State assistant strength coach Anthony Schlegel. 
One more thought: It was refreshing to see someone other than a craven politician make a run for the White House, as The New Yorker also noted.
2. Speaking of D.C. Rescues…
Just three miles southeast of 1600 Pennsylvania Avenue, Washington Nationals rookie left fielder Steven Souza on Sunday demonstrated that at least someone in the nation's capitol is deft at patrolling his patch of grass.
Souza extended all six-foot-four inches of his frame to rob Christian Yelich of the Florida Marlins of an extra-base hit on Sunday.  As you know, that was the 27th out of the game, a game in which National starter Jordan Zimmerman had yet to allow a hit. So on the final day of the season Souza's catch served as the final out of the Marlins' season as well as preserving Zimmernan's no-no.
It was also the second consecutive year in which the Marlins were no-hit in Game 162. This is a team that packs its bags early.
3. My Two Jons (Johns)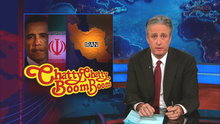 If only for the title of the segment, "Chatty Chatty Bomb Bomb" the Daily Show deserves props for last night's evisceration of U.S. legislative debate as compared to that of our former parent country, England. Yep, it's sad. We broke away from them but they definitely have the edge on us in terms of how to run a democracy.
As Jon Stewart notes, Congressman Jack Kingston explains why our legislators are afraid to debate the "To Bomb or Not to Bomb Isis:"
"A lot of people would like to stay on the sideline and say, 'Just bomb the place and tell us about it later,' " said Representative Jack Kingston, Republican of Georgia, who supports having an authorization vote. "It's an election year. A lot of Democrats don't know how it would play in their party, and Republicans don't want to change anything. We like the path we're on now. We can denounce it if it goes bad, and praise it if it goes well and ask what took him so long."
Oh, as Stewart notes, that's FORMER Congressman Jack Kingston. He only spoke candidly after losing his primary.
Meanwhile, I love this Daily Beast piece on Last Week Tonight. Why? Because the writers says, "I call bullshit" on John Oliver's protestations that he and his staff are not doing journalism. You know what Oliver is doing here. If he admits to his staff's actual agenda –to make the world a better place through informing us –then he loses the coveted role of clown. By maintaining that they're just doing comedy, they avoid all the trappings of having to be a respectable news agency. Brilliant of Oliver and his staff. And good of the author of the piece, Asawin Suebsaeng, for seeing through it.
Again, the question must be asked: Why are the most trenchant news pieces of this generation taking place on Comedy Central and HBO?
4. Red Shoelace Diaries
A casserole of leftovers from Saturday's college football events:
From College GameDay in Columbia, S.C. It begins with Gamecock coach Steve Spurrier uttering words that every coach in the sport whose team has at least one loss (and isn't in the SEC West) should memorize: "We're still in the hunt…for whatever we're in the hunt for."
Also from GameDay, it was not the former Ohio State QB but rather the former Michigan Heisman winner, Desmond Howard, as well as host Chris Fowler (Colorado) who threw shade –kids, am I using this correctly?–on Michigan. Des: ""I didn't see one guy (at Michigan) on the field at practice who wanted to be great." Chris: "Other than blocking & tackling & turnovers & penalties, Michigan's looking pretty good."
Michigan quarterback Shane Morris saw stars after that hit against Minnesota. Wolverine officials evaluating him on the sideline originally thought he saw five stars, but later assessed it as closer to two or three stars.
(and, yes, I recycle my Twitter jokes here; but I prefer to think of it as Twitter being my notebook for yuks).
The Medium Happy 8: 1) Alabama 2) Texas A&M 3) Oklahoma 4) Florida State 5) Oregon 6) Auburn 7) Baylor 8) UCLA
5. "That's How It Ends…"
Washington State coach Mike Leach is an easy mark for pundits because he is not afraid to be different. That's one reason that, for the most part, I love him. He got mocked for saying this yesterday, but most of what's below makes perfect sense to me. Especially since I spent much of Sunday night and Monday morning in crowded airports where people spent far more time looking at their screens than interacting with one another.
"I'm not really good with technology. All this button pushing and whatnot. I mean, you can just imagine based on what's happened in the last 15 years. Conversations won't happen 10 years from now. There aren't going to be people to talk to, it's going to be this (mimics pushing buttons). 'Do you want to go out on a date with me?' 'I don't know, what do you look like?' 'Well I look kind of like this.' 'OK, what are your interests?' 'Well, what do you think my interests are? Looking to this thing and typing into this just like yours are.' 'Yeah, no kidding, that's what everybody's doing.' 'Well, where do you want to go?' 'Well, what difference does it make? Because all we're going to be doing is looking into machines anyways.' Well, that's true and in the end, it's going to tough to perpetuate the species. There's no question about that. So we're all going to look in this box and eventually be extinct. That's how it ends."
Looking forward to the new parlor game, though: "Rust Cohle or Mike Leach?"
Remote Patrol
We Need To Talk
CBS Sports Net 10 p.m.
At least at the national level, CBS attempts to become the first to launch an all-female talk show centering on sports issues. You'd be a rube not to like the concept. I'm not totally on board with the idea of 12 rotating female panelists, but let's give it a shot. The Distaff Dozen are:
Andrea Kremer
Summer Sanders
Katrina Adams
Laila Ali
Dara Torres
Swin Cash
Lisa Leslie
Amy Trask
Allie LaForce
Dana Jacobson
Tracy Wolfson
Lesley Visser
There's a small coterie among this bunch who are longtime friends and drinking buddies (with one another, no with me). And I can tell you true that the conversations they've had at NYC holes of watering have been and would be far more candid than you'll probably hear here. I get that. There's also a member of this panel who once forced her publicist to lie to my editor about her having no only taken part in a national popularity contest involving her attractiveness, but having sent in a better photo of herself (while telling journalists the entire time how denigrating to women it was for such a contest to exist). By the time I had air-tight proof of the subterfuge it was too late and I was in trouble with my bosses. I have no respect for that woman, to be honest with you.