by John Walters
Starting Five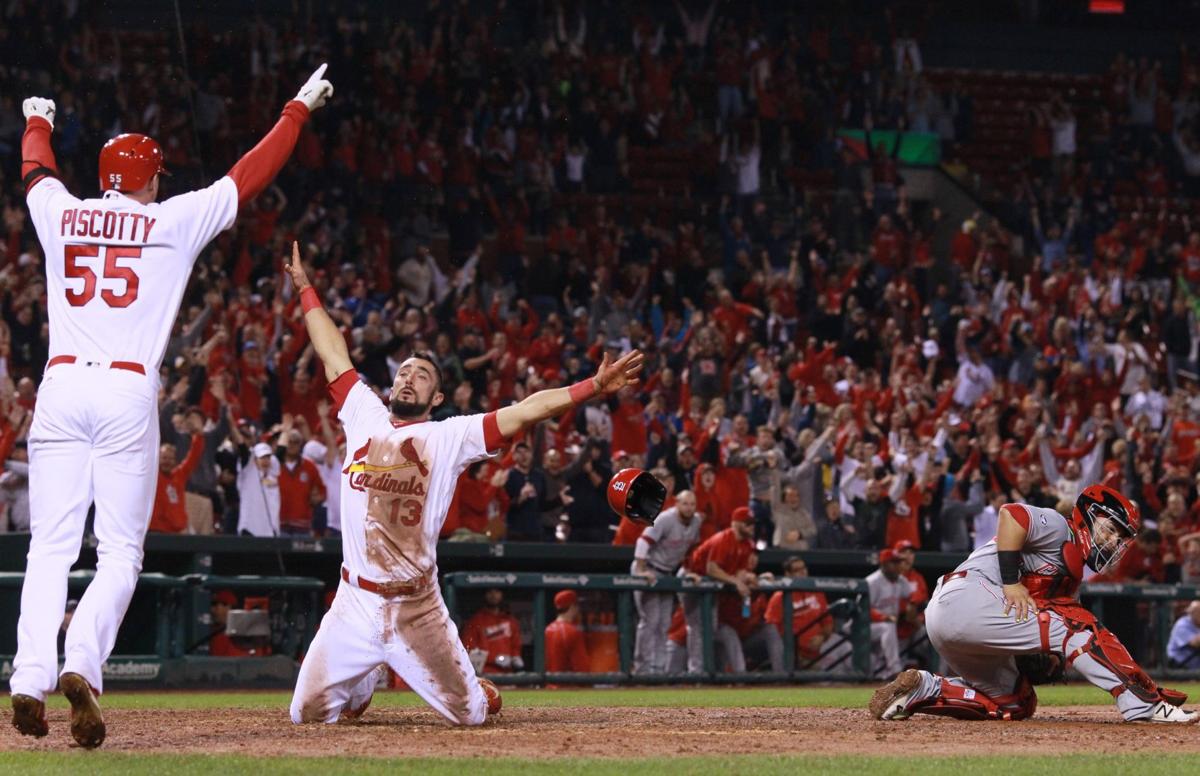 Wild Cards
St. Louis won the Missouri Lottery last night. Its game-winning hit was a double that smacked off the lottery sign in left field, which should have been ruled a ground-rule double, thus preventing the winning run (the baserunner was between second an third) from scoring The umps missed it.
So who's going to advance to what my old friend Matt Eagan dubbed, a full decade before MLB created it, "The Death Game?" In the A.L. it's hard to go against Toronto and Baltimore, both 87-72, but there is a potential hot mess looming. The Blue Jays visit Fenway, where Boston will be resting its top guns, while the Orioles visit the Yankees, who will give them a fight.
Detroit (85-73)visits last-place N.L. club Atlanta, but the Braves have actually won 9 of 10. Keep in mind: Detroit's game with Cleveland yesterday was rained out. If the Tigers are within half a game of either Baltimore or Toronto on Monday morning, they'll play the Indians at Comerica on Monday. If they win, they'll play a playoff to get to the playoff on Tuesday—I think. If they win that, there's the A.L. wildcard game on Wednesday. If they win that, they'll most likely travel to Texas to play the Rangers on Thursday.
So, from Sunday through Thursday, the Tigers could be looking at games in Atlanta, Detroit, Baltimore, Toronto (or vice-versa on these two) and then Arlington.
In the N.L., it's simpler, but it's still anyone's call as three teams are within two games of one another. The Mets visit Philly, the Cards host Pittsburgh, and the Giants host an already-clinched Los Angeles. Color me as pulling for the Mets and Giants, both of whom are ahead of the Cards.
2.  USA Today Goes Never Trump
The "Nation's Newspaper," which has never endorsed a presidential candidate since it began operations in the early 1980s, posted an editorial early this morning in which it disendorsed (Is that a word?) Donald Trump.
"This year, by unanimous consensus of the Editorial Board, one of the candidates…is unfit for the presidency," the editorial states. Among other things, the articles writes in boldface type that Trump "traffics in prejudice" and that "he is a serial liar."
Meanwhile, I'd advise reading this essay by The New Yorker's eminence grace, 96 year-old baseball writer AND World War II veteran Roger Angell, who remarks that Trump's incident with the Purple Heart back in August was a defining moment. I've always thought so, too.
Also meanwhile, Megyn Kelly has gone TOTALLY off the FOX reservation. Here she is scolding Kellyanne Conway last night. There's a moment early when Kelly says, "Kellyanne, c'mon," which is how white folks says, "Ni**er, please." I mean, this is on FOX.   In prime time.
And here's Howard Stern on Trump and the Iraq War. This should be self-evident to all by now, but just in case someone out there isn't paying attention: The point isn't whether or not Trump supported the Iraq War (a lot of good people were duped by Dick Cheney and Donald Rumsfeld), it's that there's documented evidence that he did, that there is no documented evidence that he did not before the war began, and yet, faced with the audio evidence, he still will obfuscate the truth.
So look at it this way: If this is how brazenly Trump lies when the truth is evident to all, imagine how much the truth matters to him when it is not as crystal-clear.
3. Putt Up or Shut Up
I thought for sure when I first heard about this, considering that the Ryder Cup will be staged in Chaska, Minn., this weekend (let's pour one out for His Purpleness), that is was either occasional MH contributor Bill Hubbell or his brother-in-law (who's married to frequent MH contributor Katie). But no, it was North Dakotan David Johnson. Props to European pros Rory McIlroy, Justin Rose and Andrew Sullivan for pulling the heckler out of the gallery and giving him the opportunity to have a moment he'll never forget.
4. "And I Wonder, Still I Wonder, Who'll Stop the Train?"*
*The judges apologize to any Soul Asylum fans reading this, and we know who you are, who'd hoped we'd go in another song direction.
A commuter train in Hoboken, N.J., fails to come to a stop as it pulls into the station yesterday morning, leaving a 34 year-old woman who had been standing on the platform dead. The engineer, Thomas Gallagher, a 29-year veteran of NJ Transit, is hospitalized. I'm going to go ahead and assume Gallagher was not chanting "Allah Akbar" as the train pulled into the station, but America's favorite alt-right-handed pitcher, Curt Schilling, may beg to differ.
I am hoping to be wrong. But given a train ran at high speed INTO the station, I am going to say terrorism. If I'm wrong cool.

— Curt Schilling (@gehrig38) September 29, 2016
5. The Legend of Dan Cooper
Back for another installment of "The Rest of the Story…" You may already have known this, but I just learned it. In the Fifties there was relatively obscure comic book called "Dan Cooper" about a Royal Canadian Air Force test pilot. He was very adept at ejecting from planes and surviving.
Then, in 1971, a man identifying himself as Dan Cooper boarded a Northwest Orient flight from Portland to Seattle and handed a flight attendant a ransom note. He told her that he had a bomb in his briefcase, and showed it to her, and demanded $200,000. That man, who later parachuted from the plane after it landed in Seattle and he forced the flight crew to remain on board and fly him south, is known to us as D.B. Cooper. 
How did the famed hijacker, who was never found, come to be known as D.B. if he was listed on the passenger manifest as Dan? A single AP writer got the name wrong, and papers all over the country repeated it. And it never was properly corrected.
Anyway, it's most likely that "Dan Cooper" lifted his nom de criminale from that comic, as he was so inspired, and it's most likely that he landed in a lake, in late November, near the Washington-Oregon border. He most likely drowned or froze to death first.
Medium Happy's editorial board is always searching for cool Paul Harvey-type stories. Feel free to write in with historical notes such as this one and yesterday's and pitch suggestions. We'll pay you nothing, but there may be a commemorative MH sponge in it for you.
Music 101
Orinoco Flow
"Sail away, sail away, sail away…." Did New Age even exist, as a genre or a cultural phenomenon, before Enya wafted into our lives? The Irish singer's tune hit No. 1 on the UK singles chart for three weeks in the autumn of 1988, but it's really a tune out of time. It doesn't belong to an era as much as it does to a mystical place. I really would have liked to see The Ramones cover it. This is a song (and album, Watermark) that gave birth to a million yoga studios. Anyway, the Orinoco is a very long river that runs through Colombia and Venezuela out into the Atlantic. Columbus happened upon it in 1498.
Remote Patrol
No. 7 Stanford at No. 10 Washington
ESPN 9 p.m.
Give the Cardinal credit:They're in the midst of a four-week gauntlet that sees them playing  three difficult road games: at UCLA, at the Huskies, and in two weeks at Notre Dame (we know, we know…that was supposed to be a difficult road game). The Huskies have looked impressive, but who have they played? No one. The Cardinal have already taken down USC and the Bruins. Note: Christian McCaffrey has never scored a touchdown away from Palo Alto.