by John Walters
Starting Five
May The Odds Be Ever In Your Favor
No one likes the idea of citizens being targeted for violence by anyone. And yes, a number of civilians have been murdered by radicalized Islamic terrorists here in the U.S.A. since 9/11. In the fifteen-plus years since the World Trade Center came down, let's add up Boston, San Bernardino, Fort Hood and even Orlando (though I think that last dude was a man who was simply ashamed to be both Muslim and gay, but let's add that tragedy to the list) and Fort Lauderdale: in deaths, that's 3 + 14 + 13 + 49 + 9 = 88. I'll even toss in six randoms, not that we have any proof of such deaths, but let's round it up to 100.
Now, let's look at how many people have won just the Powerball lottery (excluding MegaMillions and other state lotteries) since 9/11, with a typical payout of around $100 million. The very lowest payout was $10 million, while the highest was $1.58 BILLION. And the number of people who've won such a prize in the past 15-plus years? 170.
So, since 9/11, you've had nearly 2:1 odds of winning an average of $100 million as opposed to being killed by a terrorist. Not the same odds: no, nearly twice as great a chance. Is there a single day in your life when you've walked around with as high of an expectation—not hope, but expectation—of winning Powerball as you've had fear of a Muslim terrorist?
P.S. The next Powerball lottery drawing is tomorrow with a Jackpot of $206 million, though if you take the payout instead of the annuity it'll only be $124.4 million (sad face emoji)
2. Effie's Not Finished
Ah, but violence isn't a cash windfall. No, it's not.
So, let's examine the numbers again.
And, because I'm in such a magnanimous mood, let's round that 85 number up to 100. AAAAAAAAND, let's add the horrible deaths in the 9/11 attacks: 2,996. So, we're looking at approximately 3,080 American deaths due to radical Islamic terrorists in the USA since the turn of the millennium. Which is awful.
Now, let's examine how many Americans were MURDERED by guns between the years of 2011-2015. Not the entire 17 years, but just a five-year period. And these are murders, not suicides, and not unintentional gun accidents. Murders:
57,820.
In 5 years.
Versus 3,080.
In 17 years.
Stay with me here. Let me extrapolate that five-year period times three to bring it closer to, but not equal to, the 17 years of the millennium. 57,820 x 3 = 173,460.
Now, 173, 460/3,080 = 56.3
These are the numbers. And here is the logical conclusion: In the 21st century, you were 56 times more likely to be murdered by a gun than you were by a terrorist (and again, I 'll be overly magnanimous here to the other side and say you were at least 54 times as likely to be murdered by an American with a gun than by a terrorist).
Does that mean guns should be banned? No.
But when White House press secretary Sean Spicer scolds the press as he tries to defend unconstitutional executive orders by saying, "This is about protecting America," let's remember, it isn't. Until the White House OR Congress is even close to being as concerned about gun violence which, again, you are FIFTY-SIX TIMES as likely to be a victim of, as they are against foreign-born Muslims or Muslim refugees, let's understand that there's no logical reason for prioritizing "homeland security" above sanity.
This is about fear-mongering. Why? A populace that is 1) stupid and 2) afraid is extremely easy for a plutocracy to control. Please use your minds. This isn't about protecting you. It's about being able to run a totalitarian government inside of a supposed democracy.
3. On The Markkanen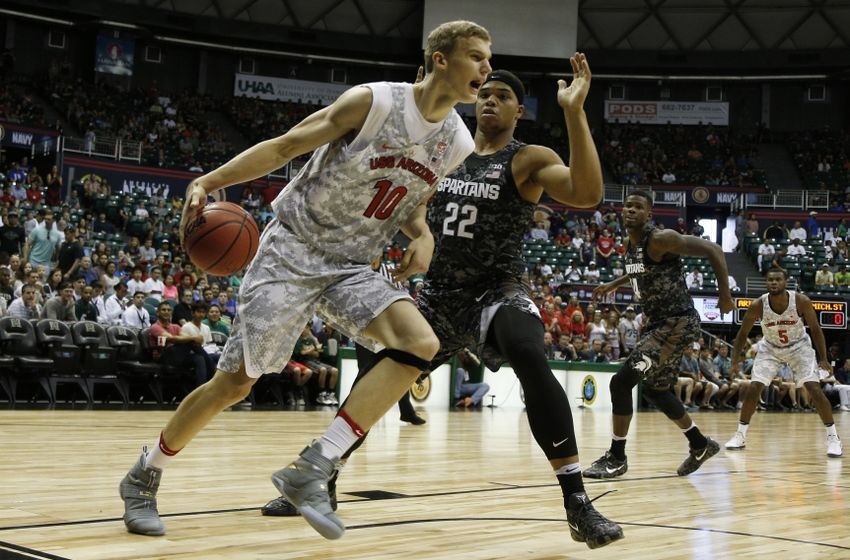 As the mock drafts for the NBA draft continue to be updated over the next few months, look for Arizona freshman Lauri Markkanen's name to rise on the charts. The seven-footer from Finland is shooting better than 50% from beyond the arc having attempted 107 threes this season.
There are only a handful of Division I players, literally fewer than 10, who have shot that accurately this season, and none are seven-feet tall and/or playing for a Top 10 team. Markkanen is averaging 16.8 points per game and 7.6 rebounds for the Cats, and again he's a freshman. He put up 30 versus Arizona State earlier this month.
Markkanen, whose parents both played hoop, will be a Top 5 pick and you'll hear the Porzingis comparisons all spring
4. Lane: Pacific About Atlantic
Commit to the Owls! Coach @Lane_Kiffin is bringing in the best recruits. Now we need the best fans!

Commit Today!https://t.co/Z6u9knOFu9 pic.twitter.com/KGMAFYDmD3

— FAU Football (@FAU_Football) January 27, 2017
In this promotional video for his latest school, Florida Atlantic, Lane Kiffin looks less than enthused. Or, perhaps, hung over? A victim of sunstroke? Does anyone watching this video want to play for the Owls, much less buy tickets to see them play? The school's marketing department needs to show Kiffin this video below, and then immediately have him go out and reshoot that spot:
5. Under Armour Under Water
Speaking of "We Must Protect This House" (Trump Job 1), Under Armour stock (UAA) is down 25% this morning (Down $7.72 to $21). The company had a bad earnings miss and CFO Chip Molloy, who joined the company only a year ago, is stepping down "for personal reasons."
Reserves
The Brady 6
I highly recommend, as your pre-Super Bowl viewing, to go to YouTube and find the ESPN doc, The Brady 6. It not only talks about the six quarterbacks drafted ahead of Tom Brady in the 2000 NFL draft, but it has some great nuggets and interview with Brady during his peak-hair era. I'll give one away: Brady was the backup quarterback on his freshman high school football team that finished 0-8. The backup. You'll have to watch to hear what he told Robert Kraft upon first meeting him and you'll be blown away by Brady telling the story of the day of the draft. Watch it if you're a football fan. It's worth it.
Music 101
Hey, Soul Sister
This is the best Jason Mraz song that Jason Mraz didn't actually write or record. Yes, this is Train and their monster hit that I must have heard one million and thirty-seven times while working at the cookoutateria in the summer of 2010. But you have to give it them: it's catchy. This was the second-best selling song of 2010.
Remote Patrol
Georgia at Kentucky 
9 p.m. ESPN
Why are we watching? Because it's Brent Musburger's final game. We'll miss you, pardner.