by John Walters
Starting Five
Thanks, Obama
Cool.
Intelligent.
Decent.
Funny.
Scrupulous.
Unwavering.
Transparent.
Parent.
Insightful.
'baller.
Charming.
Ethical.
Wise.
Barack Obama rode into town like Sheriff Bart (Cleavon Little) rode into Rock Ridge, set up to fail in front of a citizenry of white folk who couldn't wait to see him fall on his face or be killed. Rock Ridge was in dire trouble: massive unemployment, a plummeting stock market, financial meltdown, and Slim Pickens was threatening to pull the Old No. 6.  Instead of an apocalypse Obama, using charm, wit, intelligence and superior skills,  saved the town.  And now we're all the Waco Kid, just wanting to say thank you.
There goes the best president of your life time. If you don't already realize it, you will soon. Stephen Colbert had a few words to say about that.
2. Net Gain For New York City
On the day that Donald Trump flies out of New York City toward his new home (but not the "Winter White House") of Washington, D.C.,, El Chapo flies in to face federal charges and is held in Lower Manhattan. So, yeah, occasionally Mexico is not sending us its best citizens. Someone in the Justice Department and Mexico has a sense of humor.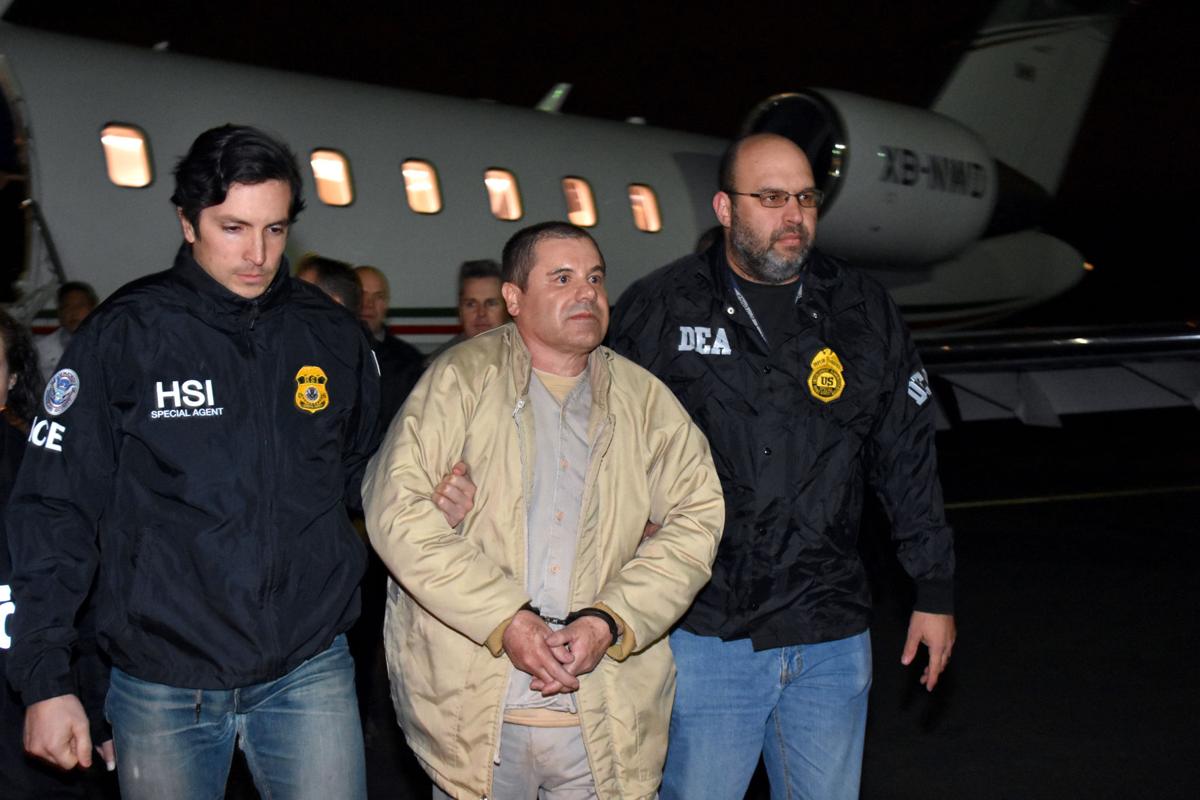 3. A Brief History of the American Worker
As we prepare to inaugurate this man president let's remember that he declared his candidacy in June of 2015, making the first targets of his animus illegal aliens from Mexico:
When Mexico sends its people, they're not sending their best. They're not sending you. They're not sending you. They're sending people that have lots of problems, and they're bringing those problems with us. They're bringing drugs. They're bringing crime. They're rapists. And some, I assume, are good people."
The first illegal aliens (at least from their perspective) arrived on the shores of what would become the United States in 1619. They were 20 slaves from Africa. By 1800, 10 to 15 million blacks had been transferred to the Americas. Unlike modern-day Mexicans, they did not come of their own accord. Much like modern-day Mexicans, their entrance into the work force helped make wealthy men wealthier. James Madison, a future president of the United States, told a visitor that for the $13 of upkeep he spent per Negro annually, he made $257.  Meanwhile Donald Trump tells people that he'd like to employ full-time American workers at Mar-A-Lago, but they won't take the jobs (left unsaid: at the salary and lack of benefits he is offering).
Donald Trump was elected in part by telling white America that people with a brown complexion were coming to take their jobs (and rape their daughters or kill them), while ignoring the fact that this same country kidnapped people by the millions and transported them across the ocean to do jobs these Mexicans are now doing, and did so for centuries. I guess it's all about your lowest-class workers having the same liberty as you do and whether or not you control their every move.
4. NBA All-Star Game
Yes, Russell Westbrook. the NBA's leading scorer and No. 2 man in assists, was left off the starting five for the West. Yes, the West should start three guards (or bring Curry off the bench), especially considering that the game will be nothing but threes and dunks. Note: In the new system, the voting goes 50% for the fans, 25% for media, 25% for players. Russ was voted top guard by both media and players.
Actual Starters…
East: Kyrie Irving, Demar DeRozan, LeBron James, Jimmy Butler, Giannis Antetokounmpo.
West: Stephen Curry, James Harden, Kevin Durant, Kawhi Leonard, Anthony Davis.
Medium Happy Starters….
East:
Kyrie Irving, Isaiah Thomas, LeBron James, Giannis Antetokounmpo, Hassan Whiteside
Whiteside is the league's leading rebounder and is tied for sixth in double doubles. 
West: Russell Westbrook, James Harden, Kevin Durant, Anthony Davis, DeMarcus Cousins
Cousins is one of three players in the top ten in scoring and rebounding. The other two are Davis and Westbrook.
5. Tower Tumbles In Tehran
A 53 year-old, 17-story high-rise in Tehran catches fire, collapses, and kills nearly three dozen firefighters battling the blaze. There's got to be a better way to fight high-rise infernos.
Music 101
Pride/City of Blinding Lights
From a time when we were concerned about concepts such as liberty, equality and decency as opposed to strength, wealth and greatness. Kinda needed this today.
The Rising
And this.
Remote Patrol

Real Time with Bill Maher
HBO 10 p.m.
As Maher ruminates on his 61st birthday, the show premieres for its 15th season hours after the inauguration of Donald Trump as 45th president. Guests include Eric Holder, David Axelrod, Ana Marie Cox and John Legend.