by John Walters
A new feature of MH where we ask (beseech, implore) you to click where it says and then you are more then free to return to your regularly scheduled procrastinating and browsing. Dig: We don't have pop-up ads or a paywall; Can you do us this one solid? Gracias!
Was gonna step up as the independent FBI chief this country needs but bought avocado toast instead

— Billy Domineau (@BillyDomineau) May 16, 2017
If you've recently been laid off from your national sports site and want to keep your batting eye sharp, have you considered writing for Medium Happy? Our operators are standing by.
Starting Five
Memo Random
The problem with Donald Trump (just one?) is that he doesn't see things from the perspective of a person who has ever had to adhere to the law (which he hasn't), but rather from the perspective of a mob boss. People aren't either "criminals" or "law-abiding citizens," they are "bad guys" or "good guys." And what determines if you're a bad guy or a good guy is if you don't or do bend to Donald's will. Easy, right?
This isn't a terrible quality in a mob boss or a gang leader, but it is a dangerous trait in a man who raises his right hand, places his left on a Bible, and swears to uphold the Constitution of the United States. Different respected sources (The New York Times, NBC News) confirm that former FBI Director James Comey wrote a memo after a conversation with Trump on the day after General Michael Flynn resigned back in February in which the president said, "I hope you can see your way clear to letting this go, to letting Flynn go. He is a good guy. I hope you can let this go."
As he wakes up this morning, or tweets overnight, my guess is that Donald Trump, not unlike Nathan Jessup, does not even see what he did wrong. But he just leaned on the director of the FBI to halt an investigation of a man who may have worked with the Russians and on top of that may have been doing that at the direct behest of Trump or people who work for Trump.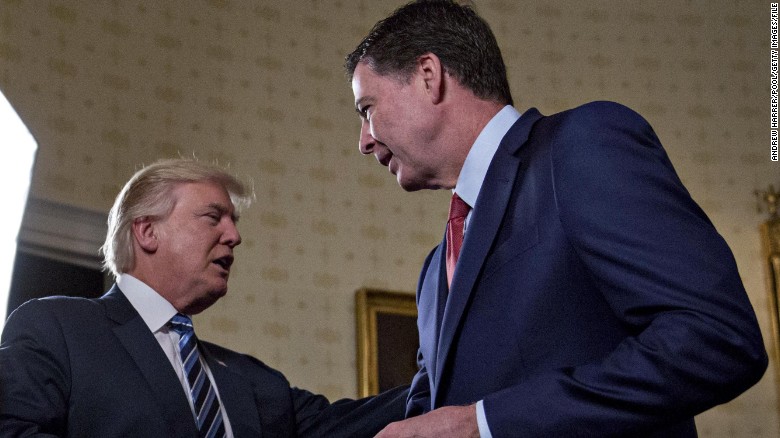 Between this and the previous day's bombshell from the Washington Post in which it was divulged that Trump compromised an Israeli spy embedded with ISIS by giving away a secret shared by Israel to the Russians (the day after he fired Comey last week), it is, as one tweep said, "as if the New York Times and Washington Post are engaged in a slam-dunk contest."
2. Celtic Uprising
The Boston Celtics will host Game 1 of the Eastern Conference finals tonight (because they finished with the best record in the East) and will have the No. 1 pick in the NBA Draft next month. The Los Angeles Lakers will pick second. Nice to see these historically humble, small-market franchises finally get a leg up in the world.
The Celtics have had a terrific season under Brad Stevens, but I don't believe this crew as currently constructed has the goods to win an NBA championship (they are a respectable 4-7 versus Cleveland and Golden State the past two seasons). Even with next year's No. 1 overall pick. We'll see.
How does this shake out?, is the fun part. Does Boston select the presumptive No. 1 overall choice, 6'4″ guard Markelle Fultz out of Washington? Do they take or threaten to take Lonzo Ball (I'm not sure he isn't the better choice) just to induce the Lakers to trade up a spot? Do they trade down a few spots to, say, Phoenix (who landed the fourth pick when they finished with the second-worst record), where Josh Jackson or De'Aaron Fox or Lauri Markkanen will still be waiting because they don't want to take the ball out of Isaiah Thomas' hands? Is Thomas, who is 5'9″ and 28, part of the Celtics' future?
3. The Quick Brown Fox and Other Mock Draft Thoughts
The most intriguing mock draft I've seen at this early stage belongs to Reid Forgrave of CBS Sports, who has the Celtics taking Duke's Jayson Tatum (they need a talented 4 more than a gifted guard), the Suns picking 6'4″ guard De'Aaron Fox at No. 4 (everyone's favorite "sleeper" only in the sense that they think he could wind up being ROY) even though they don't need a guard (much less another guard from Kentucky; this would give them FIVE), and the Pistons taking Luke Kennard at No. 12.
Pondering: 1) I love Kennard's game, too. He'll never be the centerpiece of a franchise, but he's the kind of glue guy all championship-caliber teams like to have. 2) Dillon Brooks, who was named Pac-12 POY over Markelle Fultz and Lonzo Ball, was not on any of the four mock drafts I perused. What did he do, kneel for the national anthem? 3) Caleb Swanigan, Big Ten POY, was only on one mock draft board; hey, he's an undersized low-post banger; it's usually NBA fool's gold with rare exceptions, and I like him, too. 4) De'Aaron Fox is only 6'0″, but I agree he may be the most dynamic player in this draft. I like his star potential. 5) For much of the first two months of the college season, we heard how Villanova's Josh Hart was a leading national POY candidate. Now he's a late first-round pick? Potential steal for someone?
4. The Most Dramatic Moment In Golden State's 136-100 Game 2 Win Against San Antonio…
Mike Brown was almost arrested on his way to arena thanks to Gregg Popovich and the Spurs. He tells the story pic.twitter.com/Bvf59BkMbs

— Anthony Slater (@anthonyVslater) May 16, 2017
5. So You're Not Feeling Minnesota?
The top-ranked softball team in the nation according to the NCAA Coaches Poll? Minnesota, which has an astounding 54-3 record. The Golden Gophers also went 16-3 against teams in the 64-team NCAA tournament AND, as you might imagine due to their locale, played more road games than home games and won 38 of the former (they lost 2 games at No. 8 Washington and one at Illinois). The GGs were 16-0 at home and have a 25-game win streak.
As far as RPI goes, Minnesota was ranked No. 11. The GGs have the nation's 2nd-best team ERA and 3rd-best batting average. This team can play.
Why am I telling you this? Because Minnesota, the No. 1 team by coaches' ranking with that gaudy 54-3 record, did not in the NCAA eyes merit one of 16 sites to host a 4-team regional. Hence, they'll be on the road in Tuscaloosa this weekend. And if they get out of that, they'll face the winner of the Gainesville regional: Florida is the NCAA's top overall seed.
The NCAA needs a dose of Robert De Niro lecturing Sly Stallone in Cop Land: "You BLEW it!"
Music 101
Senses Working Overtime
There's a little Talking Heads,  a little Modern English, and maybe even a touch of Thompson Twins in XTC. The band formed in 1972 but didn't hit it big until a decade later with this tune, a top 10 hit in their native England. I never knew this: the band abruptly stopped touring in April of 1982 due to lead singer Andy Partridge's overwhelming stage fright. If you saw them in San Diego on April 3, 1982 (you and Bill Miller; they were "incendiary!"), you saw their last live show.
Remote Patrol
NBA Tipoff
8 p.m. TNT
Game 1: Cavs at Celtics
8:30 p.m. TNT
Lord knows they're trying—they're always trying—but the difference in quality between ESPN's pregame show and TNT's is, well, like watching the Dubs against any team without Kawhi Leonard. Anyway, I won't be watching TV tonight and if I were, I'd be watching Apocalypto (BBC 9 p.m.), but seeing as how we're trying to lure Susie B. as our angel investor, I'll post this as the RP choice and even include a photo of Sweet Pea (is she the only human who refers to him as that?)