by John Walters
Starting Five
Joe Mama!
I miss the quaint days when the loudmouth New Yorker from Queens whom everyone was mad at was John McEnroe… Anyway, Morning Joe and Midnight Mika published an op-ed in the Washington Post this morning titled "Donald Trump Is Not Well." 
Excerpts:
This year, top White House staff members warned that the National Enquirer was planning to publish a negative article about us unless we begged the president to have the story spiked. We ignored their desperate pleas.
and…
More significant is Mr. Trump's continued mistreatment of women. It is disturbing that the president of the United States keeps up his unrelenting assault on women. From his menstruation musings about Megyn Kelly, to his fat-shaming treatment of a former Miss Universe, to his braggadocio claims about grabbing women's genitalia, the 45th president is setting the poorest of standards for our children.
It's easy to forget that they're talking about the President of the United States here.
Of course, Trump had to tweet this morning:
Watched low rated @Morning_Joe for first time in long time. FAKE NEWS. He called me to stop a National Enquirer article. I said no! Bad show

— Donald J. Trump (@realDonaldTrump) June 30, 2017
 and then Joe Scarborough came right back up the president's highway…
Yet another lie. I have texts from your top aides and phone records. Also, those records show I haven't spoken with you in many months. https://t.co/TZWiElo6Gs

— Joe Scarborough (@JoeNBC) June 30, 2017
Stay tuned…
Foul Ball Fouls Up Fowler
Well, that sucks. Dustin Fowler, in his Major League debut for the New York Yankees, chases a foul ball into the right field stands and tears his patellar tendon. Fowler, 22, never even got an at-bat. He's out for the season. Here's hoping for a complete recovery.
3. NVDA: Half-Year Update
At the start of this glorious year, MH's crack/crap finance staff provided our ONE stock pick for 2017 (You may have gained access to it from our special Medium Happy VIP paywall section). Anyway, that stock was Nvidia, NVDA, a Silicon Valley-based company that does compression and is trying to democratize the internet by putting it on everyone's smartphones (or is that Pied Piper?).
Anyway, on January 3rd, the first trading day of 2017, NVDA closed at $102.01.
On June 30, as I type this, NVDA is at $146.65 in pre-market trading.
That's a net increase of $44.64, or 43.8%. *
Also, kids, MH's evergreen day-trade stock pick, Chesapeake Energy (CHK), was at $4.48 last Friday and looks to open at $5.03 this morning. That's greater than a 10% jump. In one week. Remember, sell when CHK jumps 10% in one week, and buy when it falls 10% in one week. As a company, it's hot garbage; but as a stock, it's a yo-yo.
*Earlier this year, NVDA actually closed at $159.94. I don't see any reason why it won't return there and beyond later this year.
4. No Re-Greta's
This moment was just too beautiful for words, @susannareid100… 😂😂😂@piersmorgan @CharlotteHawkns pic.twitter.com/hK2n88nBS4

— Good Morning Britain (@GMB) June 28, 2017
So, MSNBC canned Greta Van Susteren at its 6 p.m. hour and I'd like to suggest this comely brunette from Good Morning, Britain, Susanna Reid, as her replacement. This is beautiful.
5. Steve Spence Is A God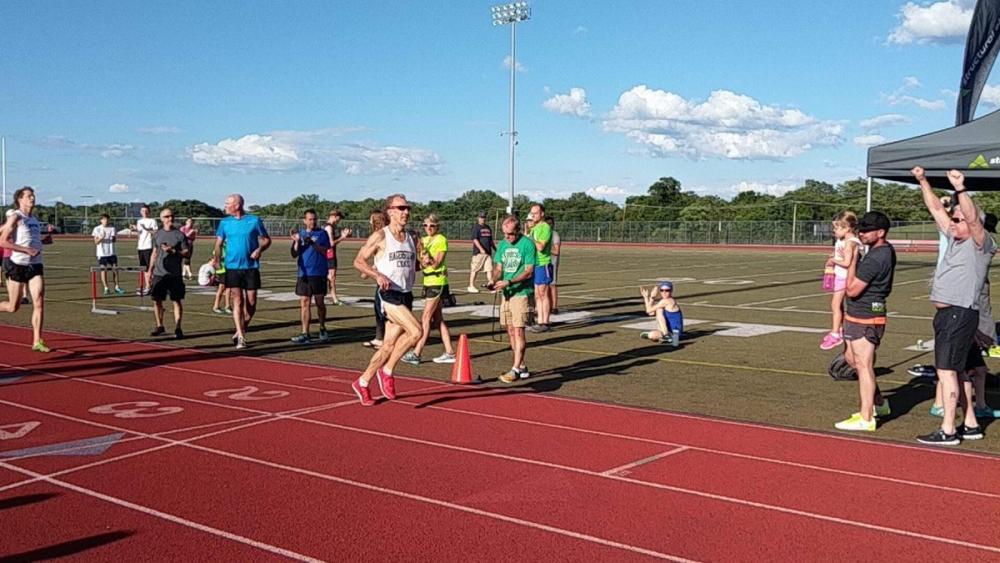 At an all-comers meet at North Hagerstown (Pa.) High School on Tuesday night, former U.S. Olympic distance runner Steve Spence clocked a 4:55 mile. Spence, the cross-country coach at Shippensburg University, is 55 years old. Here's what's astounding: Spence has now run a sub-5 minute mile at least once each year since 1976.
42 years. That's nutty.  According to Runner's World, that's the longest such streak in existence.
Music 101
Mystery Achievement
I try to avoid putting the same band in this spot more than once in a calendar year, but this under-appreciated 1980 gem from The Pretenders was rolling through my mind this morning. Chrissie Hynde is the queen of Turn-It-Up female rockers ("Why did you say female rockers? Why not rockers?" ZIP IT!)
A Word, Please
Calumny (noun)
The making of false and defamatory statements in order to damage someone's reputation;