by John Walters
Starting Five
Yes We Klan?
President Trump:
He's looked at crowds from BOTH SIDES now/
From inauguration day to Charlottesville/
It's crowds' illusions he recalls/
He really don't know crowds at all.
Why was anyone surprised by Donald Trump's contentious press conference inside Trump Tower on Tuesday? His journey/odyssey/phenomenon to the White House was ALWAYS about sewing racial division and appealing to White Power. People try to say that they support him because he's "going to bring jobs back" or because "he's not Hillary" but Trumpwas always sending out boo-boo kisses to racists, neo-Nazis, and the KKK. Even in denouncing them on Tuesday, he was just denouncing the terms and not the actors. And they know that.
It always came down to this: For many people, including the MH staff, who Donald Trump IS as a person and what he represents in terms of integrity and race-baiting, well, that trumped any consideration of him occupying the White House. For others it did not. And now we are seeing the fruits of what was sewn last November.
Likewise, for many people, slavery was such an abomination that any discussion of what "southern culture" is and the need to preserve it via statues to Confederate generals or secessionists is a non-starter. For others, those who you saw carrying tiki torches in Charlottesville last Friday night, it is not. For them, preserving southern culture outweighs any problems anyone may have with slavery.
Here's a FactCheck.org look at the transcript from Tuesday afternoon's presser, held in the same building where 26 months ago Trump kicked off his presidential campaign by informing people that Mexico was sending us their rapists and drug dealers.
2. Elliott Mess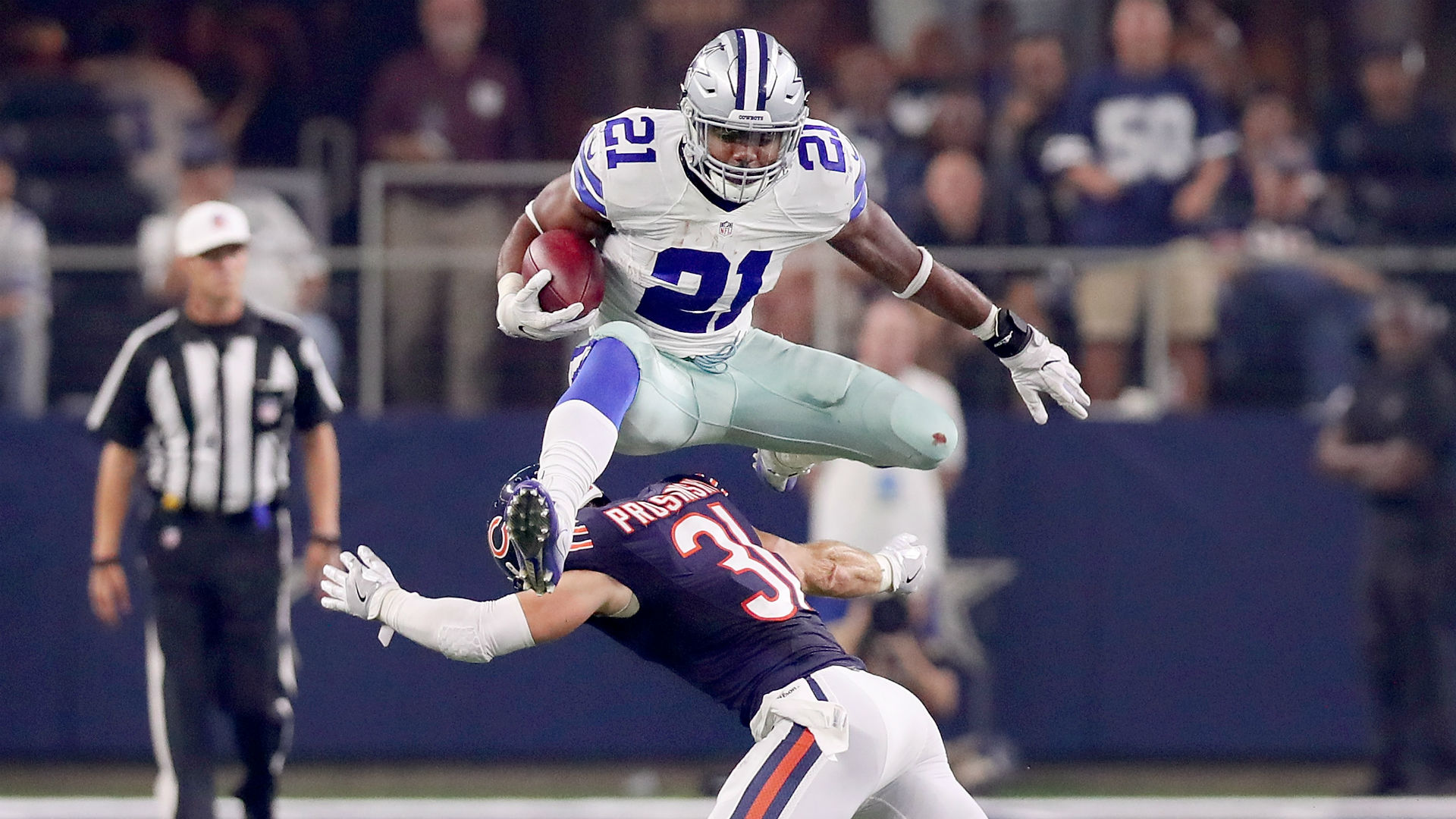 Teammate Dak Prescott was named NFL Offensive Rookie of the Year in 2016, but seeing as how Ezekiel Elliott rushed for more than 300 yards more than any other back in the NFL, the latter probably deserved it.
Now the former Ohio State back has been suspended for six games due to domestic violence. But it's not that simple. Elliott was never charged with a crime and his side claims to have texts from the alleged victim in which she appears to be blackmailing him. What's a commissioner who only three years ago whiffed horribly on the Ray Rice situation to do? And does he really want a protracted battle with both Jerry Jones and America's Team?
The woman's name has been made public, but we'll keep it off this site. The NFL is accusing the NFLPA of spreading "derogatory" information about her. The NFLPA says that is a lie.
3. Two Balls, No Strikes
Red Sox superfan Jordan Leandre's ceremonial first pitch was "juuuuuusssst a bit outside" at Fenway Park. And it made the segue from the announcer about former Sawx player Tony Conigliaro being struck in the face by a pitch that much more awkward.
4. Cliff Craven
Matthew Murray, 27, was wearing a Go-Pro when he exhibited an extreme example of "failure to control one's vehicle" recently. The bike went off the road in the Santa Monica Mountains of southern California but Murray survived.
5. Judge Bomb
All we can say about Aaron Judge's 37th home run is a a Beavis and Butthead-like, "Whoa."
One deck. Two decks. Third deck.
Judge also struck out in the 9th to keep his consecutive games striking out streak alive at 33. We were wrong the other day: the record is 36 games. The rookie leads the American League in home runs with 37 and and is second in the majors in strikeouts, behind Minnesota's Miguel Sano, with 159.
Music 101
Romeo's Tune
Add Steve Forbert to your One-Hit Wonder bin. The song hit No. 11 in 1979, just prior to the advent of the MTV era. Forbert says that the song is dedicated to a woman from his hometown of Meridian, Mississippi, and that she knows who she is.
Remote Patrol
Vice: Charlottesville: Race and Terror
HBO
If you have the HBO, watch this report from last Friday and Saturday in Charlottesville. I'm pretty sure that Chris Cantwell dude desperately needs a girlfriend.