by John Walters
Starting Five
Lights Out
In Green Bay, lightning delayed the Bears-Packers game for 45 minutes and then Chicago linebacker Danny Trevathan delivered this hit on Green Bay wide receiver Davante Adams that knocked him out cold.  Adams had caught a pass near the goal line and was being held up by another Bear defender when Trevathan just laid into him, helmet to helmet. He should have been ejected for targeting and forced to miss the first half of the Purdue game, no?
Green Bay won 35-14 because Aaron Rodgers is Aaron Rodgers and Mike Glennon is not an NFL starter.
2. Someone Else Is Not Fonda Megyn Kelly
Your week is going better than Megyn Kelly's first week at Today.
3. Tesla Girls*
*The judges appreciate all references to OMD
This is Cover Girl's cover model this month and she's not modeling for money. Her son is Elon Musk.
Maye Musk, 69 ("verrrrrry nice"), is a South African lass who has been a model (as opposed to a Model S or a Model 3) for decades. She's even more beautiful, and I know it sounds like heresy, than MH fave Helen Mirren.
4. The Price Is Wrong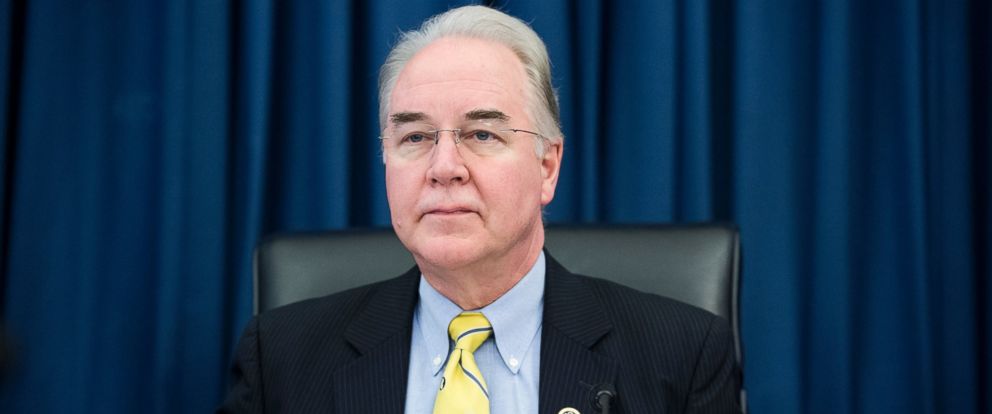 We asked the Secretary of Health and Human Services, Tom Price, to bid on the actual retail price of several private flights that he took without going over. Price bid $51,887.31 but the actual retail price is approximately $400,000. So no, he did not go over, but I don't think he'll be advancing to the showcase showdown.
What's worse? That Price took all these flights (one to have lunch with his son and then return to D.C.) or that he actually stands up and says he'll pay for the cost of his seat—the only reason these flights were undertaken was for his benefit—and believes that that should assuage any of us taxpayers.
Yet another Trump-appointed official that you look at and just think to yourself, What an asshole (too many to count).
5. Trumped By Baldwin
Alec Baldwin's ascendence to the role of Donald Trump on Saturday Night Live last autumn had pretty much the same effect on Darrell Hammond's as Trump's election had on Hillary Clinton. This is a fantastic feature on Hammond in which the comic reveals that post-traumatic stress has led him to cutting his arms. In fact, Hammond cut his arm to relieve stress back in 2000 moments before going on live to deliver his famous Al Gore "lockbox" performance. Well worth your time.
Reserves
Streaming service Roku issues its IPO yesterday and shares finished the day up 68%, from $14 to $23.50. If you made that bet, good for you. Even if you weren't in on the initial offering, as most of us 99% are not, you could still have finished up more than 33%. The stock is up another 10% this a.m. in pre-market trading…The Astros beat the Red Sox but the Yankees lose and fail to gain ground: Astros are one back of Cleveland for best overall A.L. record (Cleveland owns the tiebreaker) and Yanks are three back of Boston with three to play. If Astros don't overtake Cleveland, they'll get Boston again next week….
It'll be sad if the Yankees don't defeat the Twins in the wildcard game next week because suddenly there's a lot of fun stuff enveloping this team. Besides the Judge's Chambers in right field, two new wrinkles that are actually organic because the players developed them: 1) the thumbs down after a teammate does something great, which began a few weeks back at Citi Field when Todd Frazier got a clutch hit and a fan seated in the front row gave a double thumbs down (a miserable Mets fan who did not appreciate the Yankees overtaking their park due to Irma?) and 2) the latest thing is Ronald Torreyes (cameraman) and Didi Gregarious (mic) conducting an improvised in-dugout interview of the Yankee who just clouted a home run.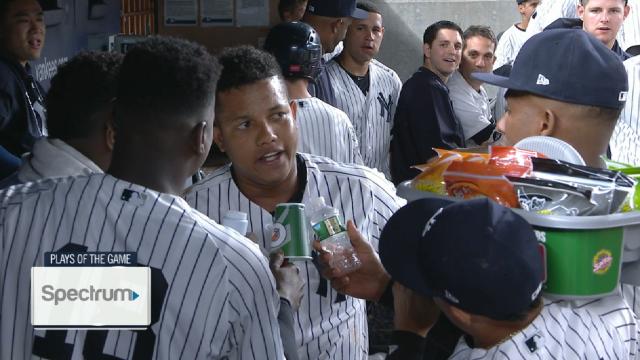 Music 101
Such Great Heights
Nobody writes a song that sounds more like a Microsoft presentation at a tech conference better than The Postal Service. Vocalist Ben Gibbard of Death Cab For Cutie hooked up with two other musicians to form this indie band from the Pacific Northwest that rocked the world of English lit majors at all NESCAC schools.
A Word, Please
panoply (noun)
a complete or impressive collection of things
Remote Patrol
Weekend of TV! Gentlemen, start your couches!
Friday
USC at Washington State
ESPN 10:30 p.m.
Win one for the Kippur!
Saturday
Saturday Night Live (season premiere with Ryan Gosling)
NBC 11:30 p.m.
If we don't see Kate McKinnon as Megyn Kelly, I don't know anything.
Sunday
Curb Your Enthusiasm
HBO 9 p.m.
Six years, Larry?!? Six years? Welcome back.