by John Walters
Starting Five
Rockefeller Center: Lights On For The Tree, Lights Out For Lauer
"Where In The World Is Matt Lauer?" He's probably headed to a sex rehab clinic in Wickenburg, Arizona. Among the creepier stories surrounding the departure of the inveterate Today Show co-host: he sent a colleague a sex tape toy and told her how he'd like to use it on her, he had a button at his desk that locked his office door and used it to trap at least a couple of colleagues, dropping his pants on one and telling another that she should have sex with him.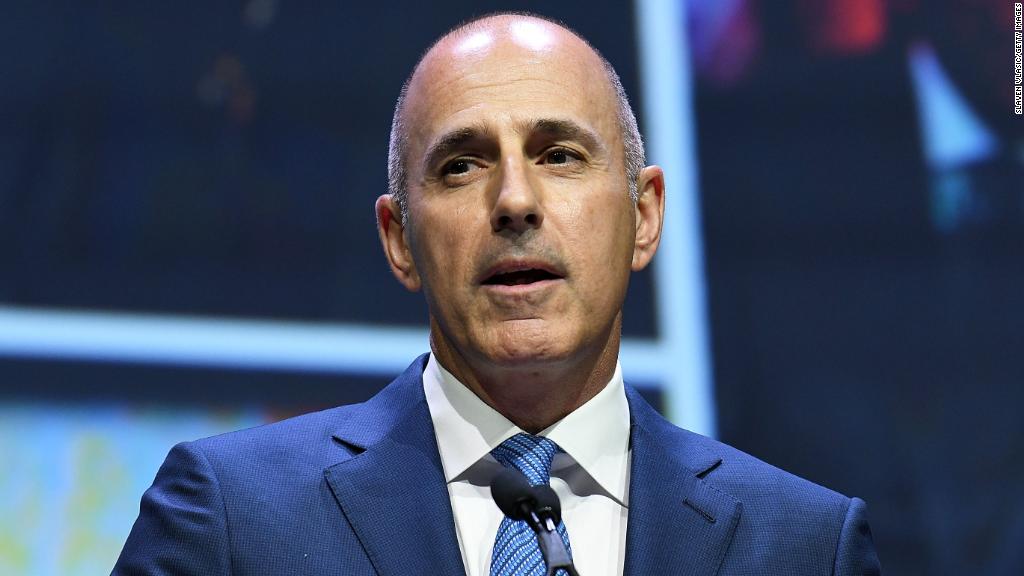 Meanwhile, NBC, while it should be applauded for dismissing Lauer so swiftly, deserves a serious eye roll for this self-absolving release: "We can say unequivocally, that, prior to Monday night, current NBC News management was never made aware of any complaints about Matt Lauer's conduct."
The key word there is "current." There may not have been anything in Lauer's HR find since Andy Lack took over, but most NBC employees knew of Lauer's peccadilloes. Incidents like that don't remain secret for too long. Meanwhile, Lauer earned $25 million per year, was the face of NBC's largest in-house cash cow, and had already played a role in the bouncing of Ann Curry and the trans-continental relocation of Natalie Morales. NBC was more than a little aware of Lauer's antics; they just recused themselves from learning the details.
The good news is that Lauer needs only four more victims to step forward in order to run for a Senate seat in Alabama. And yes, if you're wondering who the highest-profile sexual predator who has yet to lose his job despite numerous allegations of his inappropriate behavior is, he works at the Oval Office (when he's not golfing).
Who should NBC look for to replace Lauer (Savannah and Hoda won't cut it)? If not Megyn Kelly, who earns Lauer-like loot, make a hard run for Anderson Cooper of CNN. For one thing, you know he won't be sexually harassing the female staff.
2. Peak Bitcoin (For Now)
Been taking an art class a few nights a week.

I call this piece "Sell Everything" pic.twitter.com/qb4MfqApvP

— Downtown Josh Brown (@ReformedBroker) November 29, 2017
On the day after Thanksgiving our Bitcoin ETF rose nearly 6%. Then on both Monday and Tuesday it went up more than 8% and on Wednesday morning, as the price of Bitcoin went up another 7% so that the stock chart looked like the right side of a skateboard ramp, it felt as if we'd hit Peak Bitcoin, where FOMO was overtaking reason. The Wall Street Journal ran the headline this morning "Even Grandma Is In.'
(Not true, WSJ: I was unable to persuade my mom to jump in earlier this week.)
Anyway, the selloff commenced late yesterday afternoon (and we're pleased to note we'd sold off ALL our Bitcoin ETF by then, pocketing about 100% profit in under a month). Bitcoin will be back: the price of it had accelerated too fast, but the concept still has legs. Again, we implore you: watch Banking On Bitcoin on Netflix.
3. I O Dyin'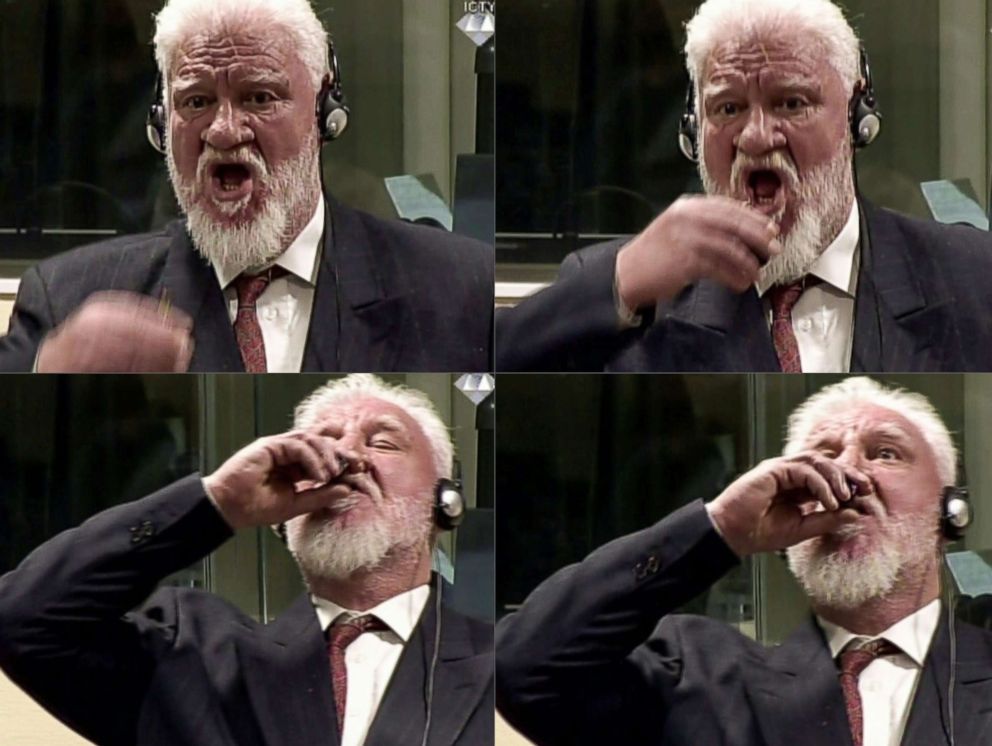 That's 72 year-old convicted Bosnian Croat war criminal Slobodan Praljak who, upon losing an appeal on his 20-year sentence, decided to take matters into his own glands. The former general cried, "I am not a war criminal!", then quaffed some poison, Game Of Thrones-style, and was soon down and out.
You gotta admire it in a way, and think of all the money he saved taxpayers. As Kirk Herbstreit would say, "They should be thanking him."
4. Fountains Of Wayne
Remember Wayne Rooney? The British footballer has been around forever, but he's only 32 and last night he scored a hat trick for Everton in a 4-1 victory versus West Ham.  It was Rooney first Premier League hat trick in more than six years. His final goal was the stunner, a shot Rooney took from his own half that sailed in over a badly out of position keeper. Enjoy.
5. "You Really Need A Bono In Your Band If You Wanna Get Anywhere"
Really enjoyed this recent 60 Minutes, Australia feature on U2 and yes we're insanely jealous of the woman who got to report it, even if she's cuter than we are. The above quote is from Adam Clayton and it's quite on the money.
Reserves
Lane Kiffin is now second only to Cecil Hurt as my favorite college football follow. This is what happens to men when they lose their dream job and their dream wife. They get to relax and be themselves. Losing everything you ever thought you wanted can be quite liberating (take it from me):
— Lane Kiffin (@Lane_Kiffin) November 30, 2017
John Mulaney performing at the Mark Twain Prize ceremony for Dave last month. The Chicago-born and bred comic is at his best when talking about his parents.
The opening from November 18's "Night Of Too Many Stars." For us, John Oliver stole the show here (and De Niro brought it to a crashing halt):
Music 101
American Boy
Why can't more songs be this good, this smooth? This 2008 song by Estelle, with a heavy assist from Kanye, won a Grammy for Best Rap/Sung Collaboration and is easily one of the MH staff's favorite tunes from the past 10 years.
Remote Patrol
No. 5 Notre Dame at No. 3 Michigan State
7 p.m. ESPN
The night is dark and full of terrors.

Primetime | Thursday | 7 pm
#5 Notre Dame vs #3 Michigan St.

The ☘️Irish☘️ are coming…@GameOfThrones @JayBilas @espn @accmbb pic.twitter.com/5rBfhovSJt

— Notre Dame MBB (@NDmbb) November 29, 2017
One week after wearing shorts and a T-shirt while leading his Irish to a come-from-16-points-behind win against Wichita State at the Maui Classic, coach Mike Brey takes them to the north and East Lansing. Bonzie Colson is averaging 20.0 and 10.5 for the Irish.