by John Walters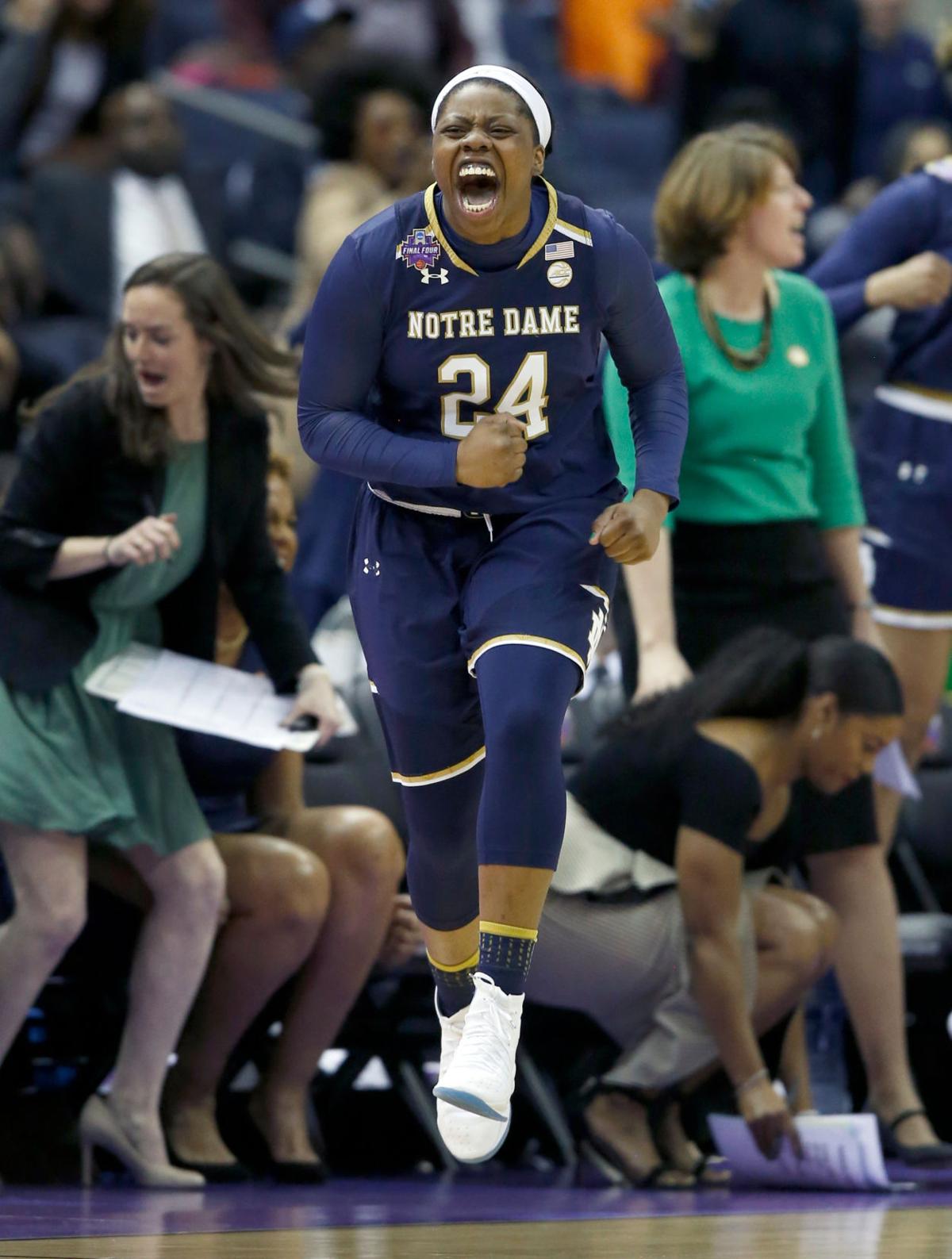 A classic in Columbus.
Notre Dame outlasted Connecticut 91-89 in overtime in the Women's Final Four when Arike Ogunbowale (whose name everyone now knows how to spell and pronounce), buried an isolation-play 22-footer from the right corner in overtime with one second left.
Ogunbowale's bucket was both an exclamation mark on an extraordinary battle and, for the Huskies, a piercing dagger of deja vu. For the second consecutive season, UConn marched into the national semi-final with a 36-0 record, trailed by its legion of fans using "Is UConn Bad For Women's Basketbll?" op-eds as toilet paper, only to lose on a last-second shot (and both losses were in overtime; no one has beaten the Huskies in 40 minutes since 2013).
"It's a great learning tool," said Geno Auriemma, 64, the greatest coach this sport and most others have ever seen. Then, with a slight grin, he added, "But I'm a pretty smart guy. I don't need to learn this shit two years in a row."
We'll get to Notre Dame's Good Friday ecstasy later, but it is nearly impossible to appreciate the sense of emptiness that permeates the UConn women's basketball program on a morning-after such as this. A deep, soul-excavating, gnawing emptiness. As spring arrives in Storrs, a winter of sorts also comes.
The Huskies know that they have the best coaching staff, the most storied program, and thanks to decades of relentless hard work and even more relentless excellence, the best talent. Geno and his associate head coach, Chris Dailey, who has been with him since Day One in Storrs and who herself will be inducted into the Basketball Hall of Fame later this year, know this. They also realize they have transitioned into a weaker conference (from the Big East to the AAC), that they have (for football's sake) sacrificed many of their appealing regional rivalries (Providence, Syracuse, Villanova, even Notre Dame) for long flights in the dead of winter to distant outposts such as Wichita, Tulsa and Houston that their program has no geographic or emotional connections to (we imagine only New Orleans, via Tulane, puts some warmth in the heart of Geno, a world-class epicure).
The Huskies slog through a desultory conference schedule, regularly Globetrotter-ing conference foes by as many as 60 points, while also putting together the most arduous non-conference schedule they can, both to prepare them for Final Four weekend and to keep Geno from jamming forks into his eyes at the utter monotony of it all.
(And yet, Geno keeps it entertaining for himself and his team because he has a fantastic, if occasionally caustic, sense of humor. His rogue move with the Dasani bottle at the NCAA presser on Thursday was vintage Geno. He's not just funny: he's truly a person who GETS IT: good family, close friends, hard work, good times. He gets it.)
Compound this with, due to winter quarter, a campus being closed for most of January so that players are holed up in an off-campus hotel without their outside friends and acquaintances and distractions, then the harsh central Connecticut winter that extends until, basically, Final Four weekend (note: if you live or grew up in Fairfield County, that's not Connecticut; that's just Upper Westchester; real Connecticut is SOOOO much colder and rural), and it all adds up to this: After 32 seasons, but particularly now, unless the Huskies are cutting down the nets in early April, the season is a failure. An abject failure.
Geno, more than any other coach I've ever encountered, is a consummate sports fan. He is also a lover of irony and movies, etc. And so with distance he will be able to appreciate the irony of a man who's won 11 national titles and 147 of his past 149 games, who owns the most national championships of any Division I coach in men's or women's hoops and who owns the TWO longest winning streaks (90 and 111 games) in women's college basketball, being this: a tragic figure.
But in a sense, today, he is. Because as a sports fan, Geno appreciates that in the past two seasons, he's been the guy who led the Olympic marathon the entire way, in world-record time, and was passed in the final two steps.
Twice.
What's next for Geno, who is visibly more subdued on the bench now? He also has 86'ed the tie, but unlike the past, he keeps his suit jacket on the entire game (that used to be doffed after five minutes). He also appears to be wearing more comfortable shoes (sneakers) as is he's channeling NBC-era Letterman. What's next?
Well, UConn, which only played six players on Friday night and will lose two of them (seniors Kia Nurse, Gabby Williams) next season, will add the nation's top recruit, 5'11" guard Christyn Willams of Arkansas. And Geno is keenly interested in a current slender sophomore from the Twin Cities area, Paige Bueckers (he has already visited a handful of times; Bueckers scored 37 in Hopkins' state championship game loss in mid-March). He has indicated that he wants to coach until he's 70. We'll see.
In Jere Longman's New York Times write-up of Friday night's game, he explored the evolution of women's college basketball and likened Geno's hegemony to that of UCLA's John Wooden in the men's game (this, of course, would make Pat Summitt Adolph Rupp). There's more than a little truth to that comparison, as we will definitely see more parity, if not this consistent level of excellence, once Geno retires.
As for Notre Dame, Muffet McGraw has now played Geno 47 times in her 31 seasons in South Bend (more than any other coach) and has defeated him 12 times. That, relatively, is extraordinary. And make no mistake: UConn's coaching staff relishes silencing Notre Dame more than any other school (they're devoted Catholics with a little bit of a chip on their shoulders about the school's self-righteousness).
Geno's presence on the women's basketball stage has likely precluded Muffet from winning more than her one national championship (in 2001; in that year the Irish trailed UConn by as many as 15 points in the first half of the national semi and then won going away), but her presence has prevented him from winning more, too. They are the USC-Notre Dame football of women's college hoops.
These two suburban Philadelphians go way back. Way back. They were both college-aged counselors at Cathy Rush's immortal Philly-area basketball camps in the Seventies (Rush's Immaculata College, won three AIAW national championships and had a slew of nuns cheering for them in the stands, making a hell of a racket by banging buckets on the floor; Sister Jean was not the first). McGraw played at St. Joe's in the late 1970s and Geno joined the coaching staff the year after she graduated, his first women's college coaching position. Their shared history dates back 40 years.
For McGraw, who was inducted into the Basketball Hall of Fame last September (along with UConn icon Rebecca Lobo, who was seated courtside last night as an ESPN2 analyst), this had to be one of her most satisfying victories. The Irish lost FOUR players to ACL tears this season ("As Tears Go By…") and yet here they are, knocking out the Mike Tyson of women's basketball. They'll get Mississippi State on Sunday, the team that knocked out UConn last season on a buzzer beater by 5'3″ Morgan William (who'll start Sunday) but who failed to win the national championship.
By the way, notice the difference in Geno's reactions to the two fatal blows of the past two Final Fours. In 2017 it was a bemused "It had to happen some time" but on Good Friday night it was a forlorn, "My God, My God, why have you forsaken me?"
One final note: The Irish are playing on Easter Sunday (but then, the Notre Dame men were knocked out of the NIT on St. Patrick's Day). When they won it all in 2001, in San Antonio by beating Purdue, it was also Easter Sunday.