by John Walters
Tweet du Jour
You be the judge: @emmajcoburn clearly says #YANNY 😂 #TeamNB pic.twitter.com/mruHaAT6RG

— New Balance (@newbalance) May 16, 2018
Starting Five
The James Gang
James Harden shot just 20% from beyond the arc (3-15) but Stephen Curry was worse, shooting 12.5% from three-point land (1-8) as the Rockets knotted the series with a 127-105 win. Kevin Durant poured in 38.
Curry is now 2-13 from outside the arc in this series. Expect this to be a story line in the long fallow period before Sunday's Game 3.
2. Wild Kingdom
"You wouldn't believe how bad these people are," Donald Trump said during a roundtable discussion with California leaders on sanctuary cities. "These aren't people, these are animals."
To be fair to Trump, he was most likely referring to MS-13 members. To be fair to animals, even predators have far more dignity and respect for life than gang bangers.
3. Weary Traveler
With a surname such as Cahill (K-Hill), you should be a dominant pitcher. And at moments in his 10-year big-league career Trevor Cahill has been just that. In 2010 he was an All-Star, had a sub-3.00 ERA, and went 18-8.
Last night we were briefly watching the first inning of the A's-Red Sox game from the sidewalk outside of Blondie's (a bar from which we are banned…seriously) when ESPN flashed a quick note about how many consecutive road starts Cahill has lost. We have been unable to verify the number on the WWW, but we think it's in the thirties.
Anyway, Cahill gave up 3 first-inning runs and was facing Chris Sale and even though he pitched five scoreless after that, Sale doesn't need that much run support to beat you. The streak continues.
4. Jumpin' Jack Flash
We loved learning yesterday that the codename given to the mission that would become the inception of the Trump-Russia-Election Meddling (notice we did not write "collusion") investigation was Crossfire Hurricane.
No lie, we were ruminating on this only last week, as we scoured tunes for "Music 101", that this is one of the all-time great metaphorical terms in rock 'n roll history. Totally original. Totally vivid. Just a wonderful job by Mick and Keef.
It's funny, and maybe it's just us, but the older we get the more we appreciate the truly original lyrics and metaphors/allusions in rock and pop music: "Crossfire Hurricane." "Tequila Sunrise." "Suffragette City." "Little Red Corvette."
Anyway, read up here on what Crossfire Hurricane is all about. And here's hoping the totality of this investigation is code named "When The Whip Comes Down."
5. Rant
We see this as a musical, the 180-degree rebuttal to Rent. In our version, a middle-aged white attorney fights the noble battle of ridding America's most diverse city of all languages except, of course, American. Which is totally a language.
Personally, I don't care what language service employees speak to one another. All I'd ask is that they make eye contact with me and at least pretend to not be annoyed by having to take part in this business transaction as we partake in it (and I'm not just talking about the hookers…for once).
Music 101
Big Bang Baby
In the early to mid- Nineties, when nearly every American band of note was shopping at REI or thrift shops, Stone Temple Pilots turned it up and went glam. God bless 'em. This tune came out in 1996. RIP to Scott Weiland, the greatest rocker/Notre Dame football fan of 'em all (unlike Bon Jovi, he'd stay for the entire game).
Remote Patrol
Evil Genius
Netflix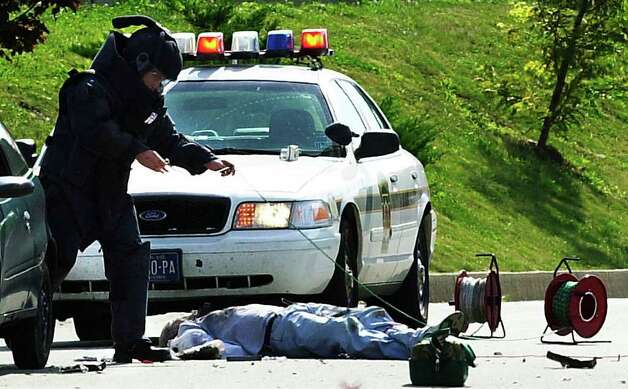 We finally had the opportunity to dive into this four-part series last night and while it's not quite Making A Murderer, it's damn compelling. Basically, it's an elegy to White Trash America and man is it depressing. And if the words "Pizza Bomber" ever sprang forth from your lips, then you need to watch this. Note well: American criminals are lazy (note how close to the actual home of one of the perpetrators the original crime took place).