by John Walters
Tweet du Jour
IF YOU'RE SACHA BARON COHEN YOU HAVE TO TELL ME! pic.twitter.com/hxLVQAd0On

— Stephen Colbert (@StephenAtHome) July 14, 2018

The best memes have a long, long shelf life…
Starting Five
1. Tour de Force de France
*The judges will also accept "World Champs-Elysees!"
The FFF defeats Croatia 4-2 in an entertaining if not overly dramatic final in Moscow to win their second World Cup, both in the last 20 years. Moments: 1) Pregame feature on Bosnian conflict refugee and eventual Golden Ball winner Luka Modric of Croatia (we were disappointed the piece did not begin with "Think what you will of Slobodan Milosevic"), 2) both goals by Croatian Mario Mandzukic, who scored both the first (for France) and last (for Croatia) last goal of the match. The latter was the answer to the question any soccer observer always wonders: Don't one of those defender kicks back to the goalkeeper invite massive failure?
3) the fact that two of France's four goals were scored by first generation Frenchmen, Paul Pogba and Kylian Mbappe, whose parents were born in Africa. Both players are Muslim. Kind of ironic during a weekend when President Trump made a point about noting how immigration is changing Europe's culture, and that that's "a bad thing." 4) The postgame ceremony in a raging downpour, in which Vladimir Putin stood beneath an umbrella but the leaders of Croatia and France were not given them.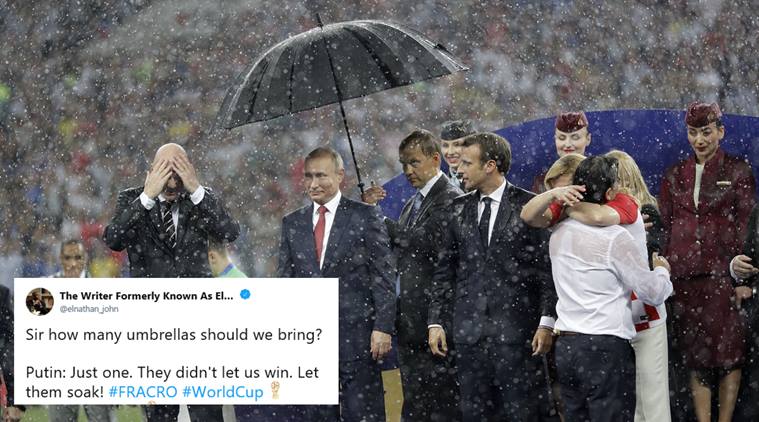 For the nation of France, which has dealt with more mass carnage due to terrorism than any Western country in the past four years (Charlie Hegbo, the November 15 attacks, Nice), this was a sweet moment. On the same weekend as Bastille Day. Fun weekend in Paris.
MH prediction: The 2034 World Cup will be won by the giant island of floating plastic in the Pacific that is the size of France.
2. The Muscovian Candidate!*
*The judges will also accept "Creme de la Kremlin," "Playing Footsie With A Russkie" and "You're Darn Putin!"
But when we get behind closed doors/There's a crime we know about/And he makes me glad that he's the only one with a copy of the pee tape/But no one knows what goes on behind closed doors….
Friday: Special prosecutor Robert Mueller indicts 12 Russian operatives in a detailed document detailing how they hacked the DNC and DCCC in 2016.
Monday: President Trump meets with Russian president Vladimir Putin, which includes a 90-minute closed-door, just-them-and-their-interpreters meeting. We imagine Putin wondering about to Trump why he doesn't just have someone poison Mueller's food; that's the way we do it in Russia.
Meanwhile, Hillary got it all right in autumn of 2016. I mean, like, ALL RIGHT. Listen….
Hillary was 100% right about Russia.

It's an absolute tragedy that we don't have the most qualified woman in the country in the White House.#SaturdayMorning#AmJoypic.twitter.com/ipuTkcFffd

— Holly Figueroa O'Reilly 🌊 BWCS (@AynRandPaulRyan) July 14, 2018
3. Roast Hard
Where there's a Willis…How did no one think to roast Bruce Willis before 2018? Action hero, dilettante musician, horrible husband, star of iconic films with memorable lines, and quasi-comic figure. They finally did so last weekend in Los Angeles and it will air on Comedy Central on Sunday, July 29th. His ex, Demi Moore, even showed up.
Naturally, Jeffrey Ross had the funniest lines: ""I hope this Roast doesn't end with you realizing your career has been dead the entire time"  and "I can't wait to see your next project, Die Hard 6: Natural Causes."
4. From Port Authority To Gamblers' Anonymous
Yesterday, it happened. For the first time a LEGAL general sports betting site within half hour (more like 15 to 20 minutes by bus) of New York City opened. FanDuel, the fourth Garden State-sanctioned sports betting parlor and by far the closest one to New York City, opened inside a sports bar at the Meadowlands Race Track, just SEVEN miles west of Manhattan.
Does this spell doom for Joey Bag O'Donuts, your regular bookie? Probably not. It's still easier to meet Claude (Did I just make that name up? Maybe…) at his favorite East Side watering hole to settle accounts, but then again you always run the risk of whether he's going to show (which depends which side of the ledger he's on).
Still, there are 12 million humans living within a 20-mile radius of this parlor, located in the Victory Sports Bar & Club, and we're guessing that if you're one of the people working at the 10 teller windows waiting to take daily bets on sporting events, you have comfortable job security.
Kinda weird that they opened yesterday, though, as this is the longest week of the year for degenerate gamblers: No real games in the four major sports for four days. Or maybe that was the idea.
5. The West Wing: Casualties List
We'd casually watched an episode of The West Wing here and there back when it originally on NBC at the dawn of the millennium, but this spring/summer is the first time we've dedicated ourselves ("dedicated," as if sitting on a couch requires gobs of commitment) to viewing each episode of the Aaron Sorkin drama from start to finish. Now, nearing completion, we thought we'd call attention to something the surgeon general never  told us: Working in the White House is extremely hazardous to one's health.
To wit…
–In an assassination attempt (not exactly on the president, but on someone close to him), Deputy Chief of Staff Josh Lyman (Bradley Whitford) is shot in the chest cavity and critically wounded. He undergoes 14 hours of surgery and nearly dies, but retains his boyish charm throughout.
–Oval Office secretary and longtime presidential secretary Mrs. Van Landingham (Kathryn Joosten) is killed by a drunk driver, cruelly, as she is driving home from the dealer lot in a vehicle she has just purchased. It was the first car she'd ever bought on her own.
–Lyman's assistant, Donna Moss (Janel Moloney), is critically injured by a roadside bomb in a terrorist attack in Gaza. She, too, flirts with death and suffers massive injuries, but fortunately none to her face.
–Retired admiral and Chairman of the Joint Chiefs of Staff Percy Fitzwallace (Jon Amos) is killed in that same terrorist attack because, you know, the black guy always draws the fatality card in any ensemble production.
–White House Chief of Staff Leo McGarry (John Spence) suffers a massive heart attack (during an Israeli-Palestinian peace summit at Camp David) and must undergo double bypass surgery and then, during his recuperation, consume Indian food.
–Secret Service agent Simon Donovan (Mark Harmon), charged with the protection of White House press secretary C.J. Cregg, is shot and killed while breaking up a robbery at an Upper West Side bodega.
–Presidential daugher Zooey Bartlett (Elizabeth Moss) is kidnapped on the night of her college graduation from Georgetown. Zooey is so traumatized that she travels back in time to 1960 New York and becomes Don Draper's secretary.
And all through this, President Josiah "Jed" Bartlett himself is dealing with the physical duress of the early stages of multiple sclerosis and the far worse emotional duress of being a Notre Dame alumnus during the Ty Willingham era (note: There actually was a New Hampshire governor, in colonial times, named Josiah Bartlett).
Almost no one emerges physically unscathed. The five major characters that, as far as we can see, are never put in mortal peril are Communications Director Toby Ziegler (Richard Schiff), though his ex-wife refuses to remarry him because he's "sad"; Cregg (Allison Janney), though she just can't keep a man because she's too darn strong and independent (and tall), Deputy White House Communications Director Sam Seaborn (Rob Lowe), though he is the first major character written out of the show, and presidential aide Charlie Young (Dule Hill), but his mom, a D.C. cop, is murdered; that's his backstory.
Reserves
Because animals in their natural habitats are one of the planet's greatest treats…
IF AT FIRST YOU DON'T SUCCEED: This newborn giraffe has a tough time taking his first steps, but finally finds his footing with a little encouragement and determination! https://t.co/3pQCcyKTCK pic.twitter.com/KMyRKJyoPJ

— ABC News (@ABC) July 16, 2018
Music 101
Lawyers In Love
We're doing a theme week here at Music 101, and you probably won't need to be too much of a stable genius to figure out what it is. We begin with Jackson Browne's 1983 No. 13 hit, the title track off one of his more successful album. The wry, satirical lyrics underline a catchy melody ("Last night I watched the news from Washington, the capitol/The Russians escaped while we weren't watching them, like Russians will..."). Browne is the only artist we know who had charting hits whose titles included the words "lawyers" and "doctors."
Remote Patrol
Anatomy Of A Murder
10:15 p.m. TCM
We happened upon this 1959 Best Picture Oscar nominee for the first time when back in our ancestral desert home last Christmas and found ourselves wondering how we'd never heard of it before. It's a courtroom procedural, with a wilier than-you-might-think Jimmy Stewart as the defense attorney in a murder trial. George S. Scott more than holds his own against Stewart as the prosecutor. The question: Did Ben Gazzarra, a soldier stationed stateside, kill a man because that man raped his sexy, hot-to-trot wife, Lee Remick? The material is extremely progressive for the Eisenhower era, with talk of contraceptives, fertility, rape and "panties." And Scott, long before Patton-mode, is utterly watchable. Catch this is you've not yet seen it.