by John Walters
Starting Five
Taking Debate
We were too busy working our second job of the day—is this what you mean by low unemployment, Donald?—to watch Dem Debate, Episode 2, Round 1, from Detroit last night. Our not-so-sneaky suspicion is that when they pare down this group to the swimsuit competition, the final six will be Bernie, Biden, Liz, Kamala, Mayor Pete aaaaaaaaaaand…Marianne Williamson.
The last one because Marianne's sort of like the Puck of this field. She's nutty but she makes just enough sense, plus she's a renegade and the viewers love her. And if CNN (and others) have learned nothing else from 2016, they've learned that they can turn any presidential race into America's favorite reality TV show.
Williamson, a native Texan, dropped out of college in the early Seventies and moved to New York City to become a cabaret singer. It's as if Betty Buckley is running for president.
Ohio Players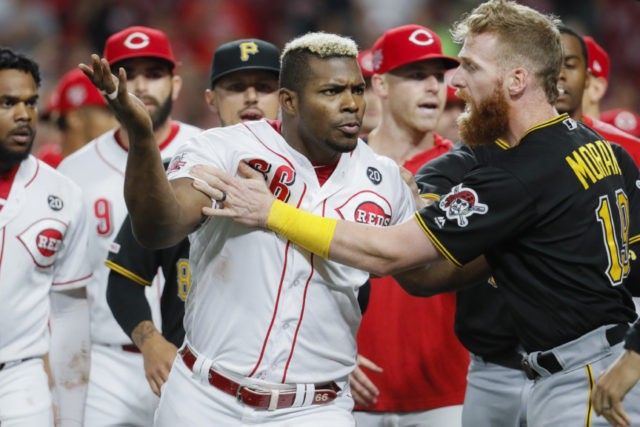 The Cleveland Indians trade their staff ace, Trevor Bauer, to Cincinnati, which in turn sends tempestuous but talented outfielder Yasiel Puig up Lake Erie way. There are a few other players and one more team involved, but that's the gist of it.
This is baseball's version of wife swap. My wife's crazy. I hear that, so's mine. But your wife's hot. So's yours. Hey, whaddaya think if…
In Case Of Emergency, Do NOT Break Glass
Fine, China. You're the world's greatest country when it comes to suspended glass walkways. Three years ago you put up the above path on Tianmen Mountain.
Next month, in the Huangguoshu scenic area, China will open the world's longest glass suspension bridge (1,804 feet), which also spirals. Will this induce you to travel to China?
Manitoba Manhunt: Trail Goes Cold
Where are they? It has been 10 days since anyone can say with certainty they spotted suspected killers Kam McLeod, 19, and Breyer Schmegelsky, 18. The RCMP has thrown the full weight of its search efforts at finding the Walmart fugitives and yet…nothing. In an age when use of cellphone or credit card would allow law enforcement to pinpoint your location, this duo has gone totally off the grid.
Which to us means that they're either dead, or holed up in an abandoned cabin, or already hundreds of miles away from where they were last seen, in Gillam, Manitoba. One of the three.
A reminder: each of them is 6'4″, roughly 170 pounds. Tall and thin. It's hard to put on a disguise to hide that figure.
This account from the last person who accidentally encountered them, outside Gillam, on July 21 is chilling:
In Cold Lake, Alberta., Tommy Ste-Croix said he encountered the suspects stuck in a grey SUV on a muddy road near his brother's house on July 21 and unwittingly helped them on their way.
"I assumed they were young teens with mom and dad's SUV," Mr. Ste-Croix said in an e-mail. As he helped free the vehicle, Mr. Ste-Croix said he ribbed them about getting their parents' vehicle covered in mud. He said Mr. McLeod replied: "Oh don't worry, they told me to go for a long joy ride."
He said the two seemed good-natured – albeit "a little nerdy" – but said they appeared nervous, which he attributed to their stuck SUV. He says when he saw the suspects on the news his "jaw dropped," and he called the RCMP.
Tough Times For Endurance Athletes
A 44 year-old Norwegian woman was struck by lightning and killed at the Sudtirol Ultra Skyrace in northern Italy. The 75-mile race winds its way through the scenic Dolomite mountains. The race had been halted due to weather conditions 30 minutes earlier but that news had not been dispersed to all runners in time.
Meanwhile in Ohio, another 44 year-old woman was killed during a 70.3 Ironman Triathlon when a semi truck hit her as she was cycling on a state road. Her name was Kristen Oswald so for all we know she was also of Norwegian descent. Weird.
****
Gotta run to our gig so we'll just post quick bits: Apple (AAPL) shares are up 4% after a positive earnings report after the bell yesterday…Castor Semenya will not be allowed to defend her 800 title at the Worlds…We're pretty fired up about the idea of both Jon Gruden and Mike Mayock working with the Raiders and being on Hard Knocks in August…South Carolina will have the most difficult schedule in college football this season as the Cocks get Clemson, Alabama, Georgia, Florida and Texas A&M. If for any reason the Cocks go 12-0, just, in the words of Dennis Green, "crown their ass!"