by John Walters
Starting Five
A Picture of Dorian: Gray Skies
Dorian is cutting a swath through the Caribbean and is set to make landfall in Florida on Monday as a Category 4 storm. It's at times such as this that I feel compelled to point out that the highest point in Florida is Britton Hill in the state's panhandle, and that is only 345 feet above sea level. That's less than the elevation of a football field, end zones included, if it was stacked up vertically.
115 yards. That's the highest point in the nation's third-most populous state as climate change bears down on the planet this century. Should be fun. Miami Subs will one day be known as Miami Sub-marine.
Aquino Es Aqui, No?*
*The judges will haltingly accept "Aristides Development"
On August 1st the Aristides Aquino, a 6'4″, 220-pounder whose prodigious home runs had already earned him the nickname "The Punisher" in AAA ball, was sent up the river. The Ohio River.
Aquino was not heading to jail, but from the AAA Louisville Bats to the Cincinnati Reds. Just 30 days later, the Louisville Slugger has set a Major League record for home runs in one month by a rookie, with 14 (What took you so long, Cincy?).
It's been a record-breaking summer for heat and a record-breaking month for homers. The Yankees have hit 70 home runs this month with two games remaining, and that breaks the team record for one month by a margin of 12. And then there's Aquino, the Dominican Republic native who now has the N.L. rookie record for a month. Also, Aquino hit 13 home runs in his first 100 career plate appearances, which is the most of any player in the history of the game.
That's So Raven
The Baltimore Ravens won last night. Again. That's 17 consecutive wins for the purple-and-black dating back to the final game of the 2015 season. Exhibition season, that is.
Yes, the Ravens have won 17 consecutive preseason games, which must be recognized in the Dubious Achievements Hall of Fame (memo to Esquire: bring back the Dubious Achievement Awards; it was the best thing ever).
As far as longest-ever NFL win streaks, the Patriots won 21 in a row (2003-2004), the Packers 19 (2010-2011) and seven clubs have won 18 in a row. All regular season. Since this current Ravens preseason W streak began with the last game of the 2015 exhibition season, the Ravens have appeared in one playoff game, which they lost.
Death Of An Iconic Figure
You recognize the figure, or at least the suit and hat, but not the name. The man on the left is James Leavelle, a former Dallas detective who was leading Lee Harvey Oswald out of City Hall and to the county jail when Jack Ruby fatefully, and fatally, intervened.
Leavelle, nearly 56 years since standing inches away from the path of the bullet that killed Oswald, died yesterday at the age of 99. In that famous image, he is handcuffed to Oswald for, ironically, safekeeping.
A native Texan, Leavelle was present at two of the most infamous moments the American 20th century. He was there for the JFK assassination, initially interviewing Oswald about the murder of Officer J.D. Tippit until it was realized Oswald was the prime suspect in a much bigger murder case. He was also aboard the U.S.S. Whitney, a destroyer tender, about two miles from Pearl Harbor during the attack on December 7, 1941.
Cary Grant-Style
Humphrey Bogart. Spencer Tracy. John Wayne. Clark Gable. Jimmy Stewart. Okay, George Clooney or even Brad Pitt. There are spectacular actors (Henry Fonda, Al Pacino, Jack Nicholson) and then there are MOVIE STARS, and I'm not sure anyone I've yet mentioned in this paragraph better fit that term, in all that it meant, than Cary Grant.
Two nights ago I was watching a Grant film I'd never before seen, The Bishop's Wife (1947), in which he plays angel named Dudley who's come down to restore luster to a sagging marriage. Grant's Dudley is possessed of an easy charm, self-assured without being arrogant or obnoxious. He is never rude, never foul-mouthed or ill-tempered. There is a grace to him, a joy in enjoying the moment and never truly letting circumstances get the better of his good nature.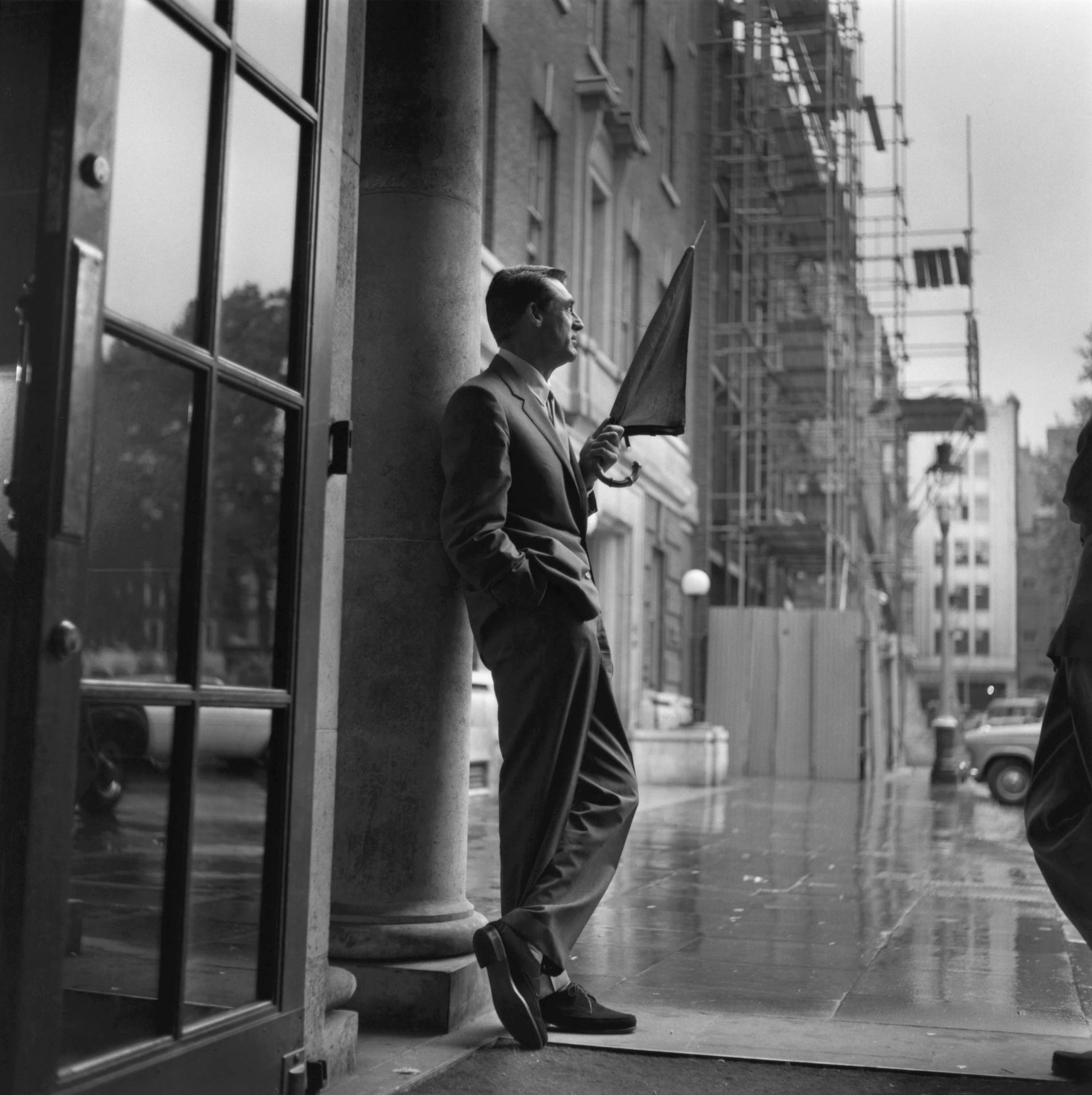 Sure, but he's playing an angel. Then I realized that pretty much every one of his characters is angelic. In films of his that I've seen—this one, The Philadelphia Story, To Catch A Thief, North By Northwest, Holiday, His Girl Friday, Bringing Up Baby, and perhaps my favorite, An Affair To Remember—he's always the same charmed man, usually, okay living a charmed life—and always better than his circumstances.
And this isn't about his personal life. And maybe it's a little pie-in-the-sky. But wouldn't it be great if more of us, particularly more of us males, tried every day to be a little more like a Cary Grant character? A little good humor. Style. Manners. Who knows, maybe the Saville Row suits will just follow.