by John Walters
Starting Five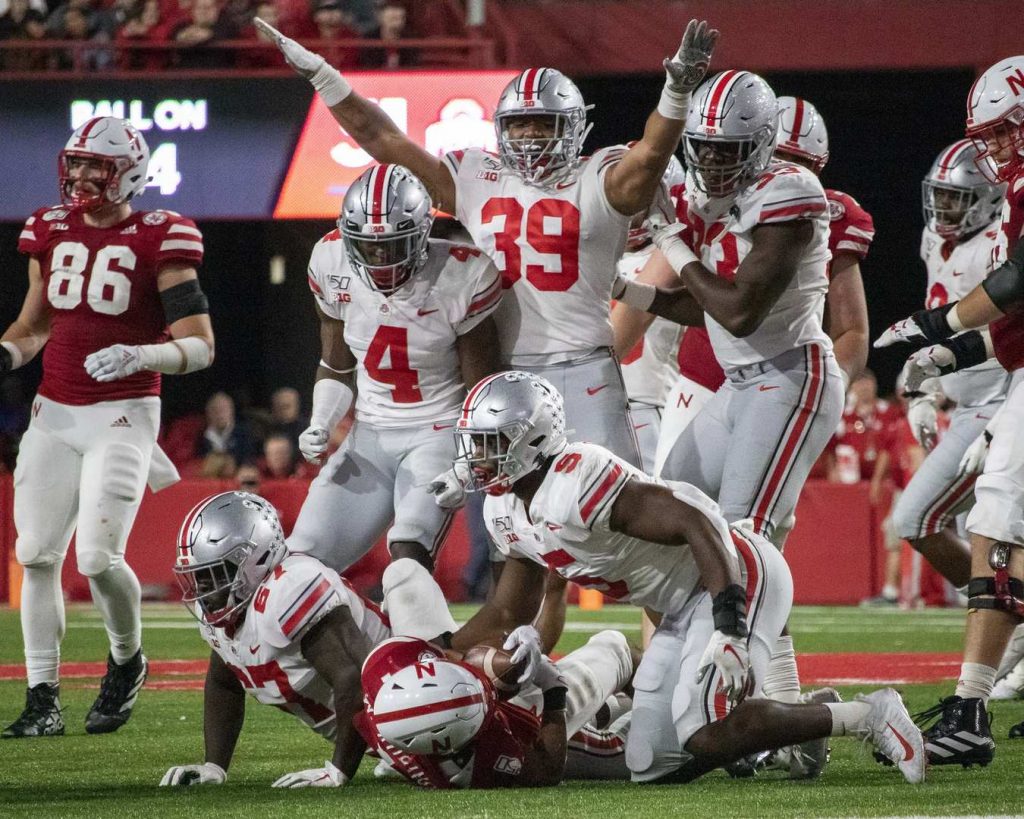 Ohio Statement
The best college football team in America, after one month, is Ohio State. On Saturday night the Buckeyes strutted into Lincoln, a vaunted powerhouse until the past 17 years, and embarrassed Scott Frost's squad. It was 38-0 at halftime and if Ryan Day had put the pedal down after halftime the final score would have been much worse than 48-7.
Defensive end Chase Young is a beast, fulfilling the promise that Nick Bosa never did last season. Quarterback Justin Fields is winning converts weekly both to his Heisman campaign and to the idea that Kirby Smart isn't the best decision-maker out there. Finally, Ryan Day is the anti-Urban when it comes to basking in a drama vortex. We will call him Rural Meyer.
MH's Top 4, after one month: Ohio State, Alabama, LSU, Auburn.
I Don't Want Your Civil War*
*The judges would remind you that for many of those who attend MAGA rallies, the Civil War never ended.
This is a classic Trump Tweet, filled with superlatives and threats and false premises. The facts are this: 1) no one diplomat/nation ever simply "does a favor" for another, just like no one ever went to Don Corleone asking for a favor thinking there'd be no payback expected, 2) since the beginnning Trump has never denied what he did (the transcript demonstrates it in black and white) but has instead asked "Who is accusing me?" 3) the Civil War has been going on ever since Lincoln freed the slaves. Some Americans will never accept the post-bellum world in which they live and all Trump has done is capitalize off that rift while further widening the gulf.
The funniest thing about all of this? Trump doesn't give a tinker's darn about any of you Middle America types. You think a guy who has lived his entire adult life within 2 blocks of Fifth Avenue and 57th Street gives the slightest (poop) about a $30,000-a-year worker in Centerville, Ohio? Think again. He's exploiting you; he's not fighting for you.
The Death of the Middle Class (In Pro Sports)
We don't know if it's just a coincidence or a reflection of market economics elsewhere, but what's happening to the American class structure is being reflected in pro team sports somewhat. That is, an increase in folks to the ultra-rich or very poor with a decrease of America's true middle class.
The Major League Baseball season ended yesterday and for the first time in THE HISTORY of the Show, four teams finished with at least 100 wins: the Dodgers, Astros, Yankees and Twins. Also for the first time, four teams finished with at least 100 losses: the Tigers, Orioles, Royals and Marlins.
Thirty teams, and more than 25% of them are uber-successful or distressingly lacking.
Meanwhile in the NFL, and we know it's early, the only thing that's going to prevent the Jets or Dolphins from finishing 0-16 is the fact that they both play in the AFC East. The Patriots look unbeatable. And the 0-3 Bengals face the 0-3 Steelers tonight on Monday Night Football.
The Broncos and Redskins are 0-4 and the Cards, who had the No. 1 overall draft pick, are 0-3-1.
The Fraser-Pryce Is Right
At the Worlds in Doha, Jamaican Shelly-Ann Fraser-Pryce wins the women's 100 meters in 10.71 seconds. The Worlds gold medal in the 100 is the Jamaican's (yes, what is it about Jamaican sprinters?) fourth in this biannual event to go along with her Olympic golds in the 100 in 2008 and 2012.
Pryce, 32, now holds two of the five fastest times ever run, and two of the other people who ran faster were Marion Jones and Flo-Jo, one of whom definitely wasn't clean and the other of whom has long been suspected.
Truth be told, we don't fully subscribe to any track and field record set in the past 50 years. Which is sad, and yes it smears plenty of athletes who've done it the right way. We're not saying they're all cheaters, only that our suspicions lead us to wonder. No matter what they say. Call it the Lance Armstrong Effect.
Watson, Come Here
I'm 100% with Jason here, and not at all with Mike. This is exactly how the process is supposed to work. And no egos were damaged in the exchange of information here. Reporter asked a good question: Was there a coverage that dictated why you could not throw deep? Watson explained in depth the coverage and how Houston had to react to it. Of course, at a certain point one team's Joes have to make more plays than the others. That's the unspoken truth in this exchange. We've always liked Deshaun Watson and we like him even more now.
Music 101
Classic
Come to me, baby/Don't be shy/Don't be shy/Don't be shy
Written and released by New York-based electronic music duo The Knocks, featuring vocals by Crista Ru of POWERS. We detect a hint of The Human League here, no? Released in September of 2017, it's a club favorite. Not that we get to many clubs.
Remote Patrol