by John Walters
Tweet Me Right
Retweeting myself but I'm in a self-indulgent mood this morning…
Starting Five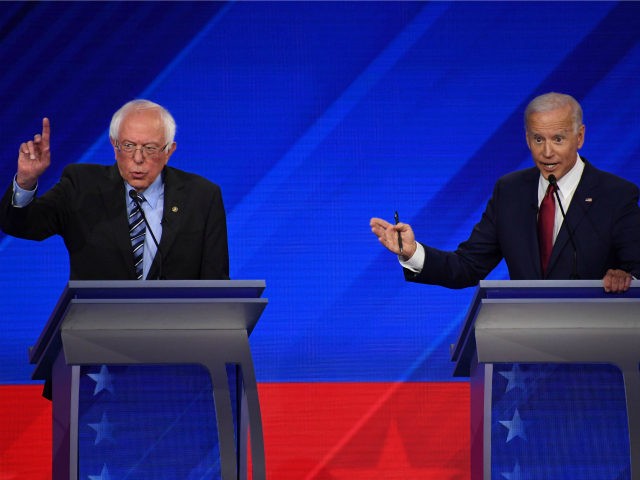 Mass Debaters*
*The judges will also accept "Say It Ain't Joe"
We didn't watch—again— but everything we read from Twitter informs us that the Democratic party and its denizens/tweeps still conforms to the same rules that they allegedly are so up in arms about. Joe Biden, the older white guy with the best pedigree, doesn't actually need to have the best performance at a debate in order to have "done just enough" to maintain his supposed lead among the Dems. Where have we heard that type of rationalizing before besides just about every corporate board room in America?
Related: Was having an interesting conversation last night with a cookoutateria coworker last night who just returned from a month in France. His mother lives there full-time and he is a dual citizen. He says that many French want "Frexit" and are concerned about the mass migration of foreigners (read: Africa, Middle East) into France. France is a socialist country where people pay very high taxes but where college and health care are free. And unemployment, especially among the working class, is high.
My friend says that native French are worried about immigrants taking their jobs and also about how they will continue to be able to support such socialist systems with the infusion of so many newcomers. I honestly don't know if these fears are valid or not; only passing on that the USA is not the only major Western country dealing with this.
As I've said before, and I'll repeat now: I'm not a Republican or Democrat. I'm a Sports Values Party member (SVP!). What does that mean? That I conform to two principles, which are fundamental aspects in sports: 1) the same rules should apply to all and 2) Outcomes should be merit-based (i.e., if you perform better on the field/court, you win; and if you don't, you lose).
(Beto is the Obama of the 2020 race; but America may not be ready to return to such a political figure right now)
Looking ahead, all I see is a crowded field of semi-socialists and no one with the charisma or dynamic charm (or at least no one who the most powerful members of the party will allow to step up and out: i.e. Beto, Pete, Liz) to take out Trump. Biden or Bernie? Well, if you're a Never Trumper you'll vote for a burlap sack of rice over the incumbent (and it will likely have a tariff on it), but if the stock market is where it is today (near a record-high) and it there's no war or major world crisis, I really do think it's going to be tough to knock out the Donald.
We'll see. But all I see is a bunch of soft middleweights who claim they want to take on the school bully. Where's Nick Saban when you need him?
Black Out
Gregory Cheadle, who was famously singled out by then-candidate Donald Trump as "my African-American" during a 2016 campaign stop in California, is now denouncing the GOP. Speaking to PBS NewsHour last night, Cheadle said he is tired of the Republican party pursuing a "pro-white" agenda and using African-Americans as "political pawns."
Really? You don't say?
President Trump took the news gracefully, as is his nature, and told Cheadle he still loved the work he did in Hotel Rwanda. Also assured him that he will not be black-listed if he attempts to stay at a Trump property. Which is nice.
Send In The Clown
Even Ricky Gervais and Stephen Merchant, the geniuses who created The Office, never considered this story arc. An employee at an Auckland, New Zealand, ad agency knew that he was going to be terminated. So when he was called in for his redundancy meeting, he was accompanied by an…emotional support clown.
During the meeting the clown blew up balloons and made animal figures out of them. And then when the paperwork was produced for the necessary signatures, the clown mimed crying. This scene has to be better than anything that ad agency has ever produced, no?
To Air Is Human
Who knew that the climate change debate would extend to the visitors' locker room at Texas. LSU coach Ed Orgeron, who earlier this week said that his team dressed in stifling heat beneath Darrel K. Royal Stadium in Austin due to a dearth of air-conditioning, was yesterday confronted with something worse than burnt-orange truthers. He was met with Texas-produced air-conditioning data.
The Longhorns produced spreadsheet after spreadsheet detailing the locker room temp before the game (68 F) and after (72-73 F). This makes the Longhorns the first team in the Big 12 to run the Spreadsheet Offense. Our work here is done.
Breaking Away Turns 40
If you've never seen Breaking Away, which celebrated its 40th anniversary of its release date yesterday, do yourself a favor and go. It's a perfect film.
Funny, and poignant. And that cast. Dennis Quaid's breakout role. Daniel Stern, who would go on to voice the Kevin Arnold adult narrator character in The Wonder Years and be the hapless villain in the Home Alone films. Jackie Earle Haley, who was already an icon for kids my age having played Kelly Leak in The Bad News Bears films. And then Dennis Christopher, who would never have a role anywhere close to this one again, but who deserved at least a nomination for Best Actor at the Oscars.
A group of working-class kids from Bloomington, Indiana, dealing with growing up and growing apart? Handled with humor, pathos and lots of Italian.
Also, if you think about it, three fantastic sports movies based in Indiana were released in a 15-year period: This, Hoosiers and Rudy. And for me at least, that's the same order I'd rank them.