by John Walters
Starting Five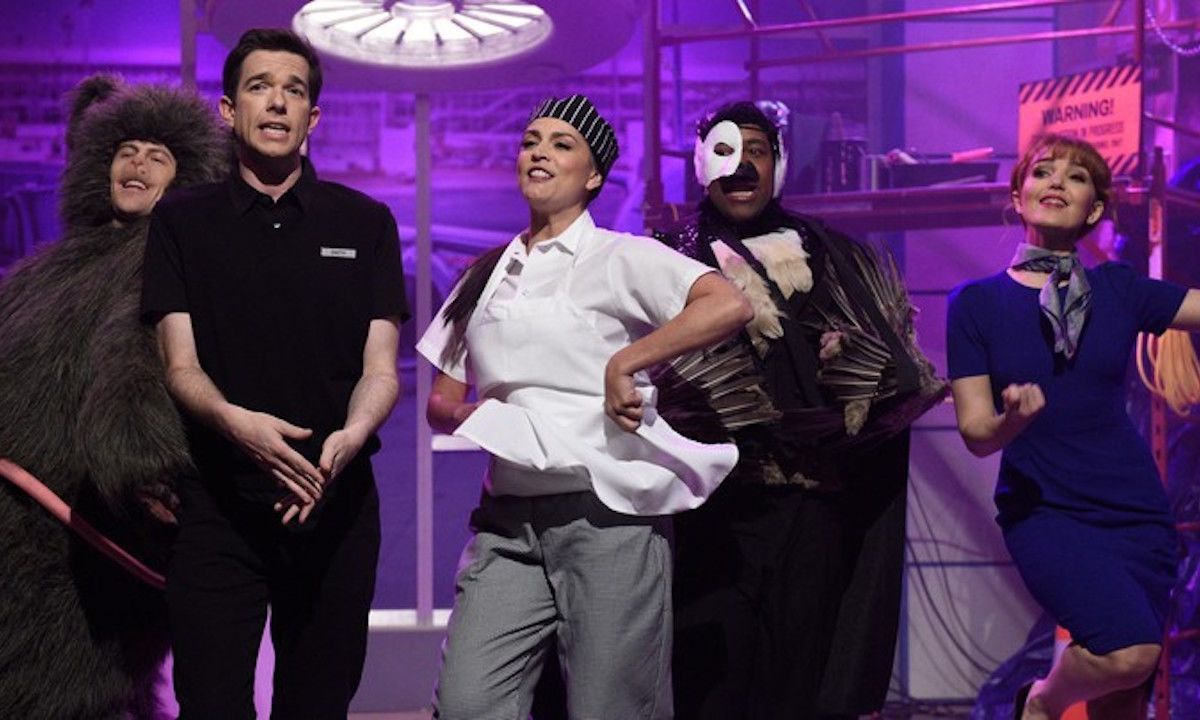 50 Days
This weekend Saturday Night Live re-broadcast the episode from February 29, hosted by John Mulaney. As I write this, on Sunday, that was 50 days ago. It's a fantastic show, with a cold open featuring all the donkey candidates —earlier that day Joe Biden had won the South Carolina primary and turned the direction of the Democratic race—and a vintage Mulaneylogue below:
The date also is significant because it was the first reported domestic death, in Washington, of an American from the coronavirus (you may recall that our fearless leader got the victim's sex wrong… he had a 50/50 chance, and he got it wrong).
Anyway, the show was well aware of the coronavirus —it's the subtext of the cold open and is heavily featured in "Weekend Update," where guest commentator Michael Redd signs off cheekily with "Remember, black people can't get coronavirus"— but who among the general population then really had any idea just how devastating it would be?
We're 50 days removed from that episode, which also featured David Byrne and his shoeless troupe performing "Once In A Lifetime" ("My God, what have I done?" seems particularly applicable to you, Mr. President) and the genius "Airport Sushi" sketch ("Profiled Asian/Standing besides you…") by the time you read this, at least 35,000 Americans will have died in those 50 days from coronavirus.
So when someone from Fox News or someone who watches Fox News or some psychologist who calls himself "Dr." and appears on Fox News reminds you how many Americans a year die of the flu or from car crashes, remind them that neither are currently contagious and that this was 35,000 in 50 days. From a pandemic that, while not totally preventable, would have likely been cut at least in half if the White House had been paying attention earlier than Lorne Michaels' cast was.
Give 'Em Hell, Vic
This is Vic DiBitetto, who is a comic and the answer to the question, "What if Andrew Dice Clay and Sebastian Maniscalco had a baby?" A furiously funny four minutes here, all the more so because everything he's saying is spot-on. And what a relief not to have to add, "NSFW," not that we ever used to.
An Extraordinary Life
Few men lived a richer life than wildlife (and model) photographer Peter Beard, who went missing on the last day of March from his Montauk home and whose remains were found in the woods not far away this past weekend. Beard, 82, had been suffering from dementia.
A child of affluence in Manhattan, Beard lived the type of existence that New Yorker features (and Amor Towles novels) were made for. His uncle is rumored to have invented the tuxedo. Beard, with movie-star looks and charm, started out at Yale as a pre-med but then switched to art (probably following a chemistry exam) and made an expedition to Africa while still in his teens. He would be forever charmed by the Dark Continent and become a fierce protagonist for wildlife.
He was also a man of his time. Beard loved models—he discovered Iman on the streets of Nairobi—and even married one: Cheryl Tiegs. They lasted four years.
Beard was even gored in the leg by a stampeding elephant once, and lived to tell about it. He was the kind of guy who photographed deadly creatures and partied with Keith Richards and Andy Warhol: he was equally at home with rhinos, winos and albinos.
If life is a ride, Peter Beard damn well got his money's worth. Rest in happiness.
Bulls On Parade
ESPN's 10-part series on Michael Jordan and the 1990s Chicago Bulls was supposed to air after the NBA season, and I guess it is. It's just that the air date was moved up by about seven weeks. The first episode premiered on Sunday night (after we wrote this), so we'll wait to see. Our close friend from the first week of college, Marty Burns, was a colleague at Sports Illustrated at the time who had an innate knowledge of the south side of Chicago, his home, and all things Bulls and Jordan.
Marty learned quickly that the way to find out what was happening with the Bulls was to talk to the team's old man, assistant coach Tex Winter. And Marty's the kind of sportswriter athletes and coaches know they can trust implicitly. He's genuine. Mister Burns, as we fondly call him, did a lot of great work on the Bulls in the 90s. I'm sure he'll be tuned in to this.
Personal zeitgeist '90s moment: It's moments before Game 4 of the 1996 NBA Finals in the Key Arena in Seattle. The Bulls are up 3-0 on the Sonics and I'm there to do a piece on Bob Costas for Entertainment Weekly. I'm walking on the court, along the sideline, as the teams are warming up. About 10 feet away to my right, Michael Jordan is shooting jumpers. Ten feet in the other direction, Eddie Vedder is standing along the sideline, talking to someone. I could feel the vortex of greatness surging through me. Alas, it didn't take.
Death of a Trump Truther
In this weekend's New York Times, a timely piece on the death of longtime Bay Ridge (Brooklyn) bar owner Joe Joyce (above, left, in a photo from the late 1970s). The owner of popular local establishment JJ Bubbles since 1977, Joyce didn't buy all the panic about the coronavirus. He was a loyal Fox News watcher, after all.
So Joe and his wife set sail on a Mediterranean cruise, with ports of call in Spain, on March 14. By April 9 Joyce, 74, had died from the virus.
Although, having read the piece, I think the most devastating aspect of the story is that JJ Bubbles has been in business for more than 40 years even though it only has Bud and Bud Light on tap.
Music 101
This version of David Bowie's "Life On Mars" by Postmodern Jukebox is so good that we thought we'd add it. Stick around after three minutes to see what our chanteuse, Olivia Kuper Harris, can do vocally besides sing.