by John Walters
Quality of Life Vs Inequality of Life*
*The judges will not accept "The Morgue The Merrier"
We give thumbs ups to yesterday's New York Times columns by David Brooks and Paul Krugman. Let's begin with the latter, whose column "On The Economics of Not Dying" asks, "What good is increasing the GDP if it kills you?"
Valid query, and one we've asked here. Here's where Krugman's column really gets to the heart of it:
What, after all, is the economy's purpose? If your answer is something like, "To generate incomes that let people buy things," you're getting it wrong — money isn't the ultimate goal; it's just a means to an end, namely, improving the quality of life.
Now, money matters: There is a clear relationship between income and life satisfaction. But it's not the only thing that matters. In particular, you know what also makes a major contribution to the quality of life? Not dying.
And when we take the value of not dying into account, the rush to reopen looks like a really bad idea, even in terms of economics properly understood.
As for Brooks, his "If We Had A Real Leader" paints the sharp contrast to how Lincoln and other leaders (RFK, Bush 43, Obama, Reagan, Churchill) handled major crises or tragedies and how our president right now is handling this one. Tangentially, Brooks mentioned the value of a solid education. I enjoyed this line:
"… it was the job of a school, as one headmaster put it, to produce young people who would be "acceptable at a dance, invaluable in a shipwreck."
I think we know that Trump would grope an unwilling female in the cloak room at a dance and he'd row off with all the provisions in case of a shipwreck.
Mine Kampf
Every day we research our sports year item and we like to begin by researching the year itself in general. And every day we've noticed something crazy: a hell of a lot of Americans died in mine disasters in the latter half of the 19th century.
And it doesn't get any better in the 20th century.
Between 1839 and today there have been, by my one-time count, 72 mine disasters that claimed AT LEAST 49 lives. At least. The worst was Monongah, W. Va., in 1907, that killed 362 people. And that's not counting all the many, many, many more mine disasters/accidents that killed fewer than 49 people.
But here's something worth remembering. Between 1839 and now there have probably been fewer mining deaths in the USA, or about the same total, as there have been coronavirus deaths in this country since late February.
In fact, 1,223 more Americans died yesterday from Covid-19. It's incredible how cavalier everyone has gotten about it.
$274,000 —- A Month!
But let's return to the previous headline, which I did not address head-on: "Quality of Life vs. Inequality of Life."
A couple weeks ago AT&T chairman Randall Stephenson, 59, announced that he was retiring. He's walking away with $64 MILLION in pension on top of what he's already earned, which averages out the past three years to $30 million per. And none of the above includes his $20 million in stock and options from AT&T.
It probably will not surprise you to learn that earlier this spring Stephenson's, whose AT&T owns CNN and WarnerMedia, announced earlier this spring that the company will likely be cutting plenty of jobs. But, you know, no one's taking his golden goose.
When I see the people in Minneapolis rioting and lighting fires, justifiably as an outpouring of complete outrage at the injustice of the system, I wonder why the rest of us aren't joining them.
Why we're not marching to Stephenson's estate, swimming across the moat and storming the property like Lee Marvin & Co. in The Dirty Dozen, and locking him and his family in a cellar and just tossing grenades down the air vents.
Frankly, I'd be fine with that. $274,000 a month. Five families could live off that per year. And he doesn't even need it. Every year his pension could take care of 60 families. That's a subdivision.
There's that scene from Key Largo where Humphrey Bogart reminds Edward G. Robinson's gangster that he had plenty enough to live off for multiple lifetimes, so why is he getting back in the game and courting danger? And the G. man replies, "I want more."
And that is the disease of America.
Black To The Future
So we were reading about the tragic death of Greg Floyd (I mean, yeah, "forgery in progress" is dire but really…) in Minneapolis and about the Central Park Birder and oh yeah, let's not forget Ahmaud Arbery, and it got us to thinking: What if black athletes started their own league (I can already hear Mike saying, "They did; it's called the NBA.")
But honestly, what would happen if black athletes banded together and formed blacks-only basketball and football leagues? And if they all agreed to not play in the NBA and NFL? Can you imagine how that would upend the power structure in America, particularly as regards the latter league?
Admittedly, I can't see NBA players, who have an enlightened commissioner and a pretty good thing going, doing this. But what about the NFL? Imagine players instituting a blacks-only league and most importantly, OWNING IT THEMSELVES. And imagine none of them playing in the NFL. The most important thing here would be exclusive black ownership and then exclusively black players.
The NFL is currently the biggest TV show in prime-time. It's also overwhelmingly black. Want to improve the way your people are treated by police and others? Take this gargantuan first step. It would be incredibly bold and dangerous, and an entire generation of current stars would need to put their careers on the line (which is why it most likely won't happen). But imagine if they did. Imagine if you could expunge old white racist, massage-seeking billionaires from professional football.
That would be a day of amazing grace.
And by the way, as Don Lemon pointed out last night on CNN, maybe THIS is why Colin Kaepernick, who would be welcome in said league, was taking a knee.
Sports Year 1900
On January 19 the American League is founded in Philadelphia with eight franchises (here in the order in which they'd finish): the Chicago White Stockings, the Milwaukee Brewers, the Indianapolis Hoosiers, the Detroit Tigers, Kansas City Blues, Cleveland Lake Shores, Buffalo Bisons, Minneapolis Millers.
The National League, meanwhile, contracts from 12 to eight teams, eliminating franchises in Baltimore, Cleveland, Washington and Louisville. The last city will never return to the Major Leagues. At least not yet.
***
On February 27, F.C. Bayern is founded in Munich. It will go on to become one of the premier clubs in all of Europe, i.e. on the planet. Not three weeks letter F.C. Ajax, which will become the greatest Dutch club of all, is founded in Amsterdam.
***
The 1900 Olympics are staged in Paris, beginning on May 14 and running until October 28th. This as part of the World's Fair. Nineteen events are held, including automobile and motorcycle racing, ballooning, a swimming obstacle race and underwater swimming. In shooting events, live pigeons were used.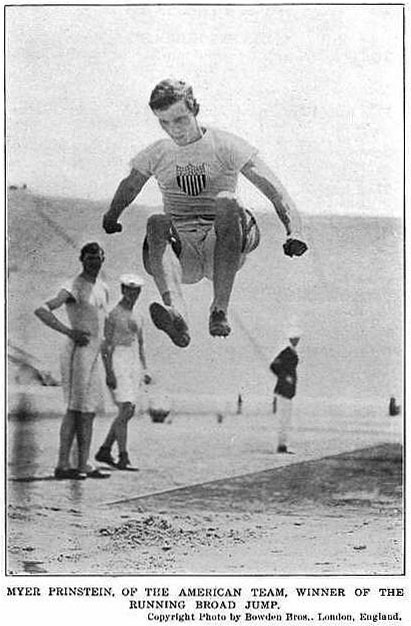 While the French won the most overall medals, American Alvin Kraenzlein was the standout star, taking first place in the 60-meter dash, the 110-meter hurdles, the 200-m hurdles and the long jump. After winning the final even, Kraenzlein was punched in the face by his rival and fellow American, Myer Prinstein. See, there was a Sunday final and preliminaries before. Prinstein, a Jew who attended Syracuse, was forbidden by school officials to compete on Sunday, when the final was held. Kraenzlein was Catholic and attended the University of Wisconsin.
Apparently, both men had agreed in a fit of sportsmanship beforehand not to compete on Sunday and let the results stand as they were. Each had held the world record within the past two years. On Sunday Kraenzlein decided to compete and Prinstein, who settled for silver, smashed him in the face.
The following day Prinstein took gold in the triple jump. He would win gold in both events in 1904.
***
In the Olympic marathon, three American runner protest the French runners finishing one-two, claiming they took a short cut. The French harriers were the only ones with no mud on their clothing. Fast and exceptionally clean.
In the Boston Marathon, Canadian Jack Caffery wins the first of his consecutive Bostons with a time of 2:39 (25-mile course, reminder). He will die in 1919 at age 39 from the Spanish flu.
***