by John Walters
Starting Five
"Don't Ask me. Ask Jyna!"
As President Trump was LIP'ing (Lying In Public) once again yesterday, claiming that the U.S. "leads the world in testing" (blatantly false), CBS' White Houe correspondent Weijia Jiang asked a blindingly straightforward question: "Why does that matter? Why is this a global competition to you if every day Americans are still losing their lives and we are still seeing more cases every day?"
How wonderfully sweet and innocent that someone does not see the entire human condition in terms of sports metaphors.
Anyway, Trump was clearly taken aback by the simplicity of Jiang's question. ""Well, they are losing their lives everywhere in the world. Maybe that is a question you should ask China. Don't ask me. Ask China that question. When you ask China that question you may get a very unusual answer."
Which, painful as this is to every day, when you think about Trump's retort, it makes no sense, other than to pass the buck. And Jiang, who is Chinese-American, couldn't help but notice that the President perhaps saw her face and then directed the attack on the Chinese. ""Sir, why are you saying that to me, specifically?"
And within a minute Trump had stalked off the stage, President Poopie Diaper once again melting down after a female asks him a "nasty" question.
Let's review the ground rules once more, shall we?

For Trump, everything in the world that happens is seen in terms of how it affects him.
For the Republicans, the only principle, the only virtue, is winning. By any means necessary. Power is all.
Trump subscribes to the First Rule of George Costanza: "It's not a lie if you believe it, Jerry."
Gump-tion
CBS, God love them, has decided to make "Sunday Night At The Movies" a thing again, and this past Sunday they aired Forrest Gump. Now if they'll just take my advice and air the original All In The Family, and have Rob Reiner introduce and discuss each episode a la Ben Mankiewicz on TCM.
Anyway, so we're watching the final scene (man, how great was Tom Hanks in this film, by the way?), and there's young Forrest Gump, living in Greenbow, Alabama, and look what he's wearing: a red baseball cap. And at first you see it from behind and before he turns to his father to tell him he loves him, it was my greatest hope that when he did turn the front of that ap would have the words "Make America Great Again." That not only would have appealed to CBS' demo but it would've been the funniest stunt of the year.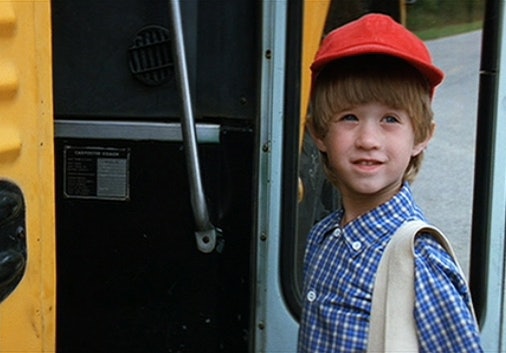 Alas, no.
Why are we showing an aerial photo of Notre Dame Stadium? A) Because it's the greatest place on Earth and B) because when full, like below, it seats a little more than 80,000 people, so this gives you a visual of the number of American lives that have been lost to coronavirus in the past 10 weeks. Of course, there are those who'd at least think, but not say out loud, that if all the casualties had been Notre Dame fans it wouldn't have been such a tragic loss. Some people would think that. Not us. But some people.
"Fauci To Warn Of 'Needles, Suffering and Death'"
Actually, JDub, it says "Needless Suffering and Death," although, both, we suppose, are correct.
Dr. Fauci will testify before a Senate panel this morning that easing quarantine and social distancing prematurely is a bad idea. Which is kind of exactly the opposite of what President Trump is saying. But what does Fauci know? He's only the nation's most respected infectious disease expert who also has a medical degree. Did he ever make a tie, a steak, a luxury apartment building or a casino and put his name on it? No, he didn't. So who you going to listen to?
The Way Outs
The year is 1965, Beatlemania is sweeping the land, and The Flintstones is a prime-time network cartoon whose conceit is "The Honeymooners in prehistoric times." Someone comes up with the idea for a band, called The Way Outs, who are actually aliens from another planet, to visit Bedrock. But they're friendly and they have good harmony.
For trivia's sake, and this will never come in handy, the "band" consisted of three voices (even though there are four characters): Allan Melvin, Don Messick and John Stephenson.
Sure, we conjure the Beatles, but it was The Monkees, who one year later, would pilfer the idea of being a band with a theme song whose title is also the band's name.
The Flintstones ran from 1960-1966 and was by far the most successful animated sitcom in TV history until Homer, Marge and the kids came along.
Sports Year 1890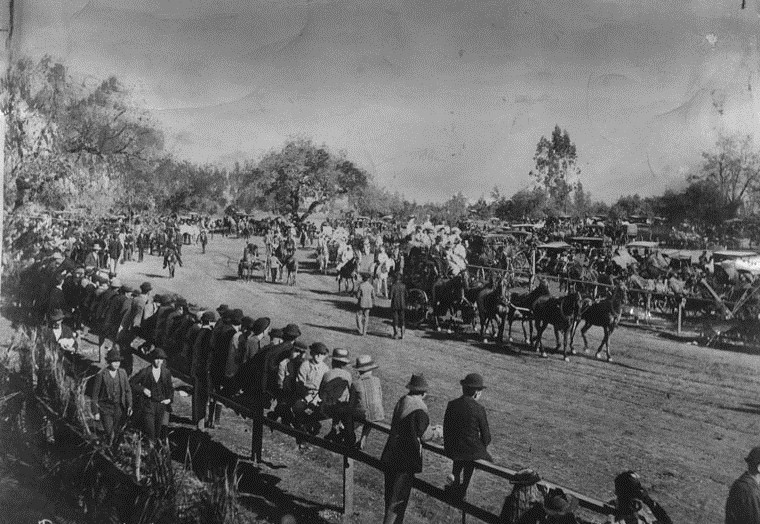 The Rose Parade, known at the time as the Tournament of Roses, is held in Pasadena. The first Rose Bowl is still 14 years away.
***
Nellie Bly, a pioneering female journalist, circumnavigates the globe in 72 days, beating the fictitious record of one Phileas J. Fogg from Around The World In 80 Days.
***
In May, THE Ohio State University plays its first football game, beating Ohio Wesleyan 20-14. The team will play and lose three autumn games versus in-state competition, losing 64-0 to Wooster, 14-0 at Denison, and 18-10 to Kenyon.
***
After two years of labor tumult, some of the top talent in the National League form their own league, The Players League. The eight-team league, which features a franchise called the Cleveland Infants, will only last one year and the Boston Reds (yes, not a typo) win the championship.
New York, New York
On May 12 the New York Giants of the National League and the New York Giants of the Players League are each playing simultaneously in upper Manhattan, in fields that are both named the Polo Grounds that back up to one another. Mike Tiernan of the NL Giants hits a home run off future Hall of Famer Kid Nichols that travels so far that it lands in the outfield of the adjacent game. Fans from both games cheer as Tiernan rounds the bases.
***
In San Francisco, welterweights Danny Needham and Patsy Kerrigan fight for 100 rounds (6 hours, 39 minutes) and the bout is declared a draw. Both men survive, but barely.
***
George Dixon, a bantam weight fighter, becomes the first black boxing champ.
***
The Irish, for the only time, sweep Wimbledon, as Willoughby Hamilton and Lena Rice win the men's and women's singles, respectively.
***
John Ball (great name) becomes the first Englishman and first amateur to win the British Open.
***
In Washington D.C., John Owen becomes the first human to run the 100-yard dash in under 10 seconds. At least the first one timed. I'm sure there's a guy in Africa who was trying to outrun a lion who did it first.
***
The Brooklyn Bridegrooms and Pittsburgh Alleghenys work overtime—on Labor Day. The first-place Bridegrooms sweep a triple-header from cellar-dweller Pittsburgh (remember, this is before lights and thus, night games).
At West Point, Navy and Army meet in football for the first time. The Middies win, 24-0.