by John Walters
Rodon Masterpiece
Behold, the no-hitter. A triumph within a triumph. No other sport offers a midseason moment with as much postgame celebration, a climax of euphoria after a full hour or so of tension (say, from the fifth inning on).
In Chicago, Carlos Rodon hurls a no-no that was thiiiiiiiiiiis close to being a perfect game. Only a Cleveland batter hit on the toe in the ninth inning kept it from being so.
Rodon, a No. 3 overall draft pick in 2014, underwent Tommy John surgery a couple years ago and pitched all of seven innings last year. Last night he pitched more than that.
There have been two no-hitters in the past week, each of them one hit batter shy of being perfect games. No walks or errors in either outing.
And yes, he's a big boy: 6'3″, 245. Listed.
No No-No's
Rodon's no-hitter, in only his 94th career start, got us to wondering who are the best pitchers to never hurl a no-no. The list is rather impressive.
Begin with Roger Clemens… seven Cy Young awards, no no-no.
Continue on to Pedro Martinez…threw nine innings of perfect ball against the Padres, but his Expos did not get him a run. His Montreal team did in the top of the 10th, but San Diego's lead-off hitter singled off him in the bottom of the 10th. Expos won, 1-0.
Greg Maddux…. led the N.L. in complete games five times, no no-no.
Steve Carlton….six one-hitters for the hurler who has the second-most wins of any lefty.
Grover Alexander… four one-hitters just in 1915. Second all-time in shutouts. No no-nos.
Babe Ruth… sort of. In 1915 he walked the lead-off batter, jawed with the ump and was ejected. His reliever, Ernie Shore, caught retired the next 26 batters without a hit or walk (while that leadoff batter was caught stealing).
Steph Again
The month 12-year NBA vet and future unanimous vote HOF'er Stephen Curry has been having is a high-water mark even for him. Last night he drained 11 three-pointers (in the first three quarters) in Golden State's 147-109 win at OKC. That's his 19th career 10 3-pointer game and second in as many games.
Curry finished with 42 points. He leads the NBA in scoring and is having an MVP season.
Only two NBA players have more 10 3-point games than Steph has this week.
And yes, Luka Doncic drained a game-winner in Memphis last night that got more love, but what Steph is doing is magnificent. His coach, Steve Kerr, who played alongside both Michael Jordan and Tim Duncan, articulated it well:

"It seems like every night, even though I say nothing surprises me, I'm still in awe of the shot-making. It's just incredible. The level of confidence and skill is just stunning. It's beautiful to watch. It's a man at the peak of his powers with a lifetime of training and work, and not just on his body, but on his mind. This is a guy who is functioning at a level that very few human beings ever function at in their particular field. It's just beautiful to watch."
It's Only "Political" If I Don't Agree With It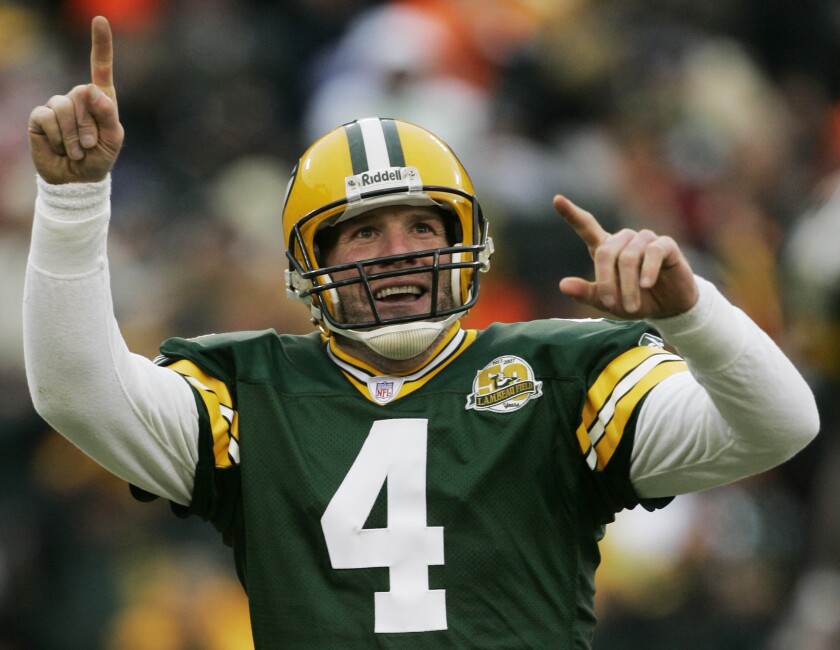 Brett Favre was a magnificent NFL quarterback, as entertaining to watch as he was prolific. And he led the Packers to a Super Bowl win, something that had not happened in Titletown since the 1960s.
But his political views leave something to be desired (as oppose to his d*ck pics, which leave nothing to be desired). It's not about whether or not you agree directly with Favre's conservative viewpoints. It's that he is guilty of what so many (all?) Trump-era Republicans are guilty of: shameless and unadulterated hypocrisy.
Appearing on a radio show yesterday, Favre insisted that politics should stay out of sports. But here's his tweet from last year:

Let's see if we can simplify this for No. 5: If it's stuff you espouse, it's patriotism. If it's stuff you do not espouse, it's "politics." The ability to see that your views are NOT universal and that in fact someone may hold the complete opposite views, without either of you being a criminal, is what makes us Americans. The inability to do so is what makes someone a Republican.
Wild Kingdom
These two creature clips will make your day…
First, a lion love-in in Tanzania:
Next, rams. This is kinda like the first time you beat your dad in driveway hoops:
Pride Of Ottumwa, Iowa