by John Walters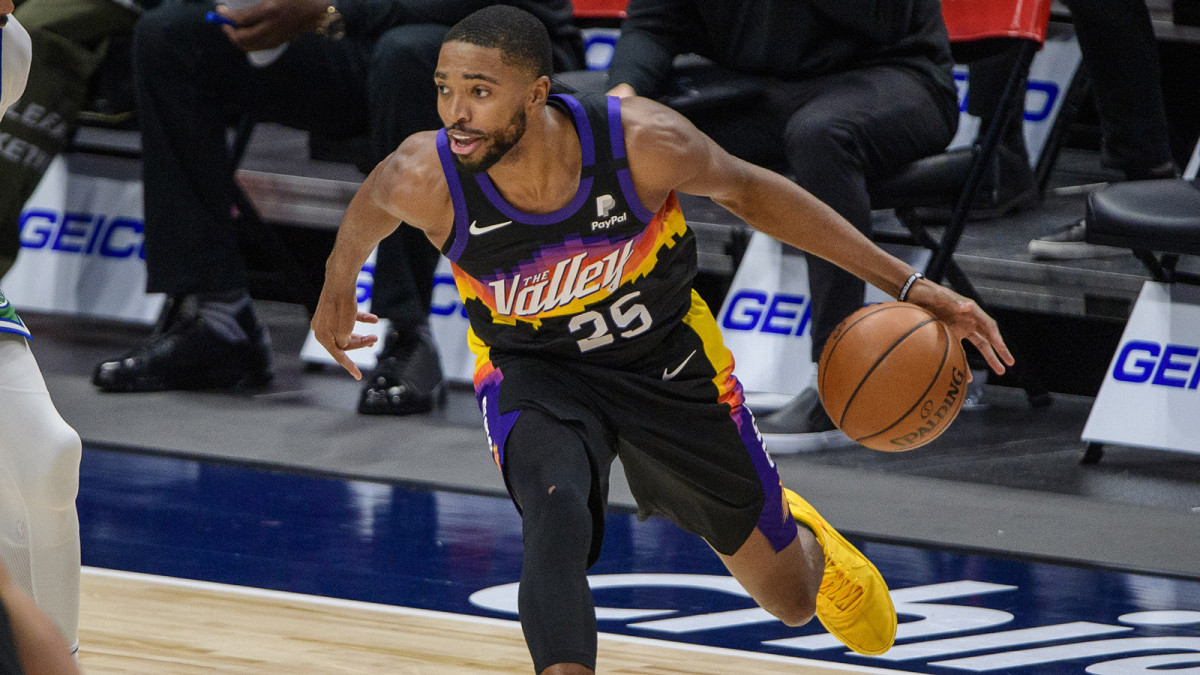 The Bridges Of Maricopa Country
If NBA commissioner Adam Silver really wants to make a statement about the load management scourge currently plaguing the NBA—both LeBron James and Anthony Davis sat out the Lakers' game in Brooklyn—New York City!—last night—the Phoenix Suns forward Mikal Bridges should be named an All-Star this season.
Bridges, a silky 6'7″ lefty, has not missed a game this season. The fifth-year pro has never missed a game. Not in the NBA nor while he was at Villanova, where he he won two national championships. Quick: name an NBA starter who won two NCAA titles in college. I believe I just named all of them.*
*Wrong, JW. Also, Jalen Brunson.
Bridges has started all 52 of the Suns' games this season. Here are the other four starters' numbers: Deandre Ayton, 43. Devin Booker, 31. Chris Paul, 29. Cam Johnson, 14. But at least most of those are injury-related. Name a great NBA player who has not sat out a game this season. Even two-time reigning MVP Nikola Jokic has missed eight or nine games.
But it's not only Bridges' reliability that makes him extraordinary. He is arguably the league's top defender. And, in any situation where Devin Booker is not on the court, he is the Suns' go-to scorer (just narrowly edging out Chris Paul). His mid-range jumper is pure cashmere. Bridges is averaging a career-high 16.8 points per game this season. He's not a head case. He plays the game right. And he's always on the court. Woody Allen once aid, correctly, that "80% of success is just showing up." And that's Mikal Bridges.
Make him an All-Star, commish.
Mahomes Court Advantage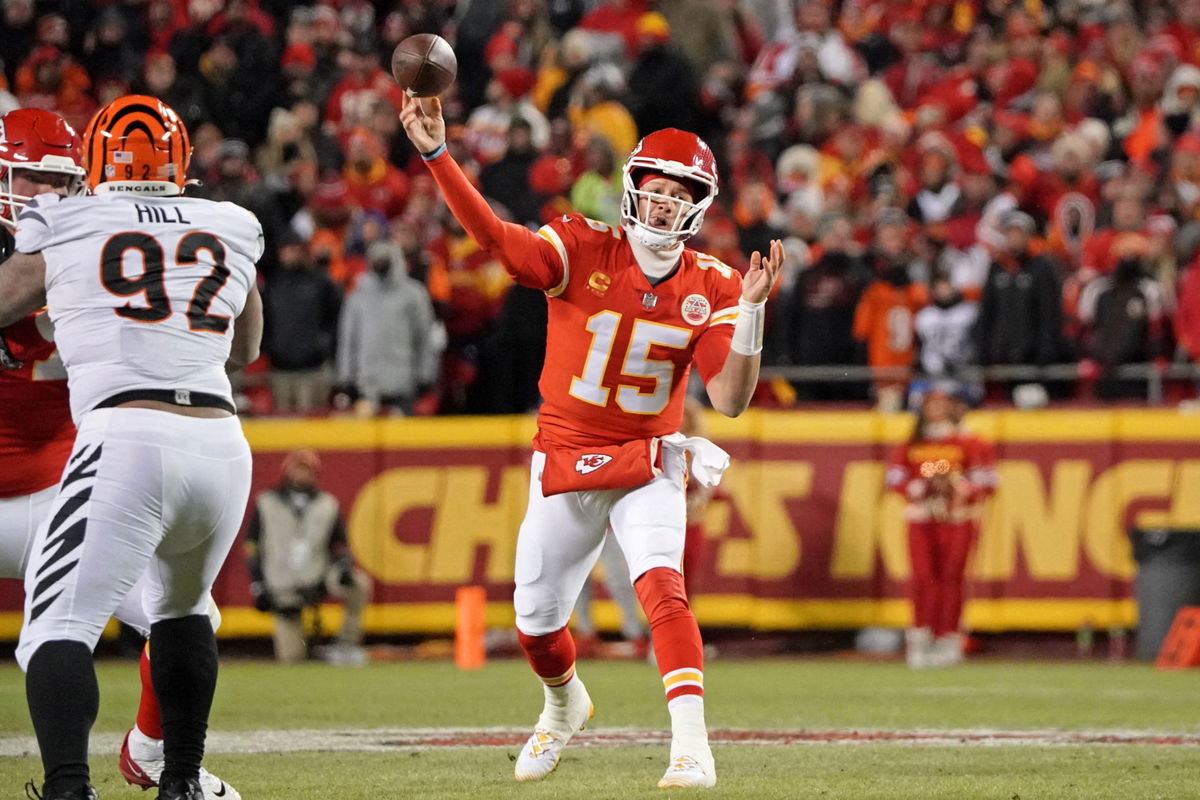 We missed most of both NFL games this weekend, but we will note that Pat Mahomes just played in his fifth AFC Championship Game in as many NFL seasons. And all five have been played at Arrowhead. That's credit to the Chiefs and Mahomes for winning as many regular-season games as they do. As you may or may not recall, the 17-0 Miami Dolphins of 1972 actually had to play their AFC Championship Game in Pittsburgh that season because the NFL rotated home sites by division back then.
Here's a note from SportsBrain: in the Super Bowl era, no quarterback has led the league in passing yardage AND won the Super Bowl in the same year. This season Mahomes led the NFL in passing yards with 5,250. The next closest QB, Justin Herbert, was nearly 500 yards south of him. Oh, and Tom Brady finished third in case you're wondering whether or not he's going to retire.
Never Change, Pat Beverley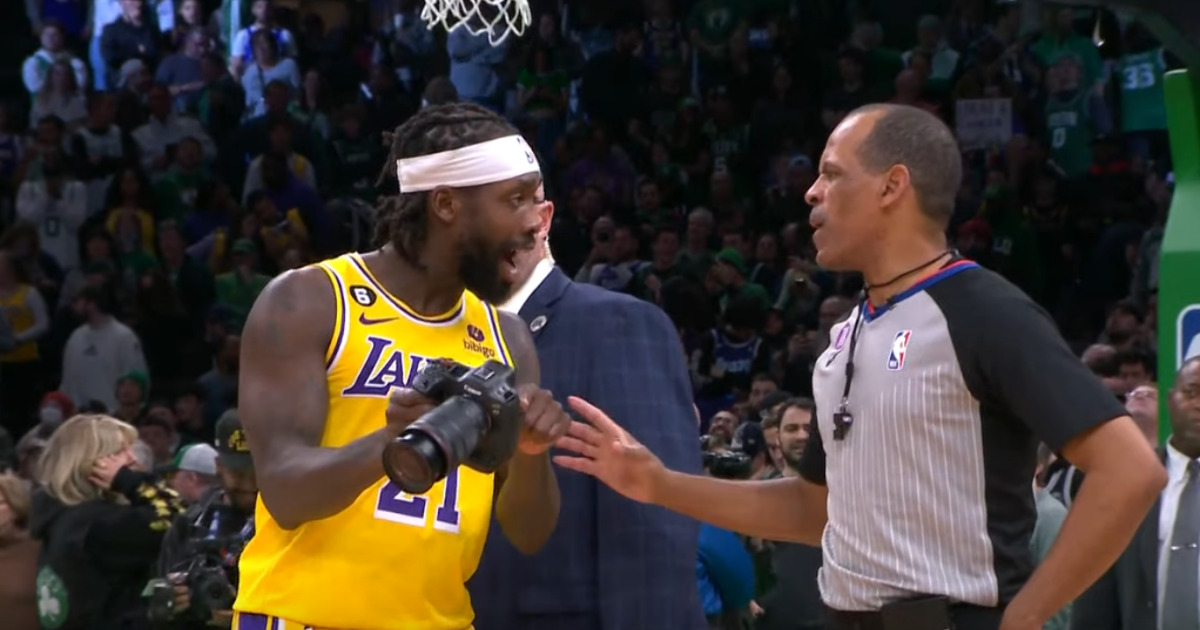 Laker guard Pat Beverley may be the most irritating player in the NBA, but it's good to know that it's not only opposing guards that he annoys. If you missed it, PatBev earned a technical late in Saturday night's Lakers-Celtics game when he approached a referee with stop-action proof that the call on the court was wrong. We admire this chutzpah. Funniest moment of the season, no?
Also, if this does not become the most common GIF on social media to show someone that his claim is false, we're failing as a species.
R.I.P., Angela
We're not into ripping SNL as often as most on social media, or into claiming that we haven't watched it since (YOUR FAVORITE MOVIE OR STREAMING STAR'S NAME HERE) left the show. People were proudly claiming they don't watch SNL any more back when Bill Hader, Jason Sudeikis, Kate McKinnon, Kristen Wiig, Will Forte and Ralph Armisen were in the cast. So, no, just don't.
That said, this season with the influx of newbies has been…bad. And it's not the cast. It's the sketch ideas. So we look for "Weekend Update" as our safe harbor. At least Jost and Che are always reliable. And then there's Heidi Gardner, who owns the two most reliable characters for WU in awhile: Angela, the girlfriend of the fighter ("I'm takin' the kids to my sister's…") and teen influencer Bailey Gismert.
Last Saturday, it feels, SNL bid adieu to the former character by contriving a way to pair her with Michael B. Jordan (eponymous star of Creed) in a bit that you really cannot come back from. So that just leaves us Bailey. Gardner is the current cast member most likely to hit it big in Hollywood, as she already has leading lady looks and she's shown her acting chops on many an occasion. When I watch SNL it always surprises me that they cannot find at least four other humans, male or female, with comparable talent. Should it really be that difficult?
Who else stands out in this cast? Chloe Fineman, Kenan Thompson (of course), Mikey Day and Bowen Yang. Sarah Sherman has potential. But the writing needs to improve.
Dollar Quiz
The Canadian province due west of Ontario is… (this was on Jeopardy! last night and no one got it).
Name one team from the inaugural 1967-68 ABA season that is not a current NBA franchise.
Napoleon famously lost at Waterloo, which is located in what country currently?
What does a diamond and a piece of coal have in common (best answer only)?
True/False: "Arby's" name comes from the acronym R.B., for "roast beef."