https://mediumhappy.com/?p=2747
Starting Four (In Honor of The Big Lewandowski)
Early steak morning, so this will be brief. Sorry.
1. Hey, Did You Happen To See The Most Beautiful Girl In The World?
Well, People magazine thinks it did and thinks that it is Gwyneth Paltrow. Seriously. Comely? Yes. Pulchritudinous? We suppose. But you can bet this morning Sophia Vegara, Diana Kruger and Julianna Hough (among others) are phoning –or firing –their agents. Heck, Gwynnie has not even been asked to appear on "Splash!".
2. Deutschlansd Uber Alles!
Spain has ruled soccer since 200 (Euro Cup winners that summer, World Cup champions in 2010, Messi/Ronaldo, etc.) but in the last two days a pair of clubs from Germany have outscored the world's two premier clubs, FC Barcelona and Real Madrid, by a combined score or 8-1. Yesterday Robert Lewandowski scored four goals to lead Borussia Dortmund over Real Madrid, 4-1. It's almost a lock that Dortmund and Bayern Munich, which defeated FC Barcelona 4-0 on Tuesday, will meet in an all-German Champions League final in May.
3. "Close the window; I feel a draft."
The NFL Draft commences tonight –just one block north of the steakateria. Last night at said steakateria we spoke to a representative from an AFC team who described the draft as "99% boring and 1% terror." Did you know, by the way, that team reps simply print the name of their pick on a card and hand it to an NFL rep, who then hands it to Roger Goodell? What if you spell the name wrong by one letter and there is another pick in the draft with that name? See, this is why it is wise to name your child Barkevious Mingo. Here is one of our favorite scribes, Matt Taibbi, on "Decoding the NFL Draft."
4. I have not yet read this Grantland story on the Iditarod, but I will. Why? Because from a design perspective, it's the most beautiful story I've ever come across on the internet. If MH conformed to such high aesthetic qualities, we'd have at least three different people who commented on our entries.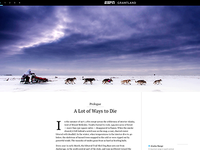 5.