https://mediumhappy.com/?p=2811
Starting Five
"Our player hit him, but 61 is the one to blame."
–Ottawa Senators coach Paul MacLean, on the ugly hit that left Montreal's Lars Eller facedown in his own pool of blood in Game 1 of their playoff series. Eller, reaching for a pass from defenseman Raphael Diaz near his own blue line, took a blindside check to the face from Ottawa's Eric Gyrba. He was likely out cold before he even face-planted to the ice, which is quite the unforgiving surface.
1. "I don't think it is really serious." These were the words of Bangladeshi Finance Minister Abul Maal Abdul Mahith in response to the "accident" that has now claimed more than 500 lives in Bangladesh. As you know, an illegally constructed factory collapsed, killing hundreds of workers inside. "It's an accident," said Abdul Mahith of the deadliest garment-factory event in history. "It happens everywhere."
2. Germans to invade London — this time minus the Luftwaffe.
We neglected to mention yesterday that it will be an all-Deutschland Champions League Final on May 25 inside Wembley Stadium, as long-time Bavarian power Bayern Munich ("SCHWEINSTEIGER!") meets fellow Bundesliga club Borussia Dortmund. The two clubs actually play a league match tomorrow, though Bayern has already won the league and Borussia clinched second.  It has been five years since two clubs from the same country (Manchester United and Chelsea, both from the UK) met in a Champions League Final.
3. Portland Trail Blazer guard Damian Lillard, the sixth overall selection in last June's NBA Draft, is the unanimous choice for Rookie of the Year (only three previous players — Blake Griffin, David Robinson and Ralph Sampson — were unanimous winners). See how much better Portland does on draft day when the Blazers do NOT have the No. 1 or 2 overall pick (um, Sam Bowie over Michael Jordan in 1984 and Greg Oden over Kevin Durant in 2007)? The six-foot-three Weber State product, who predicted he'd win this award before he was drafted last summer, played all 82 games, led all rookies in scoring (19 ppg), assists (6.5) and minutes (38.6) while breaking Stephen Curry's record for threes by a rookie (185 to 166).
4. I think in the world of Twitter I would type something like, "This 10,000 times" in introducing this link. I wish I had written this myself because what Stephen Marche has done here in describing the crusade of Louis C.K. is pull his "Nail On the Head" hammer out of his toolbox and use it to perfection ("Louis C.K. is on a clandestine mission to make America a better place, and his values are surprisingly traditional once you get past the cum jokes.")
Riffs such as "Everything's Amazing and Nobody's Happy" and "Of Course, But Maybe" belong in the Comedy Hall of Fame. Is there a Comedy Hall of Fame (I'm glad you asked)? And if there is, does it have a two-drink minimum?
5. That southern California wildfire has consumed more than 10,000 acres in Ventura County (and quite likely Gavin Smith's hidden corpse, not to put too fine a point on it) in the past few days.
Reserves
"Kill all the lawyers." Well, except maybe this one. A Portland lawyer/guitarist performs a good deed for a local septuagenarian ax man whom he has never even met (I'd still kill most of the lawyers; although I think we could kill all of the consultants first, no?)
Americanos
My favorite under-the-radar band, Roger Clyne and the Peacemakers, invades Manhattan on Saturday (but I'll be busy steakateria'ing, alas). If you live here, check them out at B.B. King's. Or wait until Roger visits a venue near you. The only artist I've ever seen who has as solid a relationship with his fans live is Bruce Springsteen. And, if you buy the Tempe, Ariz., native a shot of Don Julio during the show, he'll down it. Here are two songs to get you started: "Maybe We Should Fall In Love" and "Switchblade." And here's a full acoustic set that illustrates the bond between the band and its denizens.
Welcome back, Apple. Just two weeks after a first quarter earnings report sent the stock from $405 down to $385 per share (which was ridiculous since the P/E ratio was below 9), it has rebounded by more than 10%. As I type this shares of AAPL are at $452. Meanwhile, a certain steakateria that had its IPO last August is already up more than 50% and was recently upgraded from "Outperform" to "Strong Buy" (jump to the 4:46 mark). This despite a questionable hire it made last September.
Meanwhile, the Dow Jones tops 15,000 for the first time in history and unemployment dips to a four-year low of 7.5%. I blame Obama.
The St. Louis Cardinals get 12 base hits, all singles, in a 6-5 win at Milwaukee (it was like the Teenage Dream or Bad of games for the Cards' lineup) . All of the Cards' six runs came with two outs in the third inning. We'll spend all summer ignoring the Cardinals again until they win the World Series in October. After all, it's their turn this season, isn't it?
Black in the Saddle
An African-American jockey, Kevin Krigger, will have the mount on Goldencents, the three year-old that is partially owned by Rick Pitino, in tomorrow's Kentucky Derby. Oddly enough, while a black jockey has not won the Run for the Roses since 1902 (Krigger is only the second black jockey to even participate in the race since 1921), 15 of the first 28 Derby winners were ridden by black jockeys. And, in the inaugural Derby back in 1875, 13 of the 15 entries were ridden by African-American jockeys.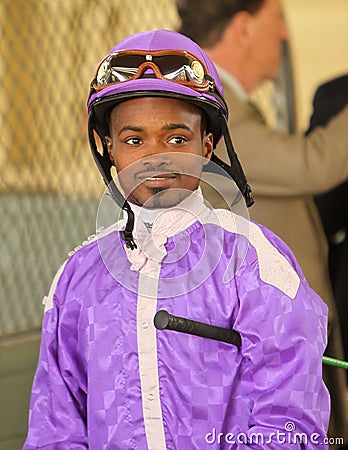 And while we wish no ill will towards any horse (or jockey), we do wonder what will happen if Goldencents breaks a foreleg tomorrow. Will ESPN choose not to re-air it because it is too gruesome? Or does that only apply to humans under Pitino's stewardship?
Nichols Nauseates
Is it just me or did Chicago Bulls coach Tom Thibodeaux look as if he wanted to throw up when TNT's Rachel Nichols asked him between the third and fourth quarters about Nate Robinson's nausea? Robinson still scored 18 points, but the Bulls lost and we're headed for a Game 7.
R.I.P., "Messiah of Sex"
John Williamson has died. No, not the former New Jersey Net. The pioneer of the sexual revolution (and here I thought it was Elvis Presley).
REMOTE PATROL
666 and 6
ESPN and ESPN2, 7 p.m.
For the first time in 10 years, as ESPN's Neil Everett reports, four Game 6's will be played on the same day. Indiana at Atlanta and New York at Boston and Indiana at Atlanta tip off the evening, followed by Oklahoma City at Houston and Los Angeles at Memphis. Only one team, the Grizzlies, has the chance to close out the series at home. Boston and Houston are both attempting to become the first team in league history to overcome a 3-0 deficit to win a playoff series.
Medium Happy Tip Jar: Send all dough-nations to P.O. Box 430, Planetarium Station, NY, NY 10024 or to PayPal at sameriver@hotmail.com . Donors whose gifts exceed $1,000 will receive a Medium Happy tote bag as well as a year's supply of tote.