https://mediumhappy.com/?p=2923
Starting Five
1. Alive…But Bearly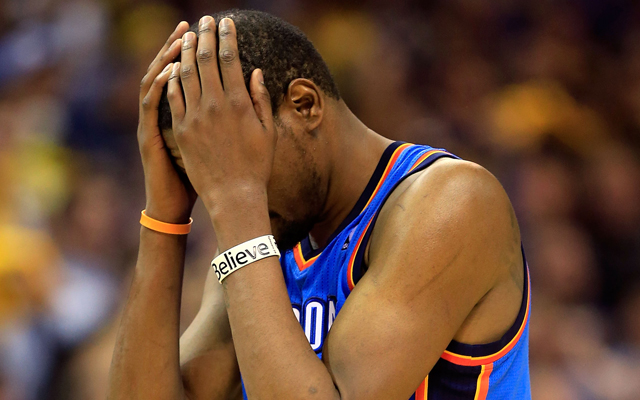 A sentence I never foresaw typing: Jaime Lannister has had a better week sparring Grizzlies than Kevin Durant has. Although, as one smart follower on Twitter, @korykeys, noted, "Yeah, but at least Jaime Lannister had help." The Oklahoma City Thunder, who advanced to the NBA Finals last year with a core trio of Durant, Russell Westbrook and Uber-Sub James Harden, trail the Memphis Grizzlies 3-1 in their second-round series after Monday's overtime loss. Westbrook is out with a meniscus tear and Harden was foolishly traded (NBA wonks will never convince me this was the right move for either party). Not-OKC now must take three straight from the Grizz, while Durant wonders if he is going to have to take more than 33% of his team's shots again, as he did in Monday's OT loss.
Meanwhile, Kingslayer –who is not to be confused with David Stern, the potential Sacramento Kingslayer — is headed home to King's Landing. "Hi, Sis. This is my friend, Lady Brienne." A week of odd couples over in Westeros: Arya and the Hound; Theon and the Quelle Dommage a Trois; Tyrion and Sansa….Oh, and did you notice that immediately after Joffrey whined about having to ascend all of those stairs to attend council meetings in the Tower of the Hand that his gramps climbed the five or six stairs to speak to him at eye level? Tywin Lannister, you salty old cuss. Love your style.
2. The Great Gatsby
Here's Peter Travers' lede in Rolling Stone for his review of the latest remake of this literary classic: "Shush. Listen. That's F. Scott Fitzgerald turning in his grave." Travers goes on to write of the sixth attempt to give this film the cinematic complement it would appear to deserve, "That's blind ambition being gutted by flawed execution." We"ll wait for Chris Corbellini's review, but to quote Travers' closing line, "There may be worse movies this summer than The Great Gatsby, but there won't be a more crushing disappointment."
3. By the way, this is the cover of the latest issue of AARP (American Association of Retired Persons) Magazine:
And this is the cover of the latest issue of Rolling Stone:
Anything seem askew?
4. Remember a month or so ago when we said that the best person to replace Jay Leno would be someone named Seth? Well, we were close. The best anchor in the history of "Weekend Update", Seth Meyers, will inherit Jimmy Fallon's 12:35 a.m. slot at some point in 2014. We still feel that Seth has more appeal than Jimmy Fallon for the 11:30 p.m. slot and we'll still be here when the suits at NBC come to realize this in 18 to 24 months. Fallon's appeal goes directly to the beer pong demo but is not as broad. Meyers is more classically handsome and far less goofy. Fallon is likeable, but Meyers has the potential for just-below-Johnny Carson-level charm. For us it's a no-brainer…Then again, what do we know? We're the ones who told you six weeks ago that Matt Harvey was the best young pitcher in baseball. And whatever happened to him? (You also told us the Yankees would be six games under .500 at the end of April, and here they are with the best record, 25-14, in the American League. So…HA!)
Also worth noting: Bill Hader, Jason Sudeikis and Fred Armisen are all likely gone after this weekend's season finale. Good for all of them for knowing when to leave, but gird yourselves for a slew of "SNL sucks" tweets and blogs next autumn.
5. Conference calls on quarterly earnings are usually about as entertaining as Houston Astros doubleheaders. But the other day a private investor, Craig Kaufman, got on the line with Prospect Capital Corporation and went half "Triple Rainbow" and half "Clear Eyes, Full Hearts, Can't Lose" on the company's executives. Kaufman, a shareholder(35,000 shares) since 2007, informs the CEO and others that his "mind is going a gazillion miles an hour" (it's on Pg. 4 of this transcript) and that "I could work for you guys." Kaufman, who refers to himself as "a feisty guy", doesn't really have a question so much as he has a philippic condemning Jim Cramer and anyone who would imperil PCC's share price. It's hilarious. Kaufman literally speaks uninterrupted for nearly nine minutes. When he at last pauses to inhale, CEO John Barry calls it his "favorite question of all time."

The company executives tell Kaufman that they'd like to stay in touch with him after the conference call and implore him to give them his phone number. Kaufman: "Is this like going out where everybody is going to hear?" Barry: "Give me your number. Go on. They're not going to call you."
Reserves
The Spurs win and the Knicks lose. David Stern is FREAKING OUT at the prospect of his final four teams being San Antonio, Memphis, Indiana and Miami. That's three Central Time Zone teams. If the Bulls pull off the most miraculous comeback of all time, Stern may just go ahead and move up the NBA Draft by two weeks.
The nation's top overall hoops recruit (even if he happens to be from another nation directly north of us), six-foot-seven forward Andrew Wiggins of Toronto, signs a national letter of intent with Kansas. College hoops junkies have already filled out the final two spots of their 2014 March Madness brackets with Kentucky and Kansas. Which would be the third time that Bill Self and John Calipari met in the title game in the past seven seasons. The USA Today shows it has a sense of humor by running a sidebar titled, "Will Wiggins Be the Best Kansas Player Ever?" Well, if he goes for 52 points in his first varsity contest as Wilt Chamberlain did for the Jayhawks, then let's discuss the issue.
They revealed the future Mrs. Ted Mosby on "How I Melt Your Mother?" Really? And I missed it? I'm not buying it: If you've watched the series throughout, you know that Ted's true soulmate is Barney and in the year 2030 or whenever the forward part of the show actually takes place, no one will bat an eye at a Ted-and-Barney marriage. Especially since NPH is already OotC. I'm off to Farhampton to mull on this development.
***
Google (GOOG) stock eclipses $900. It's been hiding in plain sight for nearly a decade now. The stock went public on August 19, 2004 with an IPO of $85 per share, so yes, it is up more than 1,000% since then.
***
Can we give a nod to the term "groovy"? On "Mad Men" everyone's favorite ethical corporate exec (oxymoron, I know), Ted Chaough, utters "groovy" in the initial post-merger meeting. The term draws a bemused look from Don Draper (Jon Hamm is a better actor when he's reacting to lines than when he is delivering them). The episode ends to the strains of "Reach Out of the Darkness", whose infectious opening line is "I think it's so groovy now/That people are finally getting together." Matt Weiner's love of irony — as Don and Zou Bisou Bisou sit apart from one another on the bed, the assassination of RFK playing in the background– knows no bounds.
The origin of the term? Apparently it comes from the jazz culture of the 1920s, although the colloquialism first found its way into Sixties music in 1964 with the tune "A Groovy Kind of Love." Phil Collins remade the song in the 1980s, though nobody knows why.
Remote Patrol
Memphis Grizzlies at Oklahoma City Thunder
TNT 9:30 p.m.
"Oh, Thunder Woes, Thunder Woes/Lying out there like a killer in the sun/Hey, I know it's late, girl, we can make it if we run…" There were ghosts in the eyes of all the boys (Harden and Green, for starters) you sent away. KD plays like a Boss, but who else can score. Z-Bo, Gasol and Mike Conley could end Oklahoma City's season tonight — though we like the Thunder's chances at home.