https://mediumhappy.com/?p=3493
Starting Five
1. Murder
Tight end Aaron Hernandez, hours after being released by the New England Patriots, is charged with murder and four other counts related to the death of Odin Lloyd. As the sheriff at his jail notes, "He's going from a 7,100-square foot home to a seven-foot by ten-foot jail cell."
2. He Was Betterer Than Federer
Seven-time and reigning Wimbledon champion Roger Federer falls in the second round to Ukrainian Sergei Stakhovsky. It was his earliest departure from a Grand Slam event since 2004. Maria Sharapova also lost. By day's end Chris Fowler could be seen reading "Phil Steele's College Football 2013 Preview" magazine on-set (I'm kidding…sorta).
3. "I am the master of my fate/I am the captain of my soul" 
South African leader Nelson Mandela, the man who did more than any other individual to dismantle apartheid, is in a hospital and in frail condition. Mandela, who is 94, spent 27 years imprisoned on Robben Island, which is visible from atop Table Mountain in Cape Town (a place you really need to see before you go…Cape Town, that is, not Robben Island).
4. Draft Punk
The NBA Draft takes place tonight at the Barclay's Center in Brooklyn. And there's really no player in the field who is a franchise-shifter.
Personally, I'd select Doug McDermott. Coach's son, 23.2 ppg, six-foot-eight. What?!? He's staying for his senior season in Creighton? Okay. Moving on…
How I Picture Top Five Going:
Cleveland–Alex Len: He's a seven-foot-one center from Maryland by way of the Ukraine whose girlfriend, Essence Townsend, is six-foot-seven. One word of caution: Darko.
Orlando–Nerlens Noel: Shot-blocking beast, but has already had one ACL surgery before his 20th birthday. Otherwise a No. 1, but no one wants to select the next Greg Oden.
Washington: Ben McLemore. It's too easy to assume that the Wizards will take local Georgetown product Otto Porter. McLemore has the most potential of any player in the draft to be a 2-guard star.
Charlotte: Shabazz Muhammad. Here's my surprise pick. Muhammad was the top high school player a year ago. A southpaw with terrific size (6-7) who probably intrigues Michael Jordan more than Porter or some of the other safe picks.
Phoenix: — Victor Oladipo: The Indiana guard is a complete gamer. Plays bigger than his size and is a ball hawk.
5. "I Love Leave L.A.!"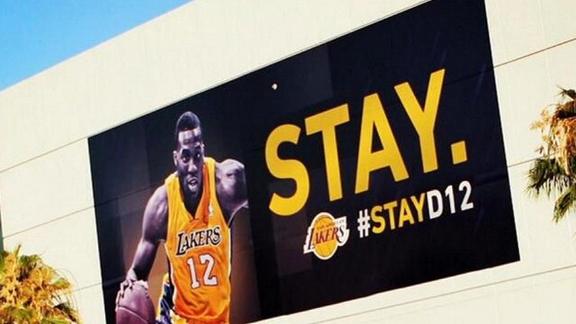 The Los Angeles Lakers are trying to ensure that Dwight Howard, who has the potential to become the fifth-best center to ever play for the franchise (my rankings go 1) Kareem 2) Wilt 3.) Mikan and 4) Shaq) understands how badly they hope he re-signs with them. I really do wish Kobe Bryant would tweet his thoughts on this billboard, don't you?
—