https://mediumhappy.com/?p=3947
Starting Five
 1. Non-Government Bale Out
Two of the world's three or four best scorers now play on the same side as Real Madrid, which already has Cristiano Ronaldo, pays a reported 100 million Euros (about $133 million) to obtain Gareth Bale from Tottenham Hotspur. We are going to go ahead and coin the tandem "Cristiano Bale". The Guardian is reporting that Bale, 24, has signed a six-year contract worth about $265,00o PER WEEK after taxes. That's a lot of foam parties in Ibiza, mi amigo.
Bale, who had yet to play a game this season for Hotspur, was reportedly anxious to go. As a native of Wales, his hopes of playing in the World Cup have always been dim (England fields a team devoid of Welsh or Scot players because, occasionally, England has a crumpet up its arse). And the next most prestigious tournament, the European Champions League, is traditionally a long shot for Hotspur. So Bale heads from White Hart Lane to Bernabeu secure in the knowledge that he will be part of one of the greatest forward tandems soccer has ever seen.
Meanwhile, allow us to note that yesterday FC Barcelona's Lionel Messi, still the greatest goal scorer currently wearing shin guards, had a hat trick — in the first half— in his squad's 3-2 win at Valencia yesterday.
2. College Football –and Christion Jones — Makes A Welcome Return
Quick hitters from Week 1 of college football:
— Dawg Gone: Georgia's top wide receiver, Malcolm Mitchell, suffered a season-ending injury, a torn ACL, while celebrating The Gurley Man's 75-yard touchdown run in the first quarter at Clemson. You can see Mitchell, No. 26, land awkwardly and look down at his knee after the mid-air chest bump. Mitchell will undergo Ted Ginn Surgery in the near future, which is nothing like Ted McGinley Surgery. (By the way, listen to the call: Brent Musburger is already in mid-season form). No. 5 Georgia became the first top ten team to fall, losing 38-35 at No. 8 Clemson in the weekend's most worthy game.
— Purple Rain: Across the continent, another group of canines had better luck, as Washington throttled Boise State, 38-3. All seven of Sports Illustrated's experts had the Broncos as "The Best Bet to Bust the BCS", which seems highly unlikely now. That U-Dub defeated Chris Petersen-with-three "e's" team is not shocking, but that it held BSU to its lowest point total in 16 years is. Also, the Huskies were without their top player, tight end Austin Sefarin-Jenkins. Well done, U-Dub. "Purple rain, pur-pullll rai-aiiin!"
–Washington State travels to Auburn and loses. Next week the Cougars trek to USC in their "Schools That Had a Rightful Claim to the 2004 National Championship" Tour. And yes, they'll host Utah, yet another '04 team that went undefeated, later this season.
—Johnny Drama is now Johnny Reb: Manziel, days after being penalized 30 minutes for taunting the NCAA, is penalized 15 yards for taunting Rice after throwing one of his three second-half touchdown passes. There may be a comeuppance in Johnny's future, and it may come as soon as Sept. 14, but it hasn't come yet.
— This Week's Musburger Award Goes to… Oregon: The Ducks, 58.5-point home favorites versus Kristy Mc-Nicholls State, led by a scant 42 points at Autzen Stadium after three quarters. Thanks to some disciplined offensive play, they outscored the visitors 21-0 in the fourth quarter to cover the spread while winning 66-3.
— This Week's Matt Leinart Award Goes to… Zach Mettenberger: The NCAA dictates that a player must take at least 12 credit hours in season, UNLESS said player is less than 12 hours away from graduating. The LSU quarterback is thus taking just one three-hour course, on-line, this semester. That's not the sad part. The sad part is that Mettenberger's major is General Studies, which is simultaneously moronic and oxymoronic.
—And Mark Schlabach's Book Wasn't About Oregon? The ESPN.com writer, newly minted after his "Duck Dynasty" book went No. 1 on the New York Times best-seller list, tweets out of College Station that "A&M will need to score every possession." This insight came in the first quarter with Rice up 14-7.
— Hey, I loved Villanova's fake punt for a touchdown, too, but I might have waited until later than the first two minutes of the season to use it, ya know? Also, PAY ATTENTION: The ESPN play-by-play man identifies the 'nova up pack who carried the ball, Jamal Abdur-Rahman,  in the midst of the play. Is that because he is actually this astute or because the Villanova coaches had tipped ESPN off to this play the day before?
— ESPN did a four-hour edition of "College Game Day" after which (I imagine) Chris Fowler told the suits in Bristol, "Unless I'm calling Federer-Nadal in a Grand Slam final, I'm never going on-air for four consecutive hours again." We did love the Bald Man on Campus bit ("I believe!"), though.
— In the first 72 games of the weekend, favorites covered 36 times and underdogs covered 36 times. Vegas always knows (Rule No. 2).
* This is where I note that I just did a wrap-up, albeit an incomplete one, of the first weekend's games without once mentioning THAT school.
The Medium Happy Big 8 (unlike Nigel Tufnel, ours only goes up to eight)
1. Clemson: Only team to defeat a top-ten foe this week and Tajh Boyd's five TD (three passing, two running) are worthy of mention.
2.  Stanford: The Cardinal debut next week, but we like what we have yet to see.
3. Oregon: The Ducks may have lost Chip Kelly, but the school from Track Town, USA, remains the fastest team in any meet.
4. Texas A$M: Excluding Johnny Reb, the Aggies suspended Stephen Jenkins (not to be confused with Third Eye Blind singer Stephan Jenkins…"I have got to say/That girl is like a sunburn…") and three other players for the first four halves of the season. Which means they'll all be back in time for 'bama. Meanwhile, Manziel, living better than a semi-charmed life, serenades both College Station and the NCAA with  "How's it gonna be/When you don't know me any more…."
5. Alabama: The bad news is that A.J. McCarron got dumped twice this weekend. The good news is that it was via Virginia Tech's defense, not Katherine Webb. McCarron also underwent ingrown toenail surgery last week, which is about the Most McCarron thing ever.
6. Georgia: Mark Richt has lost control of end-zone celebrations, but we like the Dawgs to rebound against Souf Carolina Jadeveon Clowney, who finds himself on Jesse Palmer's sh*t list for not doing enough P90X workouts.
7. LSU: Nice neutral turf road win for Les Miles, as the Tigers invade the Metroplex and withstand TCU.
8. Louisville:  The Cardinals may have been the most focused squad of the weekend, rolling up a 49-7 rout on a they're-better-than-that Ohio squad. Teddy "Greenstein" Bridgewater threw five TD passes and Gorgui Dieng had a double-double (I'm just seeing if you were paying attention).
3. "They Used Sarin"
Secretary of State John Kerry goes full-throttle Jerry Dantana (How many Red Team meetings did the State Dept. hold, we wonder?), appearing on five Sunday morning TV shows –but, alas, not The Sports Reporters — to report that the Syrian government used Sarin gas on its own people.  Meanwhile, The Washington Post produces a Dummies Guide to the Syrian Crisis (my verbiage, not theirs), which condenses the issue for those of us with relatively short attention spans. (and yes, "Syrian" is an anagram of "Y Sarin?")
4. Breaking: Canadian Warships Collide.
Breaking More: Canada Has a Navy?
The Canadian Armada was seriously crippled over the weekend (or shall we say, "Halved?") when two of its ships collided during maneuvers –or as they spell it, "manoeuvres"– while en route to Hawaii. Which, let's face it, is the real tragedy. All these Canadian sailors had to return home to British Columbia instead of being able to train in Hawaii. There was no loss of life, just a bruise to a self-effacing nation's ego.
In other maritime news, Diana Nyad, 64, is in the midst of her fifth attempt to swim from Cuba to Florida (her first try came in 1978). This would be a lot cooler if Diana's freedom depended upon her completing the stunt, says a nation of oppressed people who aren't afforded the opportunity to return without consequences every time they fail to make it to the U.S.A. Still, Nyad is a stud-ette for attempting the 103-mile swim at her age and without a shark tank and this just after screening "Open Water" at home with friends.
5. "Breaking Bald": That Yeller Dog
Look, I have never stared deep into the soul of Vince Gilligan, creator of "Breaking Bald." And, frankly, I'm a little disappointed that physicists in Sweden "discovered" a 115th element last week (name in progress: "Ununpentium") and that Gilligan failed to insert that either into the script or into the show's opening credits.
Here's what I think, though: When the cooking and the conniving is done, Walter White and the characters who orbit around him will all receive their just due. And thus, Walter, "the devil", will go down… so will Hank, for his hubris… as will Skyler, because she has become more than just a willfully ignorant accessory… and of course, so will Saul Goodman (he of the "LWYRUP" license plate) because who ever wants to see a lawyer, much less a shyster, win?
So, who's left? Jesse Pinkman, whose salvation tour has him pitted against his "teacher" and who now finds himself in the role of Old Yeller ("well, you saw the movie"). Jesse might survive. But here's who WILL survive and who may just collect the buried treasure that lies somewhere outside of New Mexico's capital city: Walter, Jr.
There he was last night comforting his father poolside at the resort. Nobody can be that gullible, that innocent, and that pure and still meet a shallow end. Or can they? Is that who Jesse was referring to at the end of last night's episode?
We'll see.
Reserves
After just one episode, in which he did not fall out of his chair, Craig James is sacked by Fox Sports Southwest. The good news for James is that, because he only appeared on one show, he will not forfeit a year of eligibility.
***
Keith Olbermann channels Will McAvoy as  he does a near line-by-line evisceration of Pete Prisco's flippant column on TBI's in football. I'd say that Prisco needs to have his head examined after penning that column, but that would only further his argument.
****
During a Saturday night ESPN crawl update of the Padres-Dodgers game, the WWL informed viewers that Dodger rookie was "0-0" batting. Well, that's news. Or, we've come quite a long way since Puig's debut in early June.
*****
Unofficially, by my count, 29 NFL quarterbacks have had at least one 4,000-yard passing season since 2000. And 11 quarterbacks have won the Heisman Trophy since the millennial shift. Only one man is on both lists. That player? Cam Newton.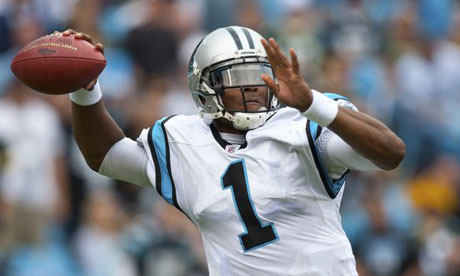 Of the other 10 Heisman Trophy-winning quarterbacks, one remains in college and two were cut this weekend (Matt Leinart and Tim Tebow). Leinart, Vince Young, Brady Quinn and Tebow were cut this weekend. Meanwhile, Joe Flacco, the reigning Super Bowl MVP, could not crack the starting lineup at Pitt (behind Tyler Palko) and Colin Kaepernick, while an outstanding college QB, was a 2nd-round pick. It's an inexact science, predicting QB success from college to the pros. Hope Johnny Reb is reading.
Remote Patrol
No. 11 Florida State at Pittsburgh
ESPN 8 p.m.
The Seminoles and highly touted (because, after all, who is ever lowly touted?) garnet-shirt freshman quarterback Jameis Winston roll up to Heinz Field all "Welcome to the ACC, bitch!" to the Panthers, who are all, "Yo, our quarterback (Tom Savage) used to play for Rutgers!"