https://mediumhappy.com/?p=4037
Starting Five
1. Money Can't Buy Me Love
"You're the smartest guy I ever met, and you're too stupid to see: he made up his mind 10 minutes ago."
An unforgettable closing line by Hank Schrader, to his nefarious brother-in-law, Walter White, as Hank stares down the barrel of a gun and at his own mortality in last night's episode of "Breaking Bald."
The first 15 minutes of last night's installment was as good as television gets.
Hank's courage. Uncle Jack's sneering heartlessness and his Machiavellian brilliance ("So that's what got this party started"). Walt's light-switch transition from anguish to mendacity with Jesse. Todd's sociopathic quick-thinking, in which only moments after stating "Sorry for your loss" (I laughed), he realizes that Pinkman has far more value to him alive (Jesse Pinkman is the new Gimp; even the cord is similar).
Fan boys extolled the entire episode, and I understand why, but for me it peaked out there in the high desert. The final turn of the screw was the DEA agents being buried in the very same grave that had been the resting place for Walt's $80 million, which was the material prize for all the evil Walter had committed in the name of providing for his family.
And the fallout is that Walter loses his brother-in-law, loses in fact his entire family (when Skyler asks, "Did you kill Hank?", notice how Walter replies, "I tried to save him" instead of saying, "No." Because deep down he knows that, though he did not pull the trigger, he did kill Hank). Loses his identity. At least Tony Soprano likely took one in the back of the head while surrounded by the family he loves and a classic Journey tune playing in the background.
One minor quibble from a former Land of Enchantment resident: That final day is one long day. It begins with Walter White at the A-1 Car Wash ("Have an A-1 day!"). I thought it might have begun earlier, at Andrea's home, but our anti-hero is wearing a different shirt there than the one he wears at the car wash.
So, let's assume it begins at the car wash.
Then Walter drives out to the high desert, most likely north of Albuquerque and toward the location of the hidden cash at the site of the GPS coordinates, which in real-life is the location of Albuquerque Studios, where much of the series was shot.
Then there's the showdown with Hank and Gomez.
Then Hank phones Marie.
Then Uncle Jack and his posse arrive.
Then the shootout, Hank's murder, and the aftermath.
Then they must excavate the $80 million using nothing but hand shovels. That's a Snickers "Not Going Anywhere for Awhile?" moment.
Then Walter runs out of gas and rolls $11 million in a barrel across a desert.
Then Walter finds a pickup truck to purchase.
Then Walter drives back to Albuquerque.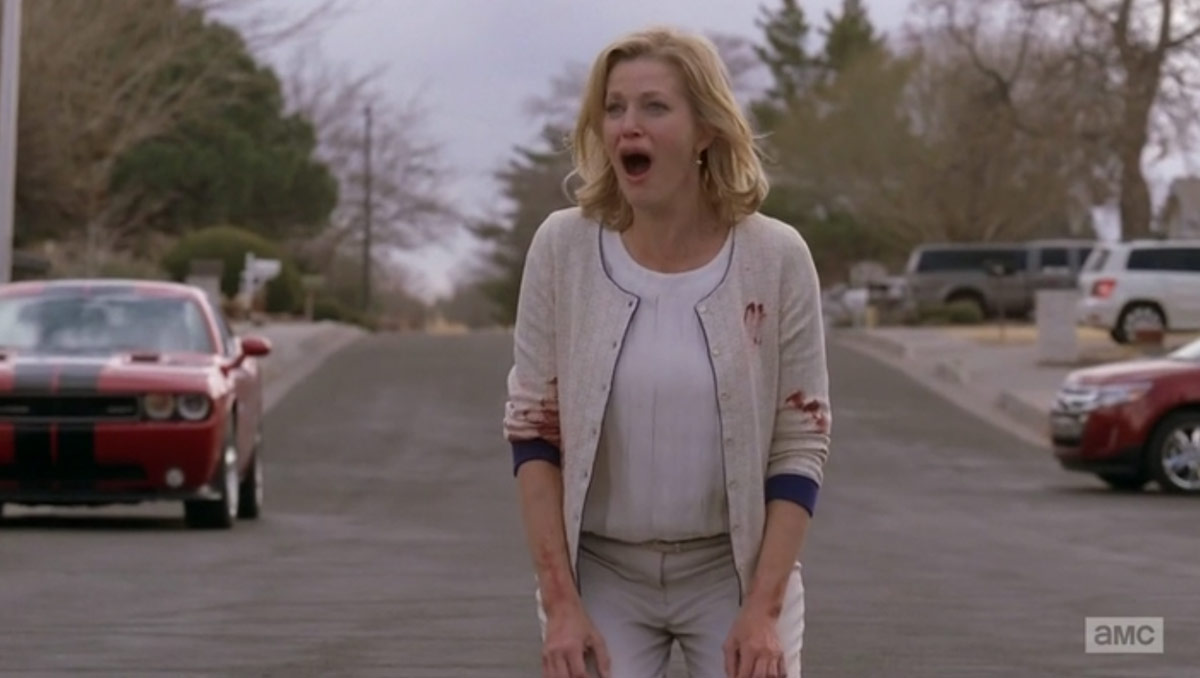 Then Skyler, Walt, Jr., and Holly arrive home.
Then the White family has its own meltdown.
Then Walter kidnaps Holly and drives away, and as Skyler chases after him on their street, we still have daylight.
That's one heck of a long day, is all I'm saying.
2. Johnny B. Great
After No. 1 Alabama outscored Texas A&M 49-42 to win the most highly anticipated matchup of the 2013 CFB season — a classic that lived up to all the hype — our friend Chris Huston, alias "The Heisman Pundit", tweeted, "We go through this exercise every year. Folks, there will never be another two-time Heisman winner."
Not so fast, my friend. What did Manziel do, other than fail to lead his team to victory (important to note here that he does not play defense), to eliminate himself from the Heisman race? Against arguably the most dominant defense in the land, Johnny Cash threw for a career-high 464 yards and five touchdown passes (and, yes, 2 INTs, neither of which were his fault) while rushing for 98 yards.
That's 562 yards of total offense. Or, the most yards in total offense in SEC history when playing against a fellow SEC school. Only once has any one SEC player accounted for more yards in a game against anyone, and that player was named Johnny Manziel, and the opponent was Louisiana Tech, which is not exactly the Crimson Tide.
Toss in Manziel's miraculous plays –his 95-yard TD pass to Mike Evans, who himself was Heismanesque, or the sack he avoided in the second quarter that led to a ridiculous jump-ball completion –shades of Eli Manning-to-David-Tyree — and I'm only more impressed with what a TOTAL GAMER Manziel is.
As SI.com's Stewart Mandel wrote this morning, "Saturday's classic served to remind me why Manziel is the best player in college football…Roll (Tide? my add) your eyes if you wish. Choose to fixate on his two interceptions (one in the end zone, one on a deflected pass turned pick-six) if you must. But the player who racked up 562 yards of total offense against the nation's most renowned defense on Saturday certainly didn't fall off this Heisman voter's ballot. If anything, he moved back up to No. 1."
Amen, Stew. Amen.
3. We're Even Outsourcing Our Miss America Now?*
On the same night that I finally finished reading a 932-page epic novel that is set in Mumbai ("Shantaram", one of the most unforgettable books I've ever come across), a young lady of Indian descent wins the Miss America pageant. Congratulations to Nina Davuluri, who is 24 and actually from Syracuse, N.Y.
I'll remind you that Miss America, once THE brand name in beauty pageants, is now Barbie to Miss USA's American Girl.
It's only too bad that 1) the pageant did not conclude with an over-the-top Bollywood-style production number and 2) ABC's Lara Spencer was involved with it in any way.
*I'm sure someone is offended.
4. SI Versus Stillwater: So Much Wrong. Where to Begin?
I vented a lot of my thoughts on Twitter in the wee hours of Monday a.m. Kyle Porter of PistolsFiringblog.com did the yeoman's work of compiling that rant into one blog entry. Still, I'll enumerate my gripes here:
A) You roll out a five-part series on corruption in college football, specifically at Oklahoma State, in the week before the most hotly anticipated college football contest of the season (see No. 2) between two other schools? Who's the genius behind that timing?
B) Your stated premise, in your "Overview", was this: "How does a Division I program make such a large leap in such a short time? SI dispatched senior writers George Dohrmann and Thayer Evans to begin searching for the answer."
They must still be searching. Yes, they have anecdotal evidence of players being given grades they didn't deserve (funny, though, how no one can remember the name of a professor), of $500 handshakes, of hostesses perhaps having sex with recruits, etc. But they have no evidence that any of this translated to more success on the gridiron. Moreover, they provide no proof that there was an institutional decision to make any of these transgressions part of a concerted effort.
Oklahoma State alumnus and billionaire T. Boone Pickens has given the athletic department hundreds of millions of dollars in the past dozen years, and those donations have directly led to OSU upgrading its facilities so that they are on par with any school's in the nation. Pickens and his boosterism were mentioned, I believe, once during the five-part series plus the overview (I'm not sure Eskimo Joe's was noted even once, which is a crime). That's like the old Jack Haley line of how Michael Jordan and he combined to score 57 points against the Knicks (Update: My buddy Mike an NBA g1uru, notes that it was Hot Rod Hundley, the Bob Uecker of basketball,  who originated this line, noting that he and Elgin Baylor once combined to score 71 points in a game –Baylor scored  69, you see).
C) You could just as easily have gone after Oregon, SI, which has made a more rapid ascent and which, like OSU, has been the beneficiary of a billionaire alum. But, then you might offend Phil Knight and hence be risking Nike ad dollars.
D) So can I assume that this is also how Stanford, which went 1-11 in 2006 and had seven consecutive losing seasons between 2002-2008, improved so quickly?
E) Thayer Evans might want to learn another adjective besides "laughable." His appearance with Maggie Gray, complete with Heat Miser coif, was embarrassing both for him and for SI. A major journalistic enterprise is now promoting realpolitik interviews between staffers? If this were an actual interview, and if Gray were actually pursuing journalism, she might have asked Evans follow-up questions to his self-serving responses. She never did. She might have asked him if subjects knew they were being recorded, or what he told them he was speaking to them about, or if they even realized they were participating in on-the-record interviews. An interview need not be a sterile environment, but Evans certainly appears to have deferred to the lowest common denominator in terms of his standards and practices.
F) Finally, I met Oklahoma State athletic director Mike Holder once, in the summer of 2011, when I wrote for The Daily. We had a planned meeting in his office, and this was at the height of the Texas A&M wants to bolt drama. As our interview began, a highly prominent man phoned Holder about the situation. Holder had never met me before, but he spoke freely and candidly to the man on the other line. He did not shoo me out of the office. I heard things I should not have heard and when he was done, he simply said something to the effect of, "I could've kicked you out of the office but didn't. I hope you'll pay me the same respect."
Maybe if I were a more ambitious reporter, a more zealous reporter, I would've burned Holder. Instead, I respected the respect that he paid me. We had a terrific interview and I found him highly intelligent, likeable and even self-effacing. He seemed like a very decent man.
Is he naïve? Hardly. Have I spent enough time around him to know what he does and does not know about what SI alleged? No. But he seemed like a stand-up guy. I can't say the same for some of the people whom I know very well who make the big decisions at SI these days.
There are two problems, IMO, with how editorial decisions were made in vetting this story from within the Time-Life Building. First of all, a veil of secrecy cloaks the most important stories that SI attempts to break, such as the Jason Collins piece, so that even editors whose names appear very high on the masthead have no more knowledge of them before the magazine closes than you or I do.
The old SI editors' meetings –which took place on Thursday mornings (the SI work week is Thursday, Friday, Sunday and Monday; I know! Sweet, eh?) and Sunday afternoons — were forums for discussion and dissent. Yes, personalities emerged (Michael Bevans was going to shoot off a few F-bombs and sardonic comments under his breath, while  Jack McCallum was going to ease the tension with a well-timed quip) but so did intelligent debate. Perhaps if more of SI's editors knew what the magazine was planning to do regarding Oklahoma State, a voice of reason might have emerged from the pack.
Which leads to the second flaw in the system: A very few people are privy to playing a role in IMPORTANT stories, and you know what? The best way to no longer be part of that exclusive club is to be a voice of dissent. Do I know this first-hand from the Collins story and/or the OSU story? No, but I have known the current managing editor for two-plus decades and, trust me, I know him well. This fiasco was inevitable.
High-level editors at SI have mortgages to pay and kids to send off to college. They must, as Hank Schrader failed to do, tread lightly. I have neither –nor do I work at SI, a magazine I care greatly about and always have– so I can afford to be candid. Even if it makes me a pariah.
5. The Annotated Newsroom
In which we decipher and un-encrypt –is that even a term?– the latest episode's pop culture references and/or best lines.
1. "Schadenfreude is easily found."
Taylor sums up the pay-back Will and ACN are feeling from the right wing in the wake of the Genoa debacle. As you know "schadenfreude" is a German word that translates to "pleasure derived from the misfortune of others." As a character from the brilliant Broadway musical "Avenue Q" once said after having the term defined for her, "MY, that is German."
2. "I want to get the Allman Brothers back together."
One of a few marijuana references Leona Lansing makes in a scene with Charlie Skinner. Yes, they're a notorious weed-friendly band, but I would have gone with The Grateful Dead or, better yet since they're frontman is still alive, Phish. But if Leona had said, "I want to get Phish back together" it might have confused some viewers phonetically.
3. "It's like I led them to Cape Fear."
Charlie laments his poor stewardship of the Genoa fiasco. Cape Fear was a 1962 film starring Gregory Peck and Robert Mitchum (which was remade in 1991 with Nick Nolte in Peck's attorney role and Robert DeNiro as Mitchum's vengeful, sinister ex-con) in which Peck shepherds his family to the titular spot, a real spit of land in North Carolina, hoping to keep them from danger only to lead them directly into that danger.
4. "I'm not really sure Elizabeth Windsor is the world's greatest mom."
Numbers 2-5 here are all from the same chat between Charlie and Leona, and why don't these two crazy kids hook up, too? I mean, if Will and Mac can and Don and Sloan can, why not this duo? Anyway,  it's a reference to the queen of England, who even at age 87 refuses to abdicate the throne in order that her 64 year-old son, Prince Charles, may have her job.
Leona's right, you know.
5. Sidney Falco…Joe Gillis…Walter Knapp…Archibald McRaven
All aliases used by Don, we soon learn, to bid against himself in order to purchase Sloane's book during a Hurricane Sandy auction. All I gotta say is, "Wow!" cuz Sandy happened on a Monday — eight days before the election –and already ACN had held an auction. Who do they think they are? Brian Williams?
Sidney Falco was the character portrayed by Tony Curtis in "The Sweet Smell of Success", while Joe Gillis was William Holden's character in "Sunset Bouelvard." Both movies are film noir classics and neither character meets a happy end. Hmm.
6. "Do we really have to slow down for these people?"
Don asks the question every one of us who is in favor of tort reform asks: Why do we need a label attached to a box containing an iron warning us not to iron our clothes while wearing them? Hooray, Darwinism.
7. "Chris Christie, the media…"
A reference to the New Jersey governor welcoming President Obama when he visited the Jersey shore in the immediate aftermath of Hurricane Sandy, just days before the presidential elections. Cynics saw it as grandstanding while POTUS was in a no-win situation. If he doesn't visit, he doesn't care. If he does, then he's shamelessly courting votes. Christie, a Republican, chose not to be cynical and was excoriated by some on the right for praising Obama just days, hours, before the votes were cast.
8. "ACN is able to project that Barack Obama will be living in government housing for the next four years…"
A hilarious line from Will McAvoy, and one I doubt any actual news anchor would have used. You see, because the president is African-American, so of course he'd expect the government to take care of him. Except that, as president, his housing is paid for by the government. Yes, I know that you got that. You don't iron your clothes while wearing them.
9. Jedediah Purdy, "For Common Things"
From what I can gather, it's a book about decency over greatness. Purdy, you should know, is a summa cum laude graduate of Harvard who later earned a law degree from Yale and currently teaches at Duke Law School. You can pick up the phone and call him or even email him today if you like. He must have loved the plug that Aaron Sorkin gave him last night, mentioning him and his book twice.
10. "Let My Love Open the Door"
Sorkin, for the second time this season, chooses to close the show with a song penned by Pete Townshend of The Who. Earlier he went with "You Better You Bet" by The Who. Now it's a Pete Townshend solo love song, which is a classic, although he uses a cover by the Texas-based Christian rock band Luminate. And Sorkin is not the first to use it for dramatic effect. Here's Steve Carrell and Dane Cook (I know) performing a heartbreaking acoustic version (you have to watch to the end…the very end), surprisingly moving, in the film "Dan In Real Life."