https://mediumhappy.com/?p=4549
Earlier today Notre Dame released its ACC-entric football schedules for the seasons 2014-2016. The three schools who will remain Fighting Irish perennials are Navy, Southern California and Stanford. We'll be seeing a lot less of Midwest neighbors Michigan, Michigan State and Purdue.
Without further ado, and excluding all of the aforementioned schools from the conversation (because, of course, USC and Stanford would then be on the list, but they are known quantities), let's rank the "Ten Most Anticipated Games" of the next three seasons of Notre Dame football. I apologize in advance: I'm not The Bleacher Report; this is not a slideshow.
10. November 22, 2014: Louisville at Notre Dame
Would this game alone be enough to persuade Teddy Bridgewater to remain for his senior season? Probably not, since Todd McShay projects the talented quarterback as the No. 1 overall pick in the 2014 NFL draft. I doubt Brian Kelly will miss him. The Cardinals and Irish have never met. Always fun, and fitting, for Notre Dame to have a virgin encounter with an opponent.
9. September 12, 2015: Notre Dame at Virginia
The Irish invade one of the loveliest campuses in America and a town that is home to both Howie Long and Dave Matthews (update: I hear DM has moved to Seattle). These two schools have only met once previously, in the 1989 Kickoff Classic at the Meadowlands. Also, I really dig Virginia's helmets.
8. November 8, 2014: Notre Dame at Arizona State
Todd Graham has done an outstanding job in Tempe in two seasons, and last October's meeting between these two was the most entertaining game of the Irish season. The two teams last met at Sun Devil Stadium in 1998, and ten years earlier on this same field is where the Irish last won a national championship.
7. October 29, 2016: Miami at Notre Dame
The greatest game in the history of college football (although I'm recalibrating my focus to assess this year's Iron Bowl) was Miami at Notre Dame, October 15, 1988. Catholics versus Convicts. 31-30, Irish, and okay, maybe Cleveland Gary was down. The Hurricanes would visit two years later, when Rocket Ismail returned a kickoff for a touchdown, and the Irish won that one, too. That's the last time Miami visited South Bend.
6. November 19, 2016: Virginia Tech at Notre Dame
Hokie coach Frank Beamer leads all active FBS coaches in both victories (224) and tenure (27 seasons in Blacksburg). Here's hoping that Beamer, 59, remains on the sidelines through this date. It's a solid bet that he will. This will be the first meeting between the two schools.
5. September 5, 2015: Texas at Notre Dame*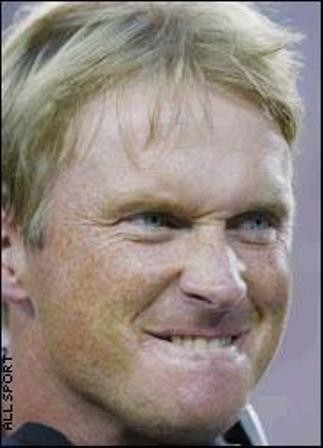 The Longhorns, currently the only school besides Michigan ahead of the Irish on the all-time wins list (875 to 873) visit South Bend, a town in which Jon Gruden spent part of his formative years. I'm just sayin'…The two schools have not played since 1996, when Irish quarterback Ron Powlus provided the late-game heroics in Austin with a fourth-down keeper on the option for a touchdown. I know. Ron Powlus and option keeper. I can't fathom it, either, and I saw it live.
4. September 6, 2014: Michigan at Notre Dame
The final installment, for the foreseeable future, between two schools that really, really don't like each other. And it goes back for more than a century. Michigan was Notre Dame's opponent in its very first game on Thanksgiving Day, 1887. The Wolverines and the Irish are Nos. 1 and 3, respectively,  in all-time wins (910 and 873) and Nos. 1 and 2, respectively, in all-time win percentage (.733 and .732). The victor winner in this game could stand atop that list.
3. November 21, 2015: Notre Dame vs Boston College at Fenway Park
The Irish will play at both Yankee Stadium and Fenway Park within a 23-month span. Notre Dame has actually visited baseball's cathedral before, a 54-0 demolition of Dartmouth in 1945.
2. October 18, 2014: Notre Dame at Florida State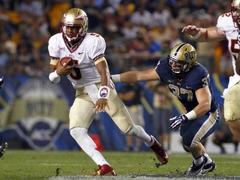 This will be the Irish's first true road game of next season, and it could be against a school that is the defending national champion and has the defending Heisman Trophy winner in Jameis Winston. The Irish last visited Tallahassee in 2002, Ty Willingham's first season, and controlled the game against the Seminoles from the first snap (the following week, at 8-0, they inexplicably lost at home to Boston College…which happens more often than they'd like).
1. October 3, 2015: Notre Dame at Clemson
The Fighting Irish last played at Death Valley in 1977, a 21-17 win during a national championship season. Current Clemson associate athletic director Tim Bourret was a Notre Dame student (or grad student, I forget) at the time and if you care a whit about the school's history, you should know his name: Bourret was one of the co-founders of Bookstore Basketball. (His off-campus roommate: broadcaster Ted Robinson). Death Valley is one of the true shrines in college football, and 38 years is far too long between visits.
* The Irish visit Texas on September 3, 2016. I'm using one spot for both games, but you never need an excuse to visit Austin