https://mediumhappy.com/?p=4881
STARTING FIVE
Programming Note: The staff of Medium Happy will be somewhere out of range of the interweb for the remainder of the week, and thus, for the first non-holiday weekday since we began publishing, will not put out an IAH! in the morning. Adjust your medications accordingly. Thank you. And if any of you fan boys want to take a stab at putting out IAH! tomorrow and Friday, contact our global headquarters here. Adios, for now.
1. (Contrived Headline Alert) Win-chita
The Shockers easily defeat Bradley, 69-49, to become the first men's team ever to go 30-0 in the regular season. The Shockers finished 30-9 last season, losing to eventual national champion Louisville in the Final Four. I'm not sure how many teams have ever won 30 games two years in a row, although I do know John Wooden's Bruins went 30-0 in consecutive seasons in the early '70s. Perhaps Bill Walton will tell us more about that this week. Another thing about the Shockers? They're 20-6 against the spread this season, including last night.
2. Oscar, Oscar, Oscar*
Hollywood releases the names of the 46 presenters for Sunday's telecast. My favorites: Bill Murray, Charlize, Christopher Waltz, Jim Carrey, Kim Novak (a Hitchcock blonde, Vertigo; Why aren't there more legendary Hollywood figures like her among the presenters?), and the potent Bell/Biel combo (Kristen/Jessica). Noted omissions: George Clooney, Julia Roberts, Mila Kunis, ScarJo and Will Ferrell. Most curious selection? Jason Sudeikis.
Oh, and here's a highly subjective list, worst to first, of all the Best Picture winners.
That's for all you fans of "The Odd Couple" out there.
3. Hirsute of Excellence
I agree with Bill Simmons: When James Harden is feeling it, he's a Top 5 player in the NBA. It's just that he doesn't have the consistency of a Michael Jordan or a Kobe in his prime. Last night Harden went off for 43 at Sacramento in just 31 minutes — he sat the entire fourth quarter. Harden also went 15 of 15 from the charity stripe. Practice your free throws, kids.
4. When Johnny Met Jon
Ron "Jaws" Jaworski was a pretty good NFL quarterback but he will forever be known as the ESPN talking head given to outlandish statements about quarterbacks (as opposed to Merrill Hoge, who doesn't limit such bloviating to only QBs). Yesterday Jaws struck again, proclaiming that he would not take former Heisman Trophy winner Johnny Manziel in the first three rounds of the NFL draft (of course he wouldn't: Jaws doesn't have a pick). Said Jaws, "I've only looked at five games…but he has not done a whole lot, to me."
Ask Nick Saban about that, Jaws.
So let's just cut to the chase: Let's get JFF down at Jon Gruden's QB camp for some talk about Spider 2 Y Banana, etc. That'll be fun.
5. Northern California Gold Rush
No, it's not 1849, it's 2014, but a couple in the Sierra Nevada region out walking their dog last March discovered 1,400 gold coins, all minted in the 19th century, buried in cans on their property. The cache, or trove (and when do you ever see the word "trove" not preceded by "treasure"?), is worth an estimated $10 million. That pooch better eat filet for the rest of its life.
Meanwhile, I learned a new word: "numismatics." It refers to the study or collection of currency.
If I were the couple, who are choosing to remain anonymous, I'd use some of the booty to hire Neil Young to perform on my property, simply for irony's sake.
Reserves
This photo, by The Guardian, from Syria. Meanwhile the hosts of "Good Morning, America" are dressing up as the cast of "American Hustle" in order to promote the Oscars. Because news no longer sells in the TV news business.
****
Host Jimmy Fallon continues to kill it on Tonight –it's not a talk show, it's a videotaped adult play-date; stick around for Paul Rudd's "Don't Stop Me Now"– while Fred Armisen's delightfully understated and wacky persona remains the best part of Late Night –but it's only been two shows. Seth Meyers' even did a funny send-up of how fans are already decrying how his second show had lost all the edge of his first show. Nicely done.
***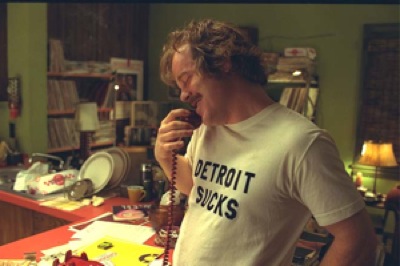 If you have yet to read David Browne's terrific cover story on Philip Seymour Hoffman in Rolling Stone, I highly recommend (I can't locate a link). Here's a link where Cameron Crowe discusses how the late actor got into playing the role of Lester Bangs in Almost Famous.
The Hall
Charter Inductees: Ty Cobb, Walter Johnson, Christy Mathewson, Babe Ruth, Honus Wagner 1937:  Tris Speaker, CF; Cy Young, P ; 1938: Grover Cleveland Alexander, P; Eddie Collins, 2B;1939:Nap Lajoie, 2B; Joe Jackson, LF; 1940: Billy Hamilton, OF; Cap Anson, 1B; 1941: Wee Willie Keeler, RF; George Sisler, 1B; 1942: Rogers Hornsby, 2B; Pie Traynor, 3B; 1943: Mickey Cochrane, C; Frankie Frisch, 2B 1944: Ed Walsh, P; Old Hoss Radbourn, P 1945: Lou Gehrig, 1B; Kid Nichols, P 1946: Ed Delahanty, LF; Lefty O'Doul 1947: Pud Galvin, P; John McGraw, INF 1948: Carl Hubbell, P; Addie Joss, P 1949: Harry Heilman, OF/1B; Monte Ward, P/SS
1950: Cool Papa Bell, CF; Jimmie Foxx, 1B 1951: Mordecai "Three Finger" Brown, P; Josh Gibson, C 1952: Paul Waner, RF; Charlie Gehringer, 2B 1953: Mel Ott, RF; Hank Greenberg, 1B1954: Eddie Plank, P; Dan Brouthers, 1B 1955: "Wahoo" Sam Crawford, OF; John Clarkson, P1956: Chief Bender, P; Bill Dickey, C 1957: Sam Rice, RF; Joe DiMaggio, CF 1958: Bill Terry, 1B; Heinie Manush, LF 1959: Dizzy Dean, P; Tim Keefe, P 1960: Gabby Hartnett, C; Mickey Welch, P1961: Bob Feller, P; Ducky Medwick, LF 1962: Luke Appling, SS; Jesse Burkett, LF 1963 Jackie Robinson, 2B; Zack Wheat, LF 1964: Jake Beckley, 1B; Rube Waddell, P 1965: Ralph Kiner, 1B, Lefty Grove, P 1966: Ted Williams, LF; Smoky Joe Wood, P/OF 1967: Roy Campanella, C; Max Carey, OF
1968
Leon Allen "Goose" Goslin, LF; 1921-1938, Washington Senators, 2 others Goslin hit .379 in 1928,  but the batting title wasn't his that season until his final at-bat. Goose did not want to take the at-bat in the 9th inning, and his manager gave him the option, but his Senator teammates goaded him into it. Quickly falling behind in the count 0-2, Goslin began berating the ump in an effort to get ejected (so the at-bat would not count), but was told by the ump to get back in the box. He stroked a single and earned the crown. A lifetime .316 hitter, Goslin collected 2,735 hits (56th all-time), 500 doubles (57th) and 173 triples (22nd). He also singled in the winning run in the final at-bat of the 1935 World Series.
Walter James Vincent "Rabbit" Maranville, SS; 1912-1935, Boston Braves, 4 others Yes, it helps to have a small creature's nickname. Rabbit played 23 seasons, the most in the N.L. of anyone until Pete Rose eclipsed the mark in 1986. He accumulated 2,605 lifetime hits and 177 triples, which is 19th all-time. Despite standing just 5'5″, he hit clean-up for the Braves in 1914, the year they won the World Series.
Remote Patrol
California at No. 3 Arizona
ESPN2 9 p.m.
I can only assume the WWL has installed Dave Pasch and Bill Walton to do this game, so get your Big Red Bingo chart ready: The Biosphere, Pyramid of Success, Bob Dylan, Wavy Gravy, possibly Johnny Cash (it's his birthday, although it's also the birthday of fun. singer Nate Reuss, who's an Arizona native, so throw him a bone, Bill), and if we're lucky, Jan Brewer. Listen as Pasch's frustration grows: He's playing the role of David Spade in "Tommy Boy."