https://mediumhappy.com/?p=5042
STARTING FIVE
 1. Terror Firma
Mudslide in the state of Washington kills at least 24, but as many as 100 or more people in rural Snohomish County may have perished. The area has received more than twice the average amount of rain (15 inches, as opposed to 7 1/2) this month, and that most likely triggered it.
2. Jimmy Fallon's Funhouse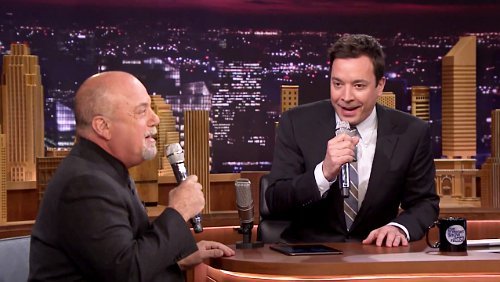 In his first month as host of The Tonight Show, Jimmy Fallon has turned the venerable franchise into Pee Wee's Playhouse. And that's not a bad thing. He's never going to do the hard-hitting interview, but that boyish sense of adventure and enthusiasm is serving the 40 year-old well. Here he is enticing Billy Joel into a terrific two-man doo-wop rendition of "The Lion Sleeps Tonight."
3. "Tell Sloan I said, 'What broke?"
So Kevin Connolly, whom you may know better as Eric or "E" from Entourage, was filming a scene for the movie version of the popular HBO show in which he catches a post-route thrown by Russell Wilson of the Seattle Seahawks. You know, the guy who quarterbacked the Super Bowl-winning team. Well, it didn't go so well as Connolly suffered a fracture in two places in his lower left leg when he tripped over a sprinkler. But he did catch the ball.
Afterward everyone hugged it out. So you probably won't hear Chris Martin and the boys play "Green Eyes" live any time soon. The lead singer of Coldplay and his wife of 10 years, Gwyneth Paltrow, have announced that they are separating a "conscious uncoupling" (befoe it was simply an "odd coupling?").Oddly enough, Paltrow appeared on "Glee" last night and sang "Party All The Time" in a sudsy disco. Give a hand to Jason McIntyre, who tweeted out this "60 Minutes" piece on C9ldplay which portrays Martin as an irrefutably likeable bloke. And I've always loved this.
5. Area 51
The 'bockers and their new team president, Iron Phil Jackson, invaded Staples Centers last night for a date with a Loss Angeles Laker team that will finish with its worst record since fleeing the Twin Cities in 1960. El 'bockers desperately needed a win, as they were three games in the Loss column out of the eighth spot in the East.
What happened? They were outscored 36-20 in the second quarter and 51-31 in the third –yes, they allowed 87 points in one half in a non-All Star Game– in a 126-97 beat down. The 51 points were the most the Lakers had ever scored in a quarter (think about that: they scored 51 not with Elgin Baylor or Jerry West or Wilt or Magic or Kareem or Kobe or Shaq, but with Xavier Henry and Swaggy P and Chris Kaman–in fact, their "All-Star", Pau Gasol, did not even suit up) and the 33-point lead was their largest of the season.
The New York Knicks, 2013-14: R.I.P. City
Reserves
Bench-clearing shove-a-thon in Florida-Florida State baseball game (hey, isn't Jameis Winston on one of those teams???) after one player takes supreme umbrage at another player running to first base.
****
Navy freshman slotback Will McKamey, a 5-9 rusher who did not see action last fall, dies after falling into a coma after practice on Saturday. McKamey had suffered a serious head injury during a game in high school.
****
Did Clemson students ironically storm their court after defeating mid-major Belmont in the NIT?
***
Shaq, doing first-half highlights of the Knicks-Lakers, admonishes the 'bockers for their lack of focus, then refers to Raymond Felton as Felton Spencer.
The Hall
Charter Inductees: Ty Cobb, Walter Johnson, Christy Mathewson, Babe Ruth, Honus Wagner
1937:  Tris Speaker, CF; Cy Young, P ; 1938: Grover Cleveland Alexander, P; Eddie Collins, 2B 1939:Nap Lajoie, 2B; Joe Jackson, LF; 1940: Billy Hamilton, OF; Cap Anson, 1B; 1941: Wee Willie Keeler, RF; George Sisler, 1B; 1942: Rogers Hornsby, 2B; Pie Traynor, 3B; 1943: Mickey Cochrane, C; Frankie Frisch, 2B 1944: Ed Walsh, P; Old Hoss Radbourn, P 1945: Lou Gehrig, 1B; Kid Nichols, P 1946: Ed Delahanty, LF; Lefty O'Doul 1947: Pud Galvin, P; John McGraw, INF 1948: Carl Hubbell, P; Addie Joss, P 1949: Harry Heilman, OF/1B; Monte Ward, P/SS 1950: Cool Papa Bell, CF; Jimmie Foxx, 1B 1951: Mordecai "Three Finger" Brown, P; Josh Gibson, C 1952: Paul Waner, RF; Charlie Gehringer, 2B 1953: Mel Ott, RF; Hank Greenberg, 1B 1954: Eddie Plank, P; Dan Brouthers, 1B 1955: "Wahoo" Sam Crawford, OF; John Clarkson, P 1956: Chief Bender, P; Bill Dickey, C 1957: Sam Rice, RF; Joe DiMaggio, CF 1958: Bill Terry, 1B; Heinie Manush, LF 1959: Dizzy Dean, P; Tim Keefe, P 
1960: Gabby Hartnett, C; Mickey Welch, P 1961: Bob Feller, P; Ducky Medwick, LF 1962: Luke Appling, SS; Jesse Burkett, LF 1963 Jackie Robinson, 2B; Zack Wheat, LF 1964: Jake Beckley, 1B; Rube Waddell, P 1965: Ralph Kiner, 1B; Lefty Grove, P 1966: Ted Williams, LF; Smoky Joe Wood, P/OF 1967: Roy Campanella, C; Max Carey, OF 1968: Goose Goslin, LF; Rabbit Maranville, SS 1969: Stan Musial, 1B/OF 1970: Ferris Fain, 1B; Earle Combs, CF 1971: Warren Spahn, P; Yogi Berra, C 1972 Satchel Paige, P; Sandy Koufax, P 1973: Robin Roberts, P; Whitey Ford, P 1974: Mickey Mantle, CF; Eddie Mathews, 3B 1975: Lefty Gomez, P; Hack Wilson, CF 1976: Jack Pfiester, P; Johnny Mize, 1B 1977: Ernie Banks, SS; Mickey Welch, P 1978: Roberto Clemente, RF; Chuck Klein, RF 1979: Willie Mays, CF; Luis Aparicio,  SS 1980: Al Kaline, RF; Enos Slaughter, RF 1981: Bob Gibson, P; Harmon Killebrew, 1B 1982: Hank Aaron, RF; Frank Robinson, OF
1983
Brooks Robinson, 3B; 1955-1977, Orioles
"The Human Vacuum Cleaner" was, as the pseudonym suggests, a Hoover at the hot corner. THE gold standard for playing the toughest defensive position in baseball, Robinson won 16 consecutive Gold Gloves, the most of any non-pitcher in baseball history. Was an American League MVP in 1964, an All-Star Game MVP in 1966 and a World Series MVP in 1970. Robinson collected 2,848 hits in his 23 seasons and played on two World Series winners.
Juan Marichal, P; 1960-1975, Giants
The Dominican Republic native won more games (191) in the decade of the 1960s than any other pitcher and likely made the most enemies doing so, as he was known to aim pitches directly at a batter's helmet. Marichal went 25-8 in 1963 and 26-9 in 1968. A 10-time All-Star famed for his uber-high leg kick, Marichal finished with a 243-142 record and a 2.89 E.R.A.