https://mediumhappy.com/?p=5166
STARTING FIVE
1. Ivy League
Thoughts on Wrigley Field hitting the century mark without ever hoisting a World Series championship banner…My first visit, 1998, shortly after Harry Caray had passed away. I'm in the press box with my friend and co-worker, Steve Rushin, and as we amble through the ancient hallway to our seats, we pass a VIP box in which Caray's widow, Dutchie, is sitting. Steve turns to me and, as only Steve can, off-handedly remarks, "We just passed the Dutchie on the left-hand side."
****
Six years later, May of 2004. My good friend and ESPN on-air reporter Kelly Neal (now Naqi) gets married and has the reception in a box at Wrigley. I think Lesley Visser was also there. Can't remember.
***
Sitting with my good friend, and boss at the time, Mike Harris, catching a game in the summer of 2010. It was his maiden visit.
***
Multiple trips with college buddies, all of whom seemed to move to Lincoln Park upon graduation. Never remembering much beyond the fifth inning.
***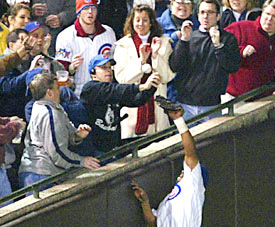 Jeff Samardzija gets the start today for the Cubbies versus baseball's worst team thus far, the Arizona Diamondbacks. Samardzija will remain at best second in Wrigley Field lore, behind Steve Bartman, as far as Notre Dame alums go.
2. Peak Pique
It appears that the Sherpas, in the wake of a tragedy that claimed 16 of their brethren on the world's tallest mountain, are packing it in for the season. Intriguing blog entry by the bard of Everest, Jon Krakauer, detailing how a leading expedition company pulled its guides off Mount Everest two years ago out of fear of this very ice ledge falling.
By the way, if you're paying attention, Sherpas earn far more than the average Nepalese worker, but they take in only a small fraction of what the government of Nepal earns off climbing fees and other revenue generated by the Everest craze, even though, as we are seeing now, scaling Mount Everest is nigh impossible without the aid of Sherpas. All of which leads me to wonder, What is Nepalese for "Mark Emmert?"
3. Beautifullery
So, People magazine is teasing us with its "50 Most Beautiful" issue by announcing that Oscar winner Lupita Nyong'o of "12 Years a Slave" is its Most Beautifulest." Kenya dig it?
4. A Band or a Hoax?
Everything about The Strypes sounds as if it's an elaborate musical hoax erected upon what we fans already know about other bands:
The music is speed blues, not unlike the best blues-rock band of this millennium, whose name is similar, The White Stripes.
They're a foursome of Irish lads who've been friends for awhile, though the lead singer entered the group last. U2, check.
Their haircuts. Beatles, check.
Their clothes. Early era The Who, or even the Rolling Stones. British Invasion. Check.
They're all 17 or 18. And if they are a hoax, they even fooled David Letterman, who joked after their performance, "I'm very excited. Before the show I said, 'If this goes well, I'll take you all to play laser tag."
5. Hinrich Maneuver
It's hardly Kirk's fault alone, but the Chicago Bulls now trail their first-round series to the Wizards 2-0 after losing both games at the United Center. Chicago lost in OT, 101-99, after Hinrich was fouled with 2.4 seconds left (questionable whistle, but then Joey Crawford is the Lou Avery of referees) and missed the first free throw. He missed the second intentionally, but the Wiz grabbed the rebound. They ARE The Wiz!
Hinrich is a career 80% free throw shooter.
The Hall
Charter Inductees: Ty Cobb, Walter Johnson, Christy Mathewson, Babe Ruth, Honus Wagner 1937:  Tris Speaker, CF; Cy Young, P ; 1938: Grover Cleveland Alexander, P; Eddie Collins, 2B 1939:Nap Lajoie, 2B; Joe Jackson, LF; 1940: Billy Hamilton, OF; Cap Anson, 1B; 1941: Wee Willie Keeler, RF; George Sisler, 1B; 1942: Rogers Hornsby, 2B; Pie Traynor, 3B; 1943: Mickey Cochrane, C; Frankie Frisch, 2B 1944: Ed Walsh, P; Old Hoss Radbourn, P 1945: Lou Gehrig, 1B; Kid Nichols, P 1946: Ed Delahanty, LF; Lefty O'Doul 1947: Pud Galvin, P; John McGraw, INF 1948: Carl Hubbell, P; Addie Joss, P 1949: Harry Heilman, OF/1B; Monte Ward, P/SS 1950: Cool Papa Bell, CF; Jimmie Foxx, 1B 1951: Mordecai "Three Finger" Brown, P; Josh Gibson, C 1952: Paul Waner, RF; Charlie Gehringer, 2B 1953: Mel Ott, RF; Hank Greenberg, 1B 1954: Eddie Plank, P; Dan Brouthers, 1B 1955: "Wahoo" Sam Crawford, OF; John Clarkson, P 1956: Chief Bender, P; Bill Dickey, C 1957: Sam Rice, RF; Joe DiMaggio, CF 1958: Bill Terry, 1B; Heinie Manush, LF 1959: Dizzy Dean, P; Tim Keefe, P 1960: Gabby Hartnett, C; Mickey Welch, P 1961: Bob Feller, P; Ducky Medwick, LF 1962: Luke Appling, SS; Jesse Burkett, LF 1963 Jackie Robinson, 2B; Zack Wheat, LF 1964: Jake Beckley, 1B; Rube Waddell, P 1965: Ralph Kiner, 1B; Lefty Grove, P
1966: Ted Williams, LF; Smoky Joe Wood, P/OF 1967: Roy Campanella, C; Max Carey, OF 1968: Goose Goslin, LF; Rabbit Maranville, SS 1969: Stan Musial, 1B/OF 1970: Ferris Fain, 1B; Earle Combs, CF 1971: Warren Spahn, P; Yogi Berra, C 1972 Satchel Paige, P; Sandy Koufax, P 1973: Robin Roberts, P; Whitey Ford, P 1974: Mickey Mantle, CF; Eddie Mathews, 3B 1975: Lefty Gomez, P; Hack Wilson, CF 1976: Jack Pfiester, P; Johnny Mize, 1B 1977: Ernie Banks, SS; Mickey Welch, P 1978: Roberto Clemente, RF; Chuck Klein, RF 1979: Willie Mays, CF; Luis Aparicio,  SS 1980: Al Kaline, RF; Enos Slaughter, RF 1981: Bob Gibson, P; Harmon Killebrew, 1B 1982: Hank Aaron, RF; Frank Robinson, OF 1983: Brooks Robinson, 3B, Juan Marichal, P 1984: Hoyt Wilhelm, P; Arky Vaughan, SS 1985: Lou Brock, LF; Pete Browning, OF 1986: Sidd Finch, P 1987: Willie McCovey, 1B, Roger Maris, RF 1988: Willie Stargell, 1B, Catfish Hunter, P 1989: Earl Averill, CF, Billy Williams, LF 1990: Johnny Bench, C, Carl Yastrzemski, LF 1991: Jim Palmer, P, Joe Morgan, 2B 1992: Rod Carew, 2B; Gaylord Perry, P 1993: Reggie Jackson, RF, Tom Seaver, P 1994: Phil Niekro, P, Rollie Fingers, P 1995: Pete Rose, INF, Mike Schmidt, 3B 1996: Steve Carlton, P, Denny McLain, P 1997: Jim Rice, LF, Don Sutton, P 1998: Dick Allen, 1B, Dave Parker, RF 1999: Nolan Ryan, P, George Brett, 3B 2000: Robin Yount, SS, Carlton Fisk, C
2001
Kirby Puckett, CF; 1984-1995, Twins
Besides leading the Twins to two World Series wins in a five-year span, the 5'8″ center fielder appeared in 10 All-Star Games in his 12-year career, collected six Gold Gloves, and averaged 209 hits per season. An eye condition forced Puckett to retire prematurely or else he certainly would have collected 3,000 hits. His .318 lifetime batting average was the best for a right-handed hitter in the American League since Joe DiMaggio.
Mark Fidrych, P; 1976-1980, Tigers
Is it the Hall of Fame or is it the Hall of Talent?  I could've slotted Dave Winfield here, one of the most gifted athletes ever to step onto a diamond, but Winfield, in 22 seasons, never led the league in home runs, in batting average, in slugging percentage, or in OBP. Yes, he collected 3,110 hits and maybe we'll find a place for him later.
Fidrych played only five seasons and never won 20 games, but for the madness that he created in his rookie season, America's bicentennial, he will forever be cherished by those of us who were around to see it. Fidrych went 19-9 as a rookie, winning the Rookie of the Year award while also leading the league in ERA (2.34) and tossing an irresponsibly high 24 complete games.
Mostly, though, The Bird was the word. His infectious personality and "One Flew Over the Cuckoo's Nest" personality on the mound made him a true original. Watch this. And then this after, from the famous Monday Night Baseball win against the World Series-bound Yankees, back when nationally televised prime-time baseball games took place once per week.
Remember the Jeremy Lin hysteria a few seasons back that lasted about three weeks? Extrapolate that out to an entire baseball season and you have Fidrych's unforgettable rookie year.
Remote Patrol
Blazers at Rockets
TNT 9:30 p.m.
This is shaping up as the most intriguing first-round series. James Harden's unique style, Patrick Beverley's tiny Rodman act, Chandler Parsons' mellow cool, Dwight Howard's underwhelming presence…and all of it was just enough to blow a double-digit fourth-quarter lead at the Toyota Center on Sunday night. Chico, please. As usual, stay up for the post-mortem with Ernie, Chuck, Kenny the Jet and Shaq. "Chuck is fake MMA" and "For Chuck, 'MMA' stands for Meals, Munchies, and Appetizers" were the jewels of last night's fun.