https://mediumhappy.com/?p=5473
STARTING FIVE
1. An Inconvenient Tooth
Luis Suarez, serial masticator.
This Wright Thompson long-form profile on Suarez is, as all Wright Thompson pieces seem to be, extremely well-written…it's just disappointing to see the conclusion Thompson draws: that one's difficult youth, particularly if that person is talented, allows them a free pass for reprehensible behavior as an adult. As Twitter friend-whom-I-don't-actually-know Trenni Kusnierek tweeted, "I'm just tired of talent being more important than human decency."
No one from Uruguay, not Suarez and not his manager, actually denied that Suarez had bitten Italy's Giorgio Chiellini in the shoulder. And Suarez's teammate, I-don't-know-his-first-name Ramirez, literally tried to cover it up.
Suarez should be banned by FIFA for at least the remainder of the tournament. From a World Cup perspective, I'm not the least bit interested as to WHY he bites people. I'll leave that to the child psychologists to worry about for when Suarez is off the pitch.
In sport, and this is why we like them so much, there are no rationalizations. There are rules –which apply to all equally — and there's a score and that's really all that matters.
Here now, the "Men in Blazers" chew on Suarez's bite…
2. Our Favorite Mistake
Female pop singers from Sheryl Crow ("My Favorite Mistake") to Taylor Swift("Trouble") have written about bad boys whom they knew they should not have gotten involved with. Last Friday night Bill Maher took it one step further, endeavoring to explain that America's hope to impose democracy on Iraq is akin to a girl trying to turn a bad boy into someone respectable.
I'm not a big fan of Maher as a comedian –he's too angry and pissy to be actually funny–but his "New Rules" segment, which is crafted with other writers, is consistently good and occasionally highly profound. This was one of those moments.
For years I used to argue with a friend of mine about Iraq. He'd say that giving a nation democracy was the greatest gift we as a country could give them. I'd remind him that he was never a little brother, and that if there's one thing little brothers hate, it's big brothers telling them what to do–even if the big brother's intentions are good.
Geopolitics does actually resemble inter-personal relationships, and I feel for people who cannot see that. It's more simple than you think, most of the time.
3. Triumph Triumphs Again
As Dog on the Street segments go, nothing is consistently funnier than Triumph the Insult Comic Dog. Team Coco sent him to Queens to speak with World Cup fans and, well, just cede the next eight minutes of your life to this.
4. Where In The World?
Clue: These are the world's highest sand dunes (check out the trees below).
5. 23 Jump Street?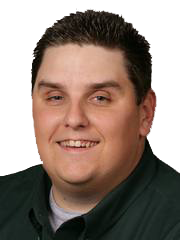 Did someone request just THIS MUCH Brian Windhorst on ESPN this month? Bob Ley is sitting down in Rio and saying, "Hey, just one plump guy in a suit at a time on our air!"
Windhorst, 36, grew up in Akron and graduated high school from Akron St. Vincent-St. Mary, the same school from which LeBron James would later graduate. He began covering James in 2003 for the Akron Beacon Journal and he's basically been covering The King ever since, no matter where James goes. So you can bet that wherever James winds up next season, Windhorst will be relocating there.
That's good news for Windhorst. But what, if James leaves Miami, of the existing ESPN.com writer in the city to which LeBron migrates? Will ESPN.com just have, for example, a Milwaukee Bucks beat writer and a LeBron beat writer?
Windhorst is, as my old colleague Jack McCallum would say, "LeBron's Boswell." That's a reference to James Boswell, an 18th-century Brit who is best-known for having been a constant companion to and biographer of English literary figure Samuel Johnson.
Remote Patrol
USA vs Germany 
ESPN Noon
Sure, it's tomorrow, but the way MH has been going lately, who knows if I will even be up by then? So, you know, do NOT miss this. I'd love it if right before the match Jurgen Klinsmann comes out in a robe and when it starts, doffs the robe and is festooned in lederhosen and traditional German gear. Gotcha!
Deadvlei, Namibia