https://mediumhappy.com/?p=5765
Honestly, there's too much happening. We'll do what we can to cover it.
Starting Five
1. Ice Bucket List Challenge
When did donating money to a good cause become a blatant act of self-promotion? I get it: celebrities dousing themselves in a bucket of ice water draws attention. Which raises awareness. Which spikes donations.
But it feels as if we've crossed the Rubicon on this. Now it's more like, "Well, if you don't let someone videotape yourself being self-icing a bro, you want people to die of ALS. And you're just mean."
Larry David covered this ground –brilliantly– in a terrific episode of "Curb…" with Ted Danson. 
My dream? Someone issues Meadowlark Lemon the Ice Bucket Challenge and then he allows someone to toss a bucket of confetti over his head.
2. Ferguson
A few thoughts on the Ferguson crisis, some of which you may not like:
1) There are two sides to every story, and I'm not even certain we've heard one of them yet. To quote Fr. John Jenkins of Notre Dame, who was speaking about another matter entirely, the rush to judgment here may be "premature." What I do know is that we don't know. And that this eyewitness account is only going to upset some people more.
2) It's been three days, and I still don't know anything more about Darren Wilson other than he is a six-year veteran of the Ferguson P.D. and that he is 28. Where did he grow up? Where did he attend high school? College, yes or no? Married? Kids? Anything in his background to point to his having a short fuse or problems with minorities?
3. Of course no one deserves to die because they stole a pack of Swisher Sweets. And of course it's coarse for the police to release that "DVD extra" as they grudgingly release Wilson's name. But you know what? It IS slightly relevant. Why? Because it goes to Michael Brown's state of mind when he was confronted by a police cruiser not long afterward. The photo of Michael Brown lying dead in the street is ugly because the entire situation is awful. But maybe a little patience is in order here.
4. I'm more than a little over the embedded media practicing the "Look at us" journalism. This isn't Selma. Sorry. A young man was shot down in midday on a street by a policeman. We still don't know all of the extenuating circumstances. Getting yourself arrested or tear-gassed doesn't make you a better journalist. It makes you a voyeur. What happened to Wes Lowery of the Washington Post last week–that was real news. Everything since has felt like a battle for attention.
5. No, I'm not "blaming the victim" when I point out that in a town that is two-thirds African-American only 12% of the African-Americans voted in the last election*. The point is that towns operate best when their leadership is representative of the general population.  If 35 of Ferguson's 53 police officers were African-American, as opposed to three of the 53, my guess is that the Michael Brown tragedy is very unlikely to happen. Statistically alone, the chances would've been two out of three that the cop who came across him would've been black and would've handled it better.
*I'm told the 12% figure is for the entire town, not just African-American voters. Still, two-thirds of Ferguson IS African-American.
6. I'm sorry, Dorin Johnson, but you lost me. You went on the cable news shows and gave your account of the shooting without ever mentioning what you'd been involved in less than half an hour earlier. You surrendered the moral high ground. So I'm a little more skeptical of how the police cruiser's car door just accidentally got pushed back in when Officer Wilson opened it –you described it as an accident.
7. Is everything that folks, from Bill Maher to John Oliver, are saying about the militarization of police forces true? Sure. In fact, as follower Jim Leahy reminds us, The Andy Griffith Show covered this ground more than 50 years ago. Do the Ferguson PD have a PhD in incompetence when it comes to handling the aftermath of Brown's killing? Certainly. Will that photo of the Fallujah Invasion cops pointing their weapons at an unarmed black person as a mailbox in the background has the words "F___ the Police" haunt this town and this era of law enforcement for a long, long time? Yes.
But does any of that directly impact the evidence of Michael Brown's killing? No. Time will tell.
8. A few African-Americans who follow –followed?–me on Twitter said that Captain Ron Johnson is a "puppet." I found that a little sad. To me he's pulling heroic duty, stepping into a racial gulf and trying to soothe a situation before anyone else needlessly dies.
3. Football Returns: Size the Day!
The opening weekend of the Barclays Premier League saw the NBC debut of the Men in Blazers, (listen to how often Rebecca Lowe giggles off-camera) a pair of awesome no-look, heel-touch assists (for Liverpool and Manchester City) and an awesome fan penalty kick that the keeper, much to my delight, still felt the need to save. Love that.
Last week –and we all saw this coming back in June– the Michael and Rog visited GFOP Seth Meyers.
Also, worth noting:
Steven Naismith                                                                       Stephen A. Smith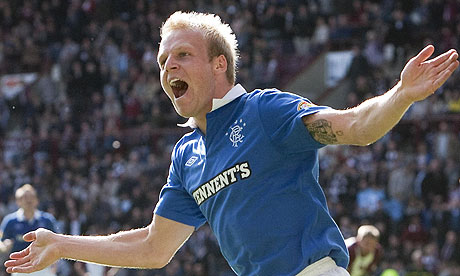 Rebecca Lowe                                                                                                              Rebecca Lobo
4. Story Arc of a Diver
Meet Jordan Windle, a 15 year-old Cambodian native who was orphaned before his first birthday and then adopted by a gay American man, Jerry Windle. Who is now married. Yesterday Windle convincingly won the U.S. Men's Diving 10-Meter platform championships and he is now a legitimate medal threat in Brazil. I cannot wait to tell Ann Coulter!
Jerry and Jordan have already written a book about their lives, in fact.
5. Nice Mug
This is Robert Burt, 19, of Pittsfield, Maine. The charge: Driving under the influence and operating a vehicle without a license.